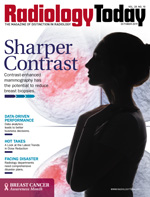 Reporter's Notebook: News From SNMMI 2019
Radiology Today
Vol. 20 No. 10 P. 26
Editor's Note: This article is based on press materials provided by SNMMI at its Annual Meeting in Anaheim, California.
Radionuclide Therapy Effective in High-Grade Neuroendocrine Neoplasms
Peptide receptor radionuclide therapy (PRRT) has been shown to be safe and effective for patients with grade 3 (G3) neuroendocrine neoplasms (NENs), according to research presented at the SNMMI Annual Meeting.
"While numerous studies have demonstrated the effectiveness of PRRT in well-differentiated grade 1 and 2 neuroendocrine neoplasms, limited data has been reported on PRRT in G3 NENs," per Richard P. Baum, MD, PhD, chairman and clinical director at THERANOSTICS Center for Molecular Radiotherapy and Precision Oncology in Bad Berka, Germany. "Our study—which followed the largest cohort of G3 NEN patients for the longest period of time—aimed to assess the safety and efficacy of PRRT in terms of survival analysis. In addition, we evaluated the utility of PET/CT in predicting long-term prognosis."
In the study, 69 patients with various types of metastatic, progressive G3 NENs received PRRT with 177Lu- and/or 90Y-labeled DOTATATE or DOTATOC. For some patients, this therapy was a first-line treatment, but for the majority, PRRT was a second- or third-line treatment. Patients were followed for a median of 94.3 months, and progression-free survival and overall survival rates were calculated.
The median progression-free survival rate for patients with G3 NENs was 9.6 months, and the overall survival rate was 19.9 months. When taking into account the Ki-67 index, which measures a key protein associated with cell proliferation, researchers found a significant difference between survival rates. Patients with a Ki-67 index less than or equal to 55% responded more favorably to the PRRT than others, with a median progression-free survival rate of 11 months and an overall survival rate of 22 months.
"Compared to studies evaluating the efficacy of chemotherapy for NEN patients with a Ki-67 index less than or equal to 55%, PRRT has a longer overall survival rate—22 months vs 14 months," the researchers' report says. "These results suggest that PRRT, rather than chemotherapy, may be a superior first-line therapeutic option in selected patients with a high level of SSTR expression and a Ki-67 index of less than or equal to 55%."
In addition to tracking survival rates, researchers also performed response assessments with 68Ga-SSTR PET/CT and 18F-FDG PET/CT. Patients with a good response and favorable outcome after PRRT were observed to have a relatively higher SUVmax with 68Ga-SSTR PET/CT imaging. Patients with no or minor 18F-FDG uptake responded well to PRRT, and the survival rates were significantly longer than for those with avid 18F-FDG uptake. In terms of stratifying patients, the mismatch pattern of low 18F-FDG uptake and high 68Ga-SSTR uptake was associated with a better long-term prognosis.
According to Jingjing Zhang, MD, PhD, and Baum, of Zentralklinik Bad Berka in Germany, "Overall, our findings demonstrated that PRRT was tolerated well, without any significant adverse effects, and was effective in patients with G3 NENs, even those for whom chemotherapy had failed. These findings provide the basis for the expansion of clinical indications of PRRT in the future."
Imaging Correlates Smoking and Neuroimmune Function
Research presented at the 2019 SNMMI Annual Meeting shows preliminary evidence that tobacco smokers may have reduced neuroimmune function compared with nonsmokers.
Tobacco, a leading cause of preventable death, has complex effects on immune signaling. While nicotine suppresses the immune system, other compounds in tobacco smoke cause inflammation. Since impaired neuroimmune signaling may contribute to compulsive drug use, this study compared neuroimmune responses in tobacco smokers and nonsmokers using a new [11C]PBR28 PET brain imaging paradigm.
"This work has important implications for tobacco smokers," according to Ansel T. Hillmer, PhD, an assistant professor of radiology and biomedical imaging and of psychiatry at Yale University in New Haven, Connecticut. "There is broad interest in targeting neuroimmune mechanisms with therapeutics for substance use disorders, but most of the interest is in suppressing the brain's immune system. Our preliminary work suggests that restoring the immune system may benefit tobacco smokers. Immune dysfunction is linked to cognitive dysfunction, which is also a typical complaint in smokers trying to quit."
For the study, baseline scans were acquired in 16 smokers and 19 nonsmokers. A subset of eight smokers and nine nonsmokers also participated in a second scan three hours after administration of the proinflammatory stimulus lipopolysaccharide (LPS).
No significant differences in baseline scans were observed between smokers and nonsmokers. However, the response to LPS was significantly lower in smokers vs nonsmokers in certain regions of the brain, including the striatum and cortex. The preliminary results of this ongoing study provide initial evidence for impaired neuroimmune function in tobacco smokers compared with nonsmokers.
Per Hillmer, "This is the first demonstration of group differences with this imaging paradigm. Our findings indicate an important new role for molecular imaging in clinical research studying the brain's immune system. We hope to explore in future research how restoration of the immune system may help smokers quit by improving cognitive function."
Ultrasmall Nanoclusters, Carbon Quantum Dots Show Promise for Treating Acute Kidney Injury
Acute kidney injury (AKI) often complicates the treatment outcomes of hospitalized patients, resulting in dangerous levels of toxic chemicals accumulating in the blood and causing numerous deaths annually. Currently, only supportive treatment is available for AKI, but two related research studies presented at the 2019 SNMMI Annual Meeting offer hope for effective treatment and prevention.
Reactive oxygen species (ROS), free radicals that trigger oxidative stress and inflammation, are believed to induce AKI. Both studies used mouse models to test new potential AKI therapies that target ROS.
The first study developed tiny nanoclusters with antioxidative properties that can pass through the kidneys' glomerular filtration barrier to treat AKI.
"In this study, ultrasmall sized molybdenum-based polyoxometalate [POM] nanoclusters with preferential renal uptake were found to act as a novel type of nano-antioxidant to efficiently alleviate clinical symptoms of AKI mice," according to Dalong Ni, PhD, of the University of Wisconsin-Madison.
POM radiolabeled with zirconium-89, or 89Zr, was intravenously injected into AKI mice. Longitudinal PET imaging was then performed at various time points to monitor the renal accumulation in vivo. The therapeutic value was evaluated by dynamic PET scans with gallium-68-EDTA, blood urea nitrogen and creatinine measurements, hematoxylin and eosin staining of kidney tissues, and biomarkers detection.
According to Ni, "The role of POM nanoclusters acting as antioxidants was confirmed both in vitro and in vivo, which was attributed to the readily variable valence state of molybdenum ions. Kidney transplantation and supportive therapies, such as rehydration and dialysis, are frequently required for patients with AKI. The protective effect of POM nanoclusters against AKI in living animals suggests exploring their use for the treatment of AKI patients.
"POM clusters could be synthesized in an easy, fast, and large-scale process, and they are mainly excreted through the kidneys (like most clinically used imaging agents), making them highly biocompatible and reducing the potential toxic effects on patients."
The second study, also from the University of Wisconsin-Madison, uses extremely small nanomaterials as well. It demonstrates that selenium-doped carbon quantum dots can both treat and prevent AKI by localizing in the kidneys and eliminating ROS.
For the study, carbon quantum dots with high antioxidant capacity were prepared by doping selenium (SeCQDs) through a hydrothermal treatment. Molecular imaging provides the most effective method for investigating the biodistribution of nanomaterials, so PET imaging of SeCQDs was performed to evaluate biodistribution using 89Zr after functionalizing with deferoxamine. Results of the SeCQDs treatment of the mice were compared with those from administration of an equivalent dose of amifostine, an FDA-approved drug for AKI therapy.
"The PET imaging results revealed that SeCQDs possess fascinating nano-bio interactions," explains Zachary Rosenkrans, of the pharmaceutical sciences department at the University of Wisconsin-Madison. "Surprisingly, we found that the administered dose almost entirely accumulated in the kidneys or was rapidly excreted in the urine, with little present in the liver or other organs. Results similar to this have rarely been reported."
The high accumulation of SeCQDs in the kidneys proved a highly effective therapy for the treatment of AKI that was induced using 50% glycerol, as well as prevention of AKI from cisplatin due to its antioxidant properties. In the same animal models, amifostine was unsuccessful in treating AKI.
Per Rosenkrans, "Due to this, we were able to demonstrate the advantages of utilizing nanomaterials compared to small molecules for renal disease treatment—in this case, AKI. This could most directly benefit the 1 in 5 hospitalized patients that experience AKI.
"This work could lead to guidelines to tailor nanoparticles to target and be retained in the kidneys, which has transformative potential to treat renal diseases. This may provide new avenues for more effective delivery of drugs to kidney cancer—or other kidney diseases, such as glomerulonephritis—and thus more efficacious therapies."
Radiotracer Detects 28 Cancer Types, Paving the Way for New Therapies
A single radiotracer can identify nearly 30 types of cancer, allowing for new applications in noninvasive diagnosis, staging, and treatment, according to research presented at the 2019 SNMMI Annual Meeting. The results of the study demonstrate that PET/CT with a fibroblast-activation protein inhibitor (FAPI)—which targets the overexpressed proteins present in cancer—resulted in images with exceptionally clear tumor delineation and high image contrast, as demonstrated in the 68Ga-FAPI-PET/CT image that has been selected as the 2019 SNMMI Image of the Year.
Each year, SNMMI chooses an image that best exemplifies the most promising advances in the field of nuclear medicine and molecular imaging. The state-of-the-art technologies captured in these images demonstrate the capacity to improve patient care by detecting disease, aiding diagnosis, improving clinical confidence, and providing a means of selecting appropriate treatments. This year, the SNMMI Henry N. Wagner, Jr, Image of the Year was chosen from more than 2,300 abstracts submitted to the meeting and voted on by reviewers and the society leadership.
This honor goes to a team of researchers at University Hospital Heidelberg in Germany. Showcasing the efficacy of the FAPI radiotracer, the image demonstrates the uptake of the FAPI in 12 epidemiological tumor entities, including high uptake values in lung, breast, prostate, esophageal, and pancreatic cancer. Low background activity was also observed in the various cancers, resulting in high image contrast and excellent tumor delineation. Also, in contrast with FDG-PET/CT, FAPI-PET/CT can be performed without specific patient preparation—eg, fasting, recline during uptake time—after a very short uptake time—approximately 10 minutes—and may improve patient comfort and accelerate workflow.
In addition to identifying tumors, the research is also important for the development of cancer treatments in the future. "Immunotherapies can be highly effective in some patients and without any antitumor activity in other patients," according to Uwe Haberkorn, MD, a professor and chair of nuclear medicine at the University Hospital of Heidelberg and the German Cancer Research Center in Heidelberg, Germany. "Currently, predictive biomarkers for appropriate patient selection are limited. Due to its biological role, FAP-targeted diagnostics has the potential to be a predictive biomarker.
"The used FAP-ligands contain the DOTA-chelator, which enables labeling with therapeutic radionuclides. The observation that the ligand accumulates in several important tumor-entities potentially indicates a huge field of therapeutic application to be evaluated in the future."
Furthermore, FAPI-PET already has the potential to add important diagnostic value, particularly in challenging FDG-PET cancer subtypes such as pancreas, ovarian, and colorectal cancer and also in patients with peritoneal cancer spread. FAPI-PET might even promote a new route in noncancer diseased patients such as chronic inflammatory pathogenesis or myocardial infarction, according to Frederik L. Giesel, MD, vice chair of nuclear medicine at the University Hospital Heidelberg.
According to Umar Mahmood, MD, PhD, chair of the SNMMI Scientific Program Committee, "Importantly and positively for patients suffering with cancer, the last decade has seen a marked acceleration in our understanding of the drivers of cancer. This has led to the development of therapies that specifically target distinct cells in the tumor microenvironment. The image of the year highlights the novel ability to image a druggable protein expressed by reactive fibroblasts found in a variety of tumors."
"Imaging with new tracers such as the one developed—and very nicely demonstrated in this study in a wide variety of cancer types—shows the power of molecular imaging to characterize tumors," Mahmood says. "The image of the year epitomizes the great progress made in our field in developing new imaging agents to help optimize cancer therapy for individual patients through such noninvasive characterization."
New Combination Therapy Established as Safe and Effective for Prostate Cancer
A novel therapy using two targeted treatments for prostate cancer has been shown to maximize efficacy while reducing side effects, according to research presented at SNMMI 2019.
Prostate cancer is the most commonly diagnosed cancer among men in the United States, other than skin cancer. According to the American Cancer Society, approximately 175,000 new cases of prostate cancer are diagnosed and more than 31,500 men die from the disease annually in the United States.
Although there have been great treatment advances, metastatic castrate resistant prostate cancer (mCRPC) remains a deadly disease. Trials with the targeted radionuclide therapy 177Lu PSMA 617 have proven safe and effective in some men; however, not all respond to treatment, and responses may be limited in duration. To build upon these trials, researchers paired 177Lu PSMA 617 with the tumor-specific radiation sensitizer idronoxil, or NOX66, to assess responses in patients with heavily treated mCRPC.
The phase I/II trial enrolled 16 men with progressing mCRPC, despite previous treatments. All men received as many as six doses of 177Lu PSMA 617 at six-week intervals. One-half of the patients (cohort 1) received additional treatment of 400 mg NOX66 daily for 10 days. Following a safety data review, the remaining patients (cohort 2) received additional treatment of 800 mg NOX66 daily.
Researchers found that nearly 70% of all patients saw a more than 50% reduction in their prostate-specific antigen levels (62.5% in cohort 1 and 75% in cohort 2) after the combination treatment. Furthermore, adverse side effects, such as fatigue and pneumonitis, were reported in 31% of all patients (37.5% in cohort 1 and 12.5% in cohort 2).
"The initial results of this phase I dose escalation study show that the combination targeted treatments were well tolerated together, with no increase in toxicity from 177Lu PSMA 617, and an apparent high efficacy in men who have already had extensive treatments," according to Louise Emmett, MD, an associate professor at the University of New South Wales in Sydney, Australia.
"We are now in a dose expansion phase II stage to further evaluate toxicity and efficacy. This raises the very important possibilities of combining tumor-targeted therapeutic agents to gain synergistic treatment effects without an increase in side effects," per Emmett.