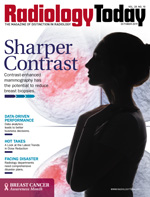 Editor's Note: Following the Trends
By Dave Yeager
Radiology Today
Vol. 20 No. 10 P. 3
October is Breast Cancer Awareness Month, and although there are some positive breast cancer–related trends, there is still a lot of work to do. The Centers for Disease Control and Prevention (CDC) reports that breast cancer rates have fallen since 1999 from 134.8 per 100,000 women to 124.2 per 100,000 women. Despite those encouraging numbers, the CDC still lists breast cancer as the most common type of cancer among all women, the most common cause of cancer death among Hispanic women, and the second-most common cause of cancer death among black, Asian/Pacific Islander, American Indian/Alaska Native, and white women.
In addition, the nonprofit organization Breastcancer.org estimates that there will be 268,600 cases of invasive breast cancer diagnosed in women this year, along with 62,930 cases of noninvasive breast cancer. Finding cancers when they're small and haven't spread is considered the most effective way to reduce breast cancer mortality, but there is also concern about false-positive diagnoses and performing unnecessary biopsies. This month's cover feature by Kathy Hardy examines the potential benefits of contrast-enhanced mammography to better diagnose small breast cancers and rule out benign lesions. The method has been compared favorably to breast MRI, with a significantly lower cost per scan.
Another trend that bears watching is the increased use of analytics in radiology. Dan Harvey reports on some of the ways that analytics is helping to improve patient care and business decision making, as well as challenges that lie ahead.
Dose reduction is a trend that never seems to fade, and Keith Loria has an update on how manufacturers are addressing it. Rather than focusing on the lowest dose possible, the thinking has evolved to consider the proper dose for the best possible image. In addition to newer, more sensitive hardware, many vendors are also employing AI to make that happen.
Finally, a trend that people don't like to think about but need to is the potential for disaster—either natural or man-made. As Hurricane Dorian recently reminded us, medical facilities need to spend time making sure that they can provide services and care for their patients in any circumstance. Beth W. Orenstein has some helpful tips for administrators on page 22.
Enjoy the issue.
david.yeager@gvpub.com