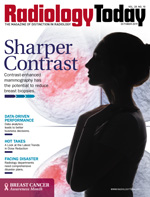 On the Case
By Robert W. Morris, MD; Brandon B. Weatherly, MD; and Blake P. Becker, MD
Radiology Today
Vol. 20 No. 10 P. 30
History
A 26-year-old woman with thalassemia minor, obesity, and diabetes mellitus—who was status post three C-sections—presented to the emergency department with a two-year history of lower abdominal pain. The patient denied any exacerbating factors but did report that her pain was not alleviated with anti-inflammatory or analgesic medications. As part of the workup, CT imaging and MRI were performed.
Findings
Axial contrast-enhanced CT image (Figure 1) demonstrates a 2.8-cm soft tissue lesion along the outer surface of the left rectus abdominis muscle, extending into the overlying subcutaneous tissue. Axial MR images demonstrate a 2.8-cm lesion along the outer surface of the left rectus abdominis muscle, which corresponds with the lesion on CT. This lesion is hyperintense on T2 (Figure 2), is hyperintense on T1 with and without fat suppression (Figures 3 and 4), and enhances mildly along its periphery on contrast-enhanced T1 with fat suppression (Figure 5). The enhancement is not very pronounced due to the precontrast T1 hyperintensity. A sagittal T2-weighted MR image demonstrates a C-section scar along the anterior lower uterine segment (Figure 6).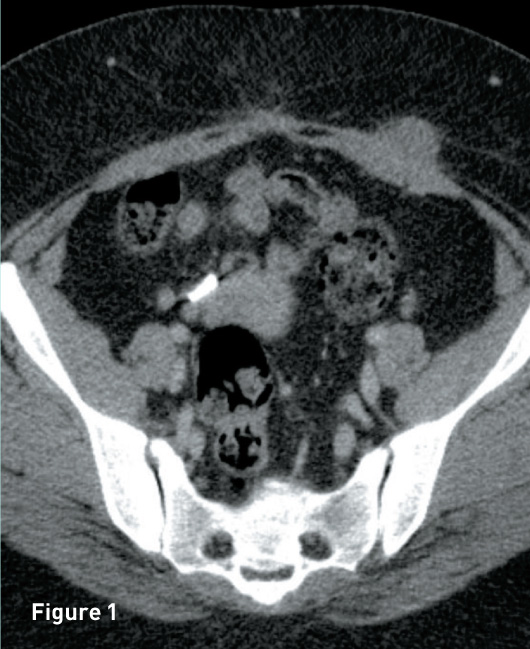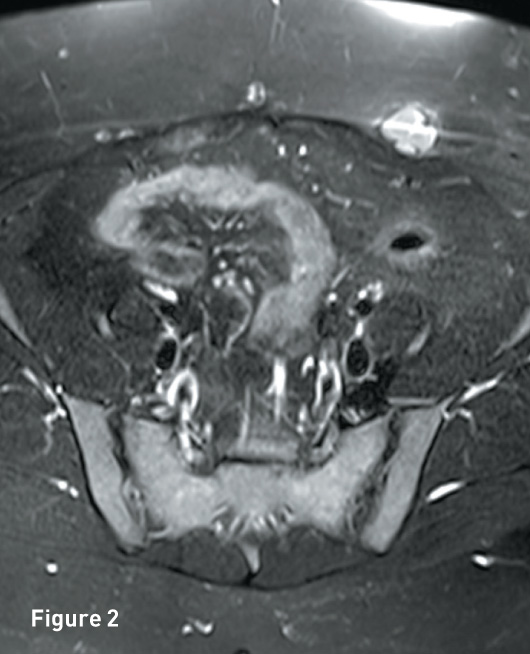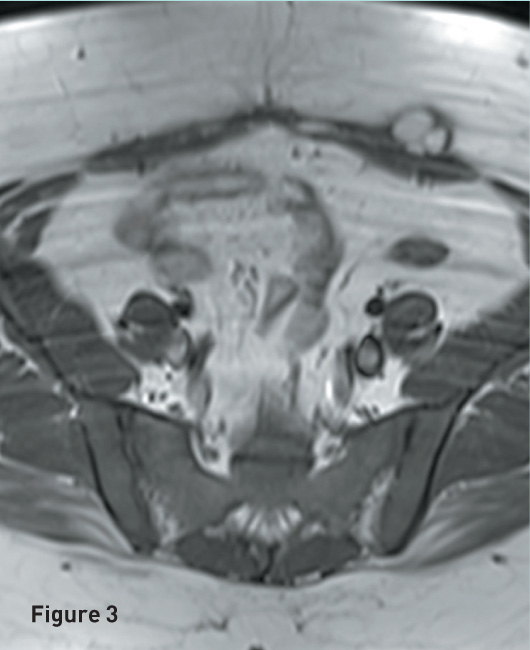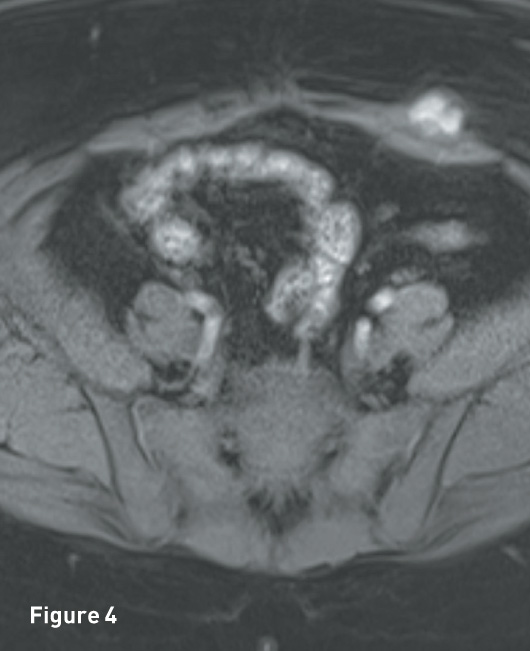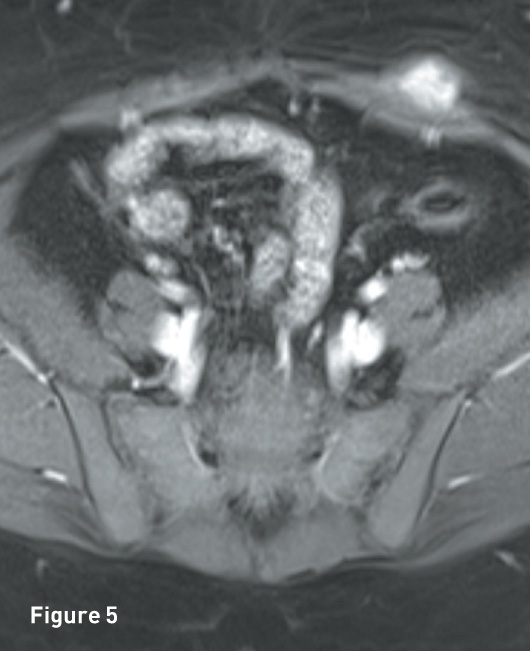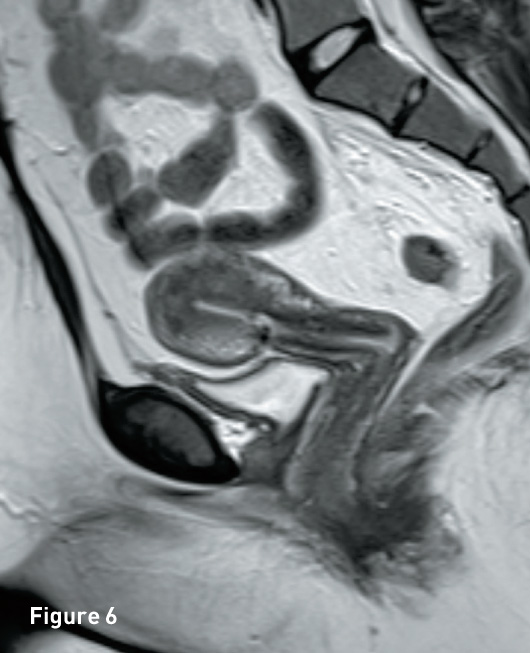 Diagnosis
Abdominal wall endometriosis associated with a C-section scar.
Discussion
Endometriosis is functional endometrial tissue outside of the uterine cavity and is seen in approximately 15% of menstrual-age women. This ectopic endometrial tissue is often hormonally responsive and can have cyclical bleeding and growth. Endometriosis occurs most commonly in the pelvis but has been described in other locations, such as the bowel serosa, inguinal canal, and even within the thorax. A mass of endometrial tissue is referred to as an endometrioma.
An unusual site for endometriosis is the anterior wall of the abdomen or pelvis, with an incidence of less than 0.4%. In most cases, there has been preceding abdominal or pelvic surgery. The abdominal or pelvic operation may result in implantation of endometrial tissue into the incision site scar and may occur in the absence of pelvic endometriosis. Abdominal wall endometriosis is most commonly seen following uterine surgery, with 57% of abdominal wall endometriomas occurring in a C-section scar. This is presumably because the endometrial cavity is opened during a C-section, which allows the exposed endometrium to potentially seed the lower abdominal incision.
The differential diagnosis for an abdominal wall mass in a postpartum woman includes hematoma, seroma, suture granuloma, ventral hernia, and a desmoid tumor (fibromatosis). Other considerations for an abdominal wall mass are lymphadenopathy, lipoma, or sarcoma. CT or ultrasound will be able to identify the abdominal wall mass, but the findings of abdominal wall endometriosis on CT and ultrasound are nonspecific and may overlap with those of other solid masses in the differential. For this reason, MRI is the optimal imaging modality for an abdominal wall mass, especially if endometriosis is a consideration.
The MRI protocol for an abdominal wall mass should include T1-weighted imaging without and with fat suppression, T2-weighted imaging, and imaging following IV contrast. On T1 images, endometriosis will classically be hyperintense due to methemoglobin from subacute blood products. The T1 hyperintensity will persist on fat-suppressed images, distinguishing an endometrioma from a fat-containing lesion such as a lipoma. Endometriosis will have variable signal on T2 images. Some endometriomas will have prominent cystic areas that appear T2 hyperintense, but there may also be low T2 signal intensity due to hemosiderin from chronic hemorrhage. At least a portion of the lesion will enhance following IV contrast administration.
The MRI appearance of abdominal wall endometriosis may be characteristic enough to make the diagnosis. If the diagnosis is in question or confirmation is needed prior to surgery, image-guided percutaneous biopsy can be performed for histologic diagnosis. The definitive treatment for abdominal wall endometriosis is surgical excision. Hormonal treatment may be used for refractory cases, particularly in the setting of concomitant pelvic endometriosis.
— Robert W. Morris, MD, is an assistant professor of radiology at University of Mississippi Medical Center in Jackson.
— Brandon B. Weatherly, MD, is an assistant professor of radiology at University of Mississippi Medical Center.
— Blake P. Becker, MD, is a radiology resident at University of Mississippi Medical Center.
Resources
1. Hensen JH, Van Breda Vriesman AC, Puylaert JB. Abdominal wall endometriosis: clinical presentation and imaging features with emphasis on sonography. AJR Am J Roentgenol. 2006;186(3):616-620.
2. Choudhary S, Fasih N, Papadatos D, Surabhi VR. Unusual imaging appearances of endometriosis. AJR Am J Roentgenol. 2009;192(6):1632-1644.
3. Busard MP, Mijatovic V, van Kuijk C, Hompes PG, van Waesberghe JH. Appearance of abdominal wall endometriosis on MR imaging. Eur Radiol. 2010;20(5):1267-1276.
4. Gidwaney R, Badler RL, Yam BL, et al. Endometriosis of abdominal and pelvic wall scars: multimodality imaging findings, pathologic correlation, and radiologic mimics. Radiographics. 2012;32(7):2031-2043.