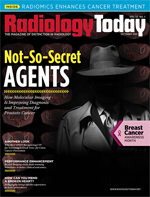 Not-So-Secret Agents
By Keith Loria
Radiology Today
Vol. 22 No. 7 P. 10
How Molecular Imaging Is Improving Diagnosis and Treatment for Prostate Cancer
Precision molecular imaging, specifically the utilization of radiotracers, is changing prostate cancer diagnosis and treatment for the better. As PET imaging provides valuable insights about the molecular structure and function of the body and disease, its use is rapidly increasing.
"There is increasing interest in the use of targeted molecular imaging to inform appropriate patient management for men with prostate cancer and in the potential role of targeted radiopharmaceuticals to treat disease," says Terri Wilson, president of Blue Earth Diagnostics.
Gary Ulaner, MD, PhD, FACNM, director of molecular imaging and therapy for the Hoag Family Cancer Institute in California, says molecular imaging can change prostate cancer diagnosis and treatment in numerous ways. First, patients with newly diagnosed prostate cancer and a risk of distant disease spread may undergo prostate-specific membrane antigen (PSMA)-targeted imaging.
"This reveals the presence of previously unknown distant disease spread in up to 30% of patients," Ulaner says. "These patients will be spared ineffective local therapies such as prostatectomy, and treatment will change to more effective therapies."
Ulaner explains that physicians often cannot localize the site of recurrence with a CT or bone scan for patients with treated prostate cancer and suspected recurrence due to elevated blood markers, eg, prostate-specific antigen, or PSA. 
"PSMA-targeted imaging allows successful localization of disease in 30% to 50% of these patients, allowing therapies such as radiation to be specifically targeted to the recurrence sites," he says. "This optimizes therapy efficacy and minimizes side effects."
Under Lock and Key
The term radiotracer refers to a molecule that accumulates in a tissue of interest and is labeled with a small amount of radioactivity.
"In the setting of cancer, the tissue is the tumor, so the radioactivity accumulates in the tumor," says Thomas Hope, MD, director of molecular therapy in the department of radiology and biomedical imaging at the University of California at San Francisco. "Some types of radioactivity can be imaged, and other types are used for therapy. With prostate cancer, we use the small molecules that bind to PSMA on prostate cancer cells, and the molecules are brought into the tumor cells along with the radiation that they are labeled with."
With radiotracers, Ulaner explains, each cancer cell expresses specific molecules on and inside the cancer cell, which can then be used as targets. 
"We can design agents that bind to these targets, much like a key fitting into a lock," he says. "If we link something to the key that emits a small amount of radiation, then we have an agent that can be detected in an imaging scanner, such as a PET/CT scanner, and use it to localize where disease is. If we link something to the key that emits a large amount of radiation, enough to kill nearby cells, then we have an agent that can be used to treat cancer."
This lock-and-key design allows practitioners to specifically identify the target they want, allowing for both sensitive and specific imaging, as well as effective therapy, of individual types of cancer.
There is a long process of development for new molecular imaging and therapy agents: identification of targets, identification of agents to bind to those targets, then linking radioactive emitting molecules to those agents.
"These agents undergo extensive preclinical evaluation, and the most promising agents are brought to phase I, II, and III clinical trials," Ulaner says. "The process takes years, and, historically, there have been few successes. However, with recent successes in molecular imaging and therapy for patients with neuroendocrine tumors, prostate cancer, and breast cancer, there is a new era emerging that promises a wide array of new agents for each cancer subtype."
Like all drugs, radiopharmaceuticals have to go through clinical trials to assess their safety and efficacy. The results of these studies are evaluated by the FDA, which determines whether a drug should be approved and what the labeled indication should be.
"Unlike cancer therapies, imaging radiopharmaceuticals do not need to demonstrate an improved clinical outcome," Hope says. "Rather, they need to show that they are more accurate than existing technologies for localizing disease."
New Imaging Agents
Hope notes recent advances in imaging and therapy for prostate cancer.
"We are lucky to have two PSMA-targeted imaging agents approved in the last year—68Ga-PSMA-11 and 18F-DCFPyL," he says. "These agents are a significant improvement over the existing approaches to imaging prostate cancer."
Gallium 68 PSMA-11, approved in December of 2020, was developed by academic institutions internationally and in the United States. Piflufolastat F-18, or PyLarify, was developed by the pharmaceutical industry, based on a tracer originally designed by radiochemist Marty Pomper, MD, PhD, from Johns Hopkins, and approved in May 2021.
"These approvals are so crucial for prostate cancer imaging because they're the most sensitive tests currently available for detecting prostate cancer," says Delphine Chen, MD, director of molecular imaging at Seattle Cancer Care Alliance. "The other imaging tests that we usually use for characterizing prostate cancer, such as CT, MRI, and bone scans, don't tend to pick up the disease when PSA levels are low."
Chen explains that in patients who've had definitive therapy, meaning they've had their prostate cancer surgically removed or radiation therapy to treat the prostate cancer completely, it is expected that they will have undetectable PSA levels after their treatment, indicating that there is no more prostate cancer.
"When prostate-specific antigen levels start to rise, it is tough to find where the cancer is in the body," she says. "That's where PSMA PET has been outstanding in terms of its performance in detecting those prostate cancer deposits at low PSA levels, instead of waiting for higher PSA levels, as we've always done in the past."
Therapies that are based on PSMA drugs have been game-changers. Instead of using a radioactive isotope that's good for imaging, PSMA radiopharmaceutical therapy can swap in an isotope that's good for therapy.
"The difference between those two isotopes is that the therapy isotope delivers nearly all of its energy to the cell, killing the cell where the PSMA goes," she says. "Whereas, with the isotopes that are good for imaging, most of the energy is so high energy that it leaves the body. So we can detect it by imaging, and not very much of the energy is left in the body to kill the cell. Therefore, we can actually use PSMA PET scans to identify patients who will benefit from PSMA therapy."
Hope is excited about the therapeutic side of PSMA, specifically 177Lu-PSMA-617. He explains that the VISION trial results presented at the American Society of Clinical Oncology meeting in June showed benefit in overall survival in castration-resistant prostate cancer, and the drug should be FDA approved near the end of the year. Multiple trials of other 177Lu and I131 PSMA-targeted therapies are enrolling patients with successful results. PMSA therapy is anticipated to be approved in the United States sometime later this year.
Acting Locally
Blue Earth Diagnostics is currently developing and commercializing novel PET radiopharmaceuticals to inform clinical management and guide care for men with prostate cancer. Its platform includes Axumin (fluciclovine F-18), and investigational 18F-radiohybrid PSMA (rhPSMA)-7.3, each having unique mechanisms of action.
"We're also very encouraged by the potential of PSMA-targeted agents, as they are proving to be innovative compounds with potential utility in prostate cancer imaging and therapy that may play an important role in optimizing patient management in the future," Wilson says.
rhPSMA-targeted agents are a clinical-stage investigational class of theranostic compounds with potential applications for both the imaging and treatment of prostate cancer.
"rhPSMA-7.3 (18F) is an investigational agent that consists of a radiohybrid PSMA-targeted receptor ligand which attaches to and is internalized by prostate cancer cells and is labeled with the 18F radioisotope for PET imaging," Wilson says. "rhPSMA compounds can also be labeled with radioisotopes such as 177Lu and 225Ac for therapeutic use."
Improved imaging using PSMA PET allows physicians to localize metastatic prostate cancer at an earlier stage of disease. This allows better patient-specific treatments targeting the limited sites of the disease. The hope is that these treatments will result in prolonged biochemical responses in patients, limiting the need for systemic therapy. For example, Chen notes that PSMA PET has improved the ability to detect the extent of prostate cancer before patients go on to surgery or radiation therapy.
"In some patients, even after we do normal imaging and we proceed with surgery, or we proceed with radiation, their PSA levels will start rising," she says. "We know, then, either the prostate cancer came back where it was initially or some other tiny site was left that was not visible on the traditional scans. PSMA PET can improve the ability to identify the stage of prostate cancer correctly, improve our decision-making in terms of whether to proceed with surgery or radiation therapy, and make sure we can locate all the prostate cancer the first time around."
Emory University conducted research that found that integrating advanced PET imaging using 18F-fluciclovine into the treatment planning process provided a better way of selecting patients for radiation therapy, guiding radiation decisions and planning and, ultimately, keeping patients' cancer under control. Wilson notes that a group receiving treatment guided by 18F-fluciclovine PET had a cancer control rate of 75.5% at both three and four years; a group receiving treatment guided by conventional imaging had a cancer control rate of 63% at three years and 51.2% at four years.
Looking Ahead
Currently CT and bone scans are the mainstay for imaging prostate cancer. However, most believe that over the next few years, PSMA PET will replace these conventional imaging modalities to stage patients with prostate cancer.
"It will take some time for the use of PSMA PET to be fully integrated into the management of prostate cancer, as we, the medical community, need to understand how best to treat patients based on the results that we see on imaging," Hope says. "This will involve including PSMA PET into clinical trials and seeing how we can best improve patient outcomes leveraging the improved imaging that PSMA PET provides."
Blue Earth Diagnostics is optimistic for the future of targeted PET radiopharmaceuticals and its ability to help men with prostate cancer.
"With precision PET diagnostic imaging radiopharmaceuticals available to accurately inform the location and extent of prostate cancer and the advent of targeted radiopharmaceuticals that can effectively treat the disease, radiopharmaceuticals can offer a comprehensive approach to inform and facilitate patient management and care," Wilson says.
Hoag is now running clinical trials of PSMA-therapy imaging and estrogen receptor-targeted imaging, as well as CD38-targeted imaging for patients with prostate cancer, breast cancer, and myeloma. 
"Each molecularly targeted agent has demonstrated the ability to detect and localize disease that is missed on current standard of care modalities," Ulaner says. "Thus, molecular imaging and therapy promises to become the new standard for sensitive and accurate detection of cancer."
Chen believes that, going forward, PSMA PET will most likely be incorporated in all steps of a patient's journey with prostate cancer.
"The imaging's ability to be so specific and sensitive will enable us to more accurately identify stages of prostate cancer, where it is regardless of PSA levels, and track how well the cancer is responding to treatment," she says.
— Keith Loria is a freelance writer based in Oakton, Virginia. He is a frequent contributor to Radiology Today.