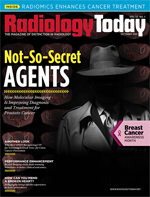 How Can You Mend a Broken Heart?
By Kathy Hardy
Radiology Today
Vol. 22 No. 7 P. 22
Holography brings a lifelike experience to heart procedures.
The children's game "Operation" shows a flat, rudimentary view of the human anatomy. It's described as a "game of physical skill that tests players' eye-hand coordination and fine motor skills." Imagine how much better the players' odds of success would be if the faulty heart in Cavity Sam's chest appeared as a 4D hologram in front of the players' eyes?
That scenario is a simplified premise of a clinical dilemma faced by interventional cardiologists when they need to navigate the intricate and delicate network of the heart and its system of valves, chambers, and vessels. Recognizing the need for greater cardiac visibility, software developer EchoPixel developed an intraoperative software platform that uses ultrasound images to provide a holographic experience of real-time 4D visibility.
EchoPixel's HTG (Holographic Therapy Guidance) software platform is the first to combine mixed reality and real-time imaging for use by interventional cardiologists to perform complicated surgical and transcatheter heart procedures. This turnkey visualization solution, which currently supports GE ultrasound, requires no preprocessing and connects to any PACS in the same manner as other diagnostic workstations. Developers see this new technology as facilitating the "OR or cath lab of the future."
"There are many clinical therapies based on imaging, but the dissemination of therapies hasn't happened because of the nature of complex anatomies," says Sergio Aguirre, EchoPixel's founder and CEO. "Our vision is to empower interventional clinicians and simplify procedures and clinical implantations within complex anatomies."
Inside Information
Jacob Dutcher, MD, an interventional cardiologist and director of the structural heart program at CentraCare Heart and Vascular Center in St. Cloud, Minnesota, has seen firsthand how EchoPixel's HTG improves visibility beyond what 3D brings to preoperative surgery planning. This technology enables users to see cross-sections as well as valves opening and closing while the heart beats in real time.
"When describing 4D EchoPixel HTG technology, I make the analogy of the 3D movie experience," Dutcher says. "With a 3D movie, most of what you see in 3D is depth beyond the actual movie screen. However, often for special effects, some images will suddenly jump out at you from the screen. With 4D EchoPixel HTG, the heart jumps out at you under your control. I can physically take the heart and pull it out of the screen and bring it as close to two to three feet in front of my eyes. In doing so, I can see directly inside the heart. I can see the catheter, the device, and the left atrial appendage [LAA], all with greater clarity and depth than ever before."
Dutcher, a structural interventionist and the first clinician in the world to use 4D EchoPixel HTG, has completed 12 procedures with the system since it received FDA clearance in late 2019. Now that he has adjusted to seeing the heart "jump out" at him, he finds the software has increased his confidence when performing procedures such as LAA occlusion. In the future, he sees the technology being advantageous for other structural heart procedures, such as closing holes in the heart, heart valve repair and replacement, and other complex structural heart procedures.
"It's like standing inside the patient," he says. "It's like being a heart surgeon, but we're performing the procedure noninvasively."
Although the software works behind the scenes, there is one visual aspect that can take some getting used to, Dutcher says.
"There's the initial shock factor of the heart floating right out there in front of you," he says. "The software creates the impression that there's really something there. After a short adjustment period, your eyes ultimately adjust to the 4D image. You begin to understand the relationship of where certain landmarks are in the heart, such as valves, the septum, or the appendage. Then you get used to seeing what your hands are doing in regard to catheter manipulation."
Dutcher says there was some initial delay in seeing movement but notes that has dropped to about 100 milliseconds.
Twinning
According to Aguirre, using 2D views to assess 3D anatomic relationships is one of the challenges of interventional procedures. EchoPixel's initial solution to preoperative planning hurdles was True3D Surgical Planning, for use in patients with congenital heart defects and structural heart issues. True3D creates a holographic digital twin of a patient's heart, allowing surgical and interventional teams to study and plan using a virtual version before an incision is made. The next step was to create the 4D hologram of the heart and its surrounding infrastructure.
"We combine augmented reality with AI-powered tools to help users find the optimal path, noting areas to avoid," he says. "Physicians see the hologram and can share it through a standard PACS with colleagues. Everyone involved gains real-time enhanced awareness of catheters and implantable devices in relation to complex anatomy."
The clinician conducting the procedure is in control of the holographic image, and has the ability to turn it, view cross sections, see valves open and close, and see the heart beating. This process provides a more realistic view.
"For example, if you're using fluoroscopy guidance to perform a procedure in the heart, it's difficult to understand the depth perception," Dutcher says. "With a hologram, you can see and understand the anatomy much more clearly."
A more precise procedure increases quality of care and the likelihood of a successful and more rapid recovery. Time saved is also beneficial, due to the often-emergent nature of interventional heart procedures.
"Oftentimes, physicians in the cath lab or the OR don't have much time to plan for their procedures," Dutcher says. "EchoPixel gives them a complete solution across the entire care cycle, from the planning stage to the procedure completion."
On Watch
While EchoPixel is currently in use for preoperative planning in more than 35 hospitals nationwide, Dutcher and his team at CentraCare completed the first structural heart procedure using the 4D technology. The procedure was a WATCHMAN implant, a one-time, minimally invasive procedure for people with atrial fibrillation (AFib) who need an alternative to blood thinners to protect them from a stroke. Blood thinners can lead to issues such as bleeds and falls; therefore, many patients and practitioners are looking for viable alternatives.
Dutcher utilized EchoPixel's True3D and HTG software to enhance visibility during the challenging procedure. AFib affects the heart's ability to pump blood normally. This can lead to blood pooling in the LAA of the heart. This is where blood can clot then travel to other parts of the body and cut off blood supply to organs such as the brain, resulting in stroke. Closing off the LAA is an effective way to reduce stroke risk.
"The procedure is similar to a coronary stent implantation, in that the device is inserted through a small catheter in a vein in the patient's upper leg," Dutcher says. "The WATCHMAN is then guided into the LAA. The challenge is in how to work in such a confined space and insert the WATCHMAN implant into a moving 3D object. Visualization in real time helps bring more precision to the process. It also helps reduce procedure times by more than 27% and increase optimal procedure outcome by 20%."
Previously, the WATCHMAN procedure predominantly utilized fluoroscopy and echocardiography imaging for visualization, Dutcher explains. He says he mainly used 2D and 3D transesophageal echocardiography (TEE) in preprocedural planning to visualize the LAA, which involved moving a transducer in the patient's esophagus to a different location. Patients often find TEE uncomfortable and the image quality is frequently suboptimal, so Dutcher was interested in exploring other imaging modalities to gain a better understanding of the complex anatomy of the LAA.
"The procedure is even more challenging when you don't have a good understanding of the patient's anatomy," he says. "We use CT to prepare for [transcatheter aortic valve replacement] procedures, so we were thinking we could use CT for an AFib procedure. However, that's when we learned about EchoPixel. EchoPixel 3D CT was initially what helped us obtain better visibility."
Potential Views
Both Aguirre and Dutcher believe there is potential for EchoPixel to provide value in the planning and procedural phases of other minimally invasive procedures where imaging is needed to provide guidance for small tools and devices. In the short term, they see applicability in intracardiac echocardiography, during which a catheter with an ultrasound sensor is passed into the heart to gather images. Long-term possibilities where 4D imaging could play a role go beyond the heart and include blood vessels and, potentially, other organs. Ultimately, Aguirre sees this as a possible interface for robotic systems.
"In the cardiac realm, I see value coming from use of this technology for conditions like mitral valve prolapse, where visibility is vital for clipping the valve to minimize blood leakage," Dutcher says. "It could also be used to help close atrial septal defects in the heart. It's not just for WATCHMAN. I see this becoming a common modality in the next three to five years."
With the possibility of using this technology in other procedures and more complex cases, the reality of placing quality health care in a physician's hands is more of a reality than ever.
"Once you have a way of working with the anatomy, you will start finding new views," Aguirre says. "You will see slightly different workflows and different datasets."
Dutcher notes one particular viewpoint that was eye-opening for him.
"In fluoroscopic imaging, the views you obtain are usually anterior-posterior," he says. "You can alter the views slightly, but the range is limited. With EchoPixel, you can take any view you wish. There are no limitations. I just completed a procedure with a view from directly above the heart, which enabled easier access and better visualization of the key heart structures related to our procedure. It was revolutionary to see the heart in this new way."
— Kathy Hardy is a freelance writer based in Pottstown, Pennsylvania. She is a frequent contributor to Radiology Today.