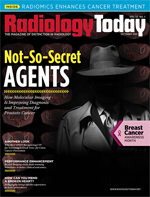 Fluoroscopy News: A Study in Versatility
By Beth W. Orenstein
Radiology Today
Vol. 22 No. 7 P. 26
Fluoroscopy continues to play a key role in imaging and interventional procedures.
While fluoroscopy's origins can be traced back to the late 1800s, its use in medical imaging has grown considerably since the mid-1990s. "Fluoroscopy remains an essential and foundational go-to modality in medical imaging," says Steve Romocki, worldwide product line manager for radiology systems at Carestream Health. "Only fluoroscopy has the ability to capture and visualize anatomical motion to execute real-time–sensitive procedural work such as lumbar punctures and stent placements."
Fluoroscopy plays a major role these days at Houston Healthcare in Warner Robins, Georgia, says Phyllis Briaud, MBA, CRA, RT(R)(T)(CT)(QM), director of imaging services. "We are using fluoroscopy to diagnose illnesses, evaluate pre- and post-GI [gastrointestinal] surgeries, and visually evaluate the GI tract, as well as for joint work, myelograms, vascular catheter placements, and port dye studies," she says.
Streamlined Workflows
Having fluoroscopy as an option has helped with scheduling. Some of these studies, such as lumbar punctures, port dye flow studies, and vascular catheter placements are performed in diagnostic radiology, Briaud says. If the IR suite is overbooked, some of the studies can be scheduled with fluoroscopy in diagnostic radiology "freeing up the IR suite." Having the option to do fluoroscopy is helping the CT suite with its patient volume as well, Briaud says. Rather than a CT of the abdomen and pelvis, a small bowel study can be performed. In fact, in some cases, the small bowel fluoroscopy study is preferred because it allows the radiologist to review the timing of the contrast as it moves through the small bowel and can help to reduce patient length of stay, Briaud says.
Prairie Lakes Healthcare System in Watertown, South Dakota, uses its fluoroscopy system for many of the same studies and procedures as Houston Healthcare. It also uses fluoroscopy for modified barium swallows, marshmallow-bagel esophagrams, and nephrostomy tube exchanges, according to Bryan Beckedahl, RT(R), RDMS, RDCS, RVT, radiology director. Beckedahl says fluoroscopy has the advantage of "allowing us to see the patient's physiology and determine if the patient is aspirating." In addition, "it allows us to try compensatory strategies while monitoring a patient's chewing action, thus helping us determine what food consistency is safest for the patient."
Catawba Valley Medical Center in Hickory, North Carolina, uses its fluoroscopy unit to do barium studies daily at its outpatient imaging center. About three years ago, it replaced its old-style fluoroscopy room "for all-in-one capability between fluoroscopy and plain images," says Mike Greene, RT(R), administrator of diagnostic services.
Briaud finds fluoroscopy has an advantage when it comes to patients who are undergoing bariatric surgery. The table on Houston Healthcare's system is able to accommodate higher-weight patients (up to 600 lbs) and can go lower to the floor compared with conventional fluoroscopy units—the table can lower to just under 19 inches from the floor. "This makes table access easier for all our patients, from the wheelchair bound to those who are tall or short," she says. "The table can be placed at a comfortable height for easy access."
The ability to lower the table also has reduced the strain on technologists who are trying to lift patients on and off the table, Briaud says. "Technologists are able to fully access a patient from all sides of the fluoroscopy unit to easily transfer the patient from a stretcher, if need be. Being able to adjust the table height has decreased the potential for workplace injuries to the technologists by allowing them to be able to use proper moving techniques when moving patients on and off the table," she says. 
"Radiologists are very satisfied with the image quality, especially on our larger bariatric population," Briaud adds.  
Dose Awareness
Radiation dose from fluoroscopy remains a concern. Because fluoroscopy-guided procedures are often technically difficult, they can involve exposure times exceeding an hour or more. The number of prolonged procedures performed with fluoroscopy has increased dramatically since the late 1990s. Newer technology and greater awareness of the issue has helped resolve the issue to some extent. Clinicians know they must keep doses as low as possible without compromising image quality or the success of the interventional procedure. Some steps that are helping to effectively manage radiation exposures include proper use of equipment, education and training of fluoroscopic operators, and frequent checks of quality control measures.
One of the metrics that Houston Healthcare monitors on its quality indicators is the fluoroscopy dose, according to Briaud. They had noticed that some of their patients' doses were exceeding their threshold. "During our investigation, we discovered that the procedures that were exceeding the threshold were being performed in our older fluoroscopy room," Briaud says. "So, we transitioned all fluoroscopy patients from our older fluoroscopy unit to our new [system] with higher frame rates, low dose rates, and better image quality with all patients." Briaud also expects to see advances coming so that radiation dose to the technologists and radiologists, when they are required to be in the room with the patient, can be lowered.
Romocki says that real-time image processing and AI—often via convolutional neural networks—are paving the way for new advances in digital fluoroscopy. "The combined, coordinated use of these technologies is just beginning to be examined by medical researchers and holds significant promise for the future," he says. "As AI becomes more integrated into fluoroscopy, the results are expected to be dramatic."
— Beth W. Orenstein is a regular contributor to Radiology Today.