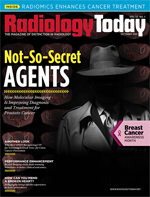 Reporter's Notebook: News From SNMMI 2021
Radiology Today
Vol. 22 No. 7 P. 28
Editor's Note: This article is based on materials provided in connection with the SNMMI 2021 Annual Meeting.
PET Measures Cognitive Impairment in COVID-19 Patients
The effects of COVID-19 on the brain can be accurately measured with PET, according to research presented at the SNMMI 2021 Annual Meeting. In the study, newly diagnosed COVID-19 patients who required inpatient treatment and underwent PET brain scans were found to have deficits in neuronal function and accompanying cognitive impairment. In some, this impairment continued six months after their diagnosis. The detailed depiction of areas of cognitive impairment, neurological symptoms, and comparison of impairment over a six-month timeframe has been selected as SNMMI's 2021 Image of the Year.
Each year, SNMMI chooses an image that best exemplifies the most promising advances in the field of nuclear medicine and molecular imaging. The state-of-the-art technologies captured in these images demonstrate the capacity to improve patient care by detecting disease, aiding diagnosis, improving clinical confidence, and providing a means of selecting appropriate treatments. This year, the SNMMI Henry N. Wagner, Jr, Image of the Year was chosen from more than 1,280 abstracts submitted to the meeting and voted on by reviewers and the society leadership.
"As the SARS-CoV-2 pandemic proceeds, it has become increasingly clear that neurocognitive long-term consequences occur not only in severe COVID-19 cases but in mild and moderate cases as well," said Ganna Blazhenets, PhD, a postdoctoral researcher in medical imaging at the University Medical Center Freiburg in Germany. "Neurocognitive deficits like impaired memory, disturbed concentration, and cognitive problems may persist well beyond the acute phase of the disease."
To study cognitive impairment associated with COVID-19, researchers carried out a prospective study on recently diagnosed COVID-19 patients who required inpatient treatment for nonneurological complaints. A cognitive assessment was performed, followed by imaging with 18F-FDG PET, if at least two new neurological symptoms were present. By comparing COVID-19 patients with controls, the Freiburg group established a COVID-19–related covariance pattern of brain metabolism with most prominent decreases in cortical regions. Across patients, the expression of this pattern showed a very high correlation with the patients' cognitive performance.
Follow-up PET imaging was performed six months after the initial COVID-19 diagnosis. Imaging results showed a significant improvement in the neurocognitive deficits in most patients, accompanied by an almost complete normalization of the brain metabolism.
"We can clearly state that a significant recovery of regional neuronal function and cognition occurs for most COVID-19 patients, based on the results of this study. However, it is important to recognize the evidence of longer-lasting deficits in neuronal function and accompanying cognitive deficits is still measurable in some patients six months after manifestation of disease," Blazhenets noted. "As a result, post–COVID-19 patients with persistent cognitive complaints should be presented to a neurologist and possibly allocated to cognitive rehabilitation programs."
"18F-FDG PET is an established biomarker of neuronal function and neuronal injury," stated SNMMI's Scientific Program Committee chair, Umar Mahmood, MD, PhD. "As shown in the Image of the Year, it can be applied to unravel neuronal correlates of the cognitive decline in patients after COVID-19. Since 18F-FDG PET is widely available, it may therefore aid in the diagnostic work-up and follow-up in patients with persistent cognitive impairment after COVID-19."
Radiotracer Pinpoints Metastatic Prostate Cancer
A phase III clinical trial has validated the effectiveness of the prostate-specific membrane antigen (PSMA)-targeted radiotracer 18F-DCFPyL in detecting and localizing recurrent prostate cancer. Approved by the FDA in May, the radiotracer identified metastatic lesions with high positive predictive values regardless of anatomic region, adding to the evidence that PSMA-targeted radiotracers are the most sensitive and accurate agents for imaging prostate cancer. This study was presented at the SNMMI 2021 Annual Meeting.
Prostate cancer patients have high levels of PSMA expression, making PSMA an effective target for imaging the disease. In previous studies, the novel PET imaging agent 18F-DCFPyL was found to bind selectively with high affinity to PSMA. To demonstrate the diagnostic performance of 18F-DCFPyL for regulatory approval, a prospective multicenter study was conducted at 14 sites across the United States and Canada.
The study sought to determine the positive predictive value (the probability that patients with a positive screening test have the disease) and detection rate of 18F-DCFPyL PET/CT by anatomic region, specifically the prostate/prostate bed, pelvic lymph nodes, and regions outside the pelvis. Study participants included men who had rising prostate-specific antigen (PSA) levels after local therapy as well as negative or equivocal conventional imaging results.
Patients were imaged with 18F-DCFPyL PET/CT, then imaged again after 60 days to verify suspected lesions using a composite "standard of truth," which consisted of histopathology, correlative imaging findings, and PSA response. Comparing findings between the 18F-DCFPyL imaging and the "standard of truth," the positive predictive value and detection rate were measured.
18F-DCFPyL PET/CT was found to successfully detect and pinpoint metastatic lesions with high positive predictive value, regardless of their location in the body, in men with biochemically recurrent prostate cancer who had negative or equivocal baseline imaging. Higher positive predictive values were observed in extrapelvic lymph nodes and bone compared with soft tissue regions.
With the recent approval of 18F-DCFPyL (now referred to as piflufolastat F-18) by the FDA, the impact of this research may be realized in the near future. As these agents become more widely available, patients with newly diagnosed, recurrent, and metastatic prostate cancer may have new therapeutic approaches available to them.
The results of the study were presented at the SNMMI meeting by Steven Rowe, MD, PhD, an associate professor of radiology and radiological science at Johns Hopkins University in Baltimore.
Ovarian Cancer Treatment Proves Effective and Efficient
Preclinical trials of a new radiopharmaceutical to treat ovarian cancer have produced successful results, dramatically limiting tumor growth and decreasing tumor mass. Designed specifically for ovarian cancers that are resistant to traditional therapies, the new radiopharmaceutical can be produced in 25 minutes at low cost, which leads to better efficiency compared with alternative methods. This research was presented at the SNMMI 2021 Annual Meeting.
According to the American Cancer Society, more than 20,000 women are diagnosed with ovarian cancer each year, and nearly 14,000 will die from the disease. Ovarian cancer patients have a five-year survival rate of 49.1%. It is the fifth-leading cause of cancer-related death among women.
In the study, researchers utilized a new generator system to develop the targeted alpha-therapy Pb-214-TCMC-trastuzumab to treat HER2-postive ovarian cancer. Ovarian cancer cells and mice bearing ovarian cancer tumors were split into three groups: those treated with Pb-214-TCMC-trastuzumab, those treated with Pb-214-TCMC-IgG, and an untreated control group. All groups were imaged over time to determine the effectiveness of the treatment.
Compared with the Pb-214-TCMC-IgG and control groups, the tumor signal for mice and cells treated with Pb-214-TCMC-trastuzumab decreased dramatically over the course of the study, signaling the efficacy of the therapy. There were no adverse side effects from the treatment, as determined by weight loss of all surviving animals.
"The short 27-minute half-life of Pb-214 is ideal for fractioned alpha particle therapeutic applications," stated Mike Zamiara, study author and president of Niowave Inc in East Lansing, Michigan. "The generator system can provide Pb-214 every hour, potentially providing a new source of alpha particle therapy to patients at lower cost. In the future, the generator system will be available for many therapeutic products in a turnkey system under development, providing reliable doses for improved patient care."