November 2010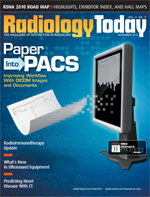 Technology Update: Ultrasound
Radiology Today
Vol. 11 No. 11 P. 10
Advancing technology has freed ultrasound users from the physical restrictions of cart-based systems, making it easier to bring the imaging to the patient instead of bringing the patient to the imaging. That objective is being accomplished without sacrificing image quality. Capabilities seen previously only in higher-end, cart-based systems have found their way into compact and portable ultrasound systems. New highly sophisticated transducers accompany the development of smaller versatile systems. Vendors are also working to improve image quality, ultrasound penetration in difficult-to-image patients, and ergonomics to reduce repetitive stress injuries among operators.
ALOKA Company
What's New: ProSound Alpha 6, ProSound F75
This year, ALOKA Company celebrates 60 years in the ultrasound marketplace in appropriate fashion.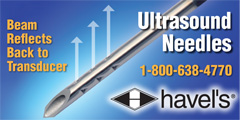 "We introduced our newest ultrasound system, the ProSound Alpha 6, at the American College of Obstetricians and Gynecologists annual meeting in May," says Katie Lybrook, ALOKA's business manager for women's healthcare.
According to the Wallingford, Conn.-based company, its latest system combines advanced performance levels with greater ease of use and an ergonomic design for the OB/GYN, general imaging, and urology office markets. The Alpha 6 builds on the company's ProSound Alpha 10 and Alpha 7 technologies and includes a processor that enables a number of different imaging modes previously seen only in the higher-end systems. The new system is available with or without 3D/4D imaging and includes a full suite of application-specific probes and software, customizable reports, and network/EMR connectivity capabilities.
The Alpha 6 received the 2010 International Forum Product Design Award for an ergonomic design that streamlines workflow and for being both user and patient friendly. The compact ergonomic design boasts a large programmable touch screen for quick access to frequently used controls. The ProSound Alpha 6 is mobile, economical, and environmentally friendly, with reduced power consumption.
"This year, we also introduced our premium F75 ultrasound system at an overseas conference," says Lybrook.
The ProSound F75, a high-end color diagnostic ultrasound system of the new F series, made its debut in Tokyo at an ALOKA private exhibition. Its development involved three focus areas:
• User comfort: The system helps avoid work-related musculoskeletal disorders. Users can conduct examinations in a natural posture without stress or discomfort.
• Versatility: ProSound F75 performs a wide variety of examinations, making it cost-effective.
• Reduced patient dependency: Patients' physique and predisposition often impact the time needed for ultrasound examinations.
With these combined focuses, the company believes the ProSound F75 delivers facilitated workflow, investment return, and true diagnostics to best suit a user's specialty. The monitor and the operation panel have a wide range of movement, which reduces operators' muscle load by up to 20%. Also, operation automation makes examinations flow more smoothly. The ProSound F75 covers numerous applications in one console, with its wide variety of probes, measurement/report packages, and other elements. Further, the software is easily upgradeable.
The system combines all of ALOKA's cutting-edge technologies and thus achieves high spatial resolution. The combination of the CPWG+ (compound pulse wave generator, the new front-end processor) and Full Aperture Apodization (which uses all transducer elements of a probe) perfects the focus throughout the entire image, according to the company.
"The ProSound F75 will be available for delivery in late 2010. However, it most likely won't be out in the United States until next year," Lybrook says.
GE Healthcare
What's New: LOGIQ E9 platform, Volume Navigation needle tracking, Scan Assistant
Introduced in late 2009, GE Healthcare's LOGIQ E9 ultrasound platform is flexible, giving clinicians the ability to gather images with deep penetration without sacrificing resolution (and in real-time 4D) and offers features and options that help a facility improve productivity and better manage data.
The LOGIQ E9's new Volume Navigation needle-tracking capability (introduced in March) with its sensor-tipped needle was designed to overcome many of the traditional challenges of existing ultrasound needle guidance, including needle visualization and deflection, determining entry points, and avoiding critical anatomy. Addressing those challenges helps increase the accuracy of biopsies, ablations, drainage, fluid aspiration, and general injections, says Dennis Meister, marketing manager for GE Healthcare's ultrasound products.
Before the skin is even penetrated, the LOGIQ E9's technology projects the needle path to the target, helping the clinician plan the optimal angle and point of entry. During the procedure, the system displays the needle's position in real-time graphics overlaid on an image of the scan plane. The needle's trajectory can then be monitored as it progresses toward the target.
The LOGIQ E9's advanced needle tracking helps clinicians utilize ultrasound during in-plane and challenging out-of-plane interventional procedures. "This can help reduce procedure time, limit repeat procedures, improve outcomes, and result in a better overall patient experience," says Meister.
Also available on LOGIQ E9 is GE Healthcare's Scan Assistant, which automates the more routine aspects of an ultrasound examination, thereby helping reduce keystrokes and repetitive motion and, as a result, allowing a sonographer to focus on the patient rather than the machine.
"In all, this means that the use of Scan Assistant could improve the patient experience while streamlining the ultrasound exam process by allowing sonographers to exam more patients while still reducing overall keystrokes," adds Meister.
Philips Healthcare
What's New: iU22 xMATRIX ultrasound system, CX50 POC
Philips Healthcare is launching the biggest upgrade to its iU22 product line with the iU22 xMATRIX. "This upgrade involves addition of a breakthrough in transducer technology," notes Jim Brown, senior director of clinical and technical marketing.
The added transducer is the X6-1 PureWave xMATRIX array. "It features 9,212 separate active elements, which is 35 times more than current conventional transducers. That, combined with the PureWave design, allows us to achieve new clinical capabilities we couldn't provide with conventional technology," says Brown.
It is designed to provide better image quality, even on hard-to-image patients, and improve overall clinical confidence. "With so many simultaneously active elements, we can produce the thinnest ultrasound slices," Brown says.
"We can see things we couldn't see before," he adds. "Plus, with its PureWave design, the transducer is highly efficient and possesses exceptional penetration capabilities, which enables acquisition of ultrasound information at greater depths. We can better image the most technically challenging patients."
The transducer enables users to simultaneously view two imaging planes with high resolution and in real time. "It can produce orthogonal planes that allows users to image without having to move or rotate the transducer," says Brown. "Basically, you steer the second image with the track ball."
Working in two planes at the same time can speed up workflow and streamlines scanning, potentially reducing scanning fatigue and repetitive stress injuries. "You can get orthogonal views very easily, and you don't have to twist your wrist," Brown notes.
Operators can acquire volume data without changing transducers and disrupting workflow. "This is a full-volume imaging transducer. So, with a touch of a button, you can get live volume displays," says Brown.
Users can go from 2D to 3D, 4D, MPR, Live xPlane, and Live Volume imaging at the press of a button using the same transducer. Also, the transducer is very fast, which can be a crucial consideration for the heavier, difficult-to-image patients and for those who can't hold their breath for very long.
"Previously, operators had to do their imaging with one transducer and then stop and pick up the 3D transducer to do volume acquisition," Brown adds. "That's no longer necessary. Basically, all you do now is push a button that takes you from one imaging mode to the next. This allows people to integrate volume imaging capability and view into the standard protocols."
Philips also recently introduced the CX50 POC, a new point-of-care configuration for its compact, portable CX50 ultrasound system. The CX50 POC provides clinicians with information during ultrasound-guided regional anesthesia and pain management. The technology can also be applied in critical/intensive care and emergency care settings. The CX50 POC offers a broad range of capabilities needed for ultrasound-guided procedures and focused exams, including cardiac, vascular access, lung, abdominal, OB/GYN, and musculoskeletal.
Siemens Healthcare
What's New: 3D/4D software, more effective transducers, substantial product upgrades
Siemens has made significant upgrades and enhancements to its ACUSON S2000 ultrasound system.
"We've updated our ACUSON S2000 system with the 2.0 release, which includes new technologies, and imaging and workflow enhancements," says Barbara Del Prince, global segment manager for obstetrics and gynecology. "Our new HD Zoom technology provides a high-density zoom designed to magnify the image while increasing detail resolution and providing users with higher frame rates. This is especially important when evaluating small moving structures such as the fetal heart."
The upgrade is also designed to enhance image quality on difficult-to-image patients. "Penetration has become a big issue as patients are getting larger," says Del Prince. "Increased penetration typically requires lower frequencies, resulting in a decrease in image quality. Our focus in the 2.0 release was to provide increased penetration without sacrificing image quality."
Siemens has addressed the issue with its 4C1 and 4V1 transducers. "We've optimized a new algorithm for speckle reduction [Dynamic TCE] that helps maintain resolution with better penetration, which represents an important development in deep abdominal imaging," Del Prince says.
In obstetrics, Siemens introduced a technology for visualizing the fetal skeleton. Del Prince says, "3D technology has become an important aspect of the OB exam. Previously, we looked at the fetal skeleton with a 2D projection that was limited in spatial resolution. With our new Skeletal Rendering technology, we've created a true volumetric technique which provides dramatically improved detail resolution."
Yet another enhancement is in the area of strain imaging. "We offer Virtual Touch HD technology, our second-generation of ARFI [Acoustic Radiation Force Impulse imaging] technology," Del Prince says. "Virtual Touch HD uses an acoustic push pulse to perform compression of the tissue, resulting in a qualitative elastogram or to provide a quantitative measure of sheer wave speed. We have expanded our Virtual Touch HD portfolio by adding this technology to our 9L4 transducer. Virtual Touch HD utilizes an enhanced algorithm for better sensitivity, greater accuracy, and more accurate measurements."
Siemens' new syngo.fourSight Workplace software delivers true stereoscopic view of 3D images and provides a tool for improving patient throughput and department workflow. The software provides off-system 3D/4D volume manipulation and 2D image and clip review for a variety of the company's ultrasound platforms, including ACUSON S2000, the ACUSON Antares ultrasound system, and the ACUSON X300 ultrasound system premium edition.
Siemens worked with NVIDIA and its 3D Vision technology to enable ultrasound images to take on high-definition detail. "We have always been limited in the presentation of 3D images by monitor technology. Through the 3D Vision technology and our syngo.fourSight Workplace software, we can actually look at 3D images in true 3D," says Del Prince.
The base software provides access to a comprehensive tool set for volume image manipulation, including thick slice imaging, multislice imaging, and various rendering modes. In addition, the plug-in architecture provides access to optional clinical application packages, including amnioscopic rendering that diffuses a user-movable light source into the imaged structure to provide realistic fetal ultrasound images.
The syngo.fourSight Workplace integrates into users' clinical workflow as a PACS plug-in or PC-based solution. "If a customer is reviewing on their PACS workstation, they can perform their 3D/4D volume manipulation in the same location that they read their 2D images and clips. This unique plug-in solution provides a significant enhancement for customer workflow," says Del Prince.
Toshiba America Medical Systems, Inc
What's New: Aplio MX, Viamo laptop system
Toshiba's most recent introductions include the Viamo laptop system, which placed the company in the ultraportable ultrasound market, and the Aplio MX, a premium midsized ultrasound system.
"We introduced both at the [2009] RSNA meeting," says Tomohiro Hasegawa, director of Toshiba's ultrasound business unit.
The Viamo laptop system combines portability with high-end radiology features designed to provide users outstanding image quality, enhanced diagnostic confidence, and improved ease of use. According to the company, the system provides the following:
• image quality and color flow comparable with larger, more expensive cart-based systems;
• a simple touch-screen interface programmable in panel or tablet modes; and
• the ability to interchange Toshiba transducers while using the Viamo's transportation pole.
"It's our offering to the fast-growing point-of-care space, and it fits into the hand-carried category that allows you to take ultrasound technology into environments where you can't take a cart," says Hasegawa. "It's about bringing the imaging to the patient as opposed to bringing the patient to the imaging.
Hasegawa notes the system enables a variety of patient exams be performed at the bedside, including traditional radiology, pediatric, emergency, OB/GYN, vascular, and bariatric exams. It can also be used in the operating room during liver transplants when medical personnel must image the anastomoses to assess blood flow through the vessels.
"The product is built on the Intelligent Component architecture, the same architecture we used for our high-end cart-based system," Hasegawa says. "This provides us with some very interesting capabilities, including pulse-subtraction harmonics as well as advanced dynamic flow, which is unique to Toshiba and provides high-resolution color flow imaging for very small vessels. True, these aren't always needed at the point of care, but they provide the clinician with greater confidence. Also, clinicians don't have to think about redoing the ultrasound on a cart-based system afterward. Previously, that was something that had been in the back of their minds."
The compact Aplio MX system provides premium clinical performance and high-end features at a lower price point. The system can perform ultrasound exams usually done with larger, more expensive ultrasound systems. The Aplio MX is approximately 30% lighter than traditional cart-based systems and improves ergonomics with its 19-inch flexible monitor and customizable key console. It can include Toshiba's iAssist technology, which stores frequently used protocols in the system, saving time during exams.
Toshiba's Aplio MX ultrasound system also includes the following:
• 4D imaging to produce high-resolution renderings and arbitrary volume cuts in real time or offline;
• differential tissue harmonic imaging designed for better imaging of difficult-to-image patients without sacrificing resolution to give superior border and tissue definition;
• ApliPure to enhance both image clarity and detail definition with real-time compounding technology to simultaneously perform spatial and frequency compounding during transmitting and receiving;
• advanced dynamic flow designed to provide color Doppler imaging to show flow with directional information for even the smallest vessels; and
• more detailed ultrasound images by capturing information from multiple lines to improve structure definition and minimize noise and clutter.
ZONARE Medical Systems Inc
What's New: Software upgrades, elastography feature, advanced transducers
ZONARE Medical Systems' products are based on the company's Zone Zonography technology, software architecture that enables the delivery of the first software-based platform. Since then, ZONARE has continually upgraded its software.
"We recently launched our 4.3 release, which represents our 10th software release in six years," says Maher G. Elhihi, ZONARE's director of marketing. "What's unique about our technology is that we can elevate our system performance through quick and easy software upgrades, as we are a software-based company."
Elhihi adds that customers under service contract and warranty receive the upgrades at no additional change. "Also, new features that we come out with, such as elastography, become a purchasable option," he notes.
The new 4.3 release enables ZONARE to round out its transducer offerings, says Elhihi. The company's new C41 transducer is a tightly curved transducer for deep abdominal imaging in difficult-to-image patients. It offers physicians improved access and imaging performance, resulting in increased penetration of up to 35 cm with sensitive Doppler imaging.
The company has also introduced a probe—the L14-5w Linear Array transducer—for high-level superficial imaging. The transducer offers broad bandwidth for the improved imaging of small parts, breasts, and superficial anatomy. Its field of view is 55 mm wide, which can be further expanded using ZONARE's Virtual Apex Array technology.
The z.one ultrasound system now features new elastography applications that enable qualitative visual assessment of tissue's mechanical stiffness properties. "For instance, for imaging around the breast, it can measure the stiffness of the region of interest," Elhihi explains. "The stiffness property provides physicians with additional information for diagnosis."
The high-resolution elastography images are generated and visualized through various gray-scale and colorized maps. All linear array transducers are supported.
"In addition to new probes, new features, and ongoing software upgrades, we continuously improve our image quality and our color," says Elhihi. "That's one of our foundations. We have certain enhancements that are in place in the 4.3 [release] that will help reduce image clutter and offer enhanced color flow signal in low flow states."