November 2010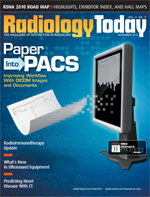 Are You Getting Ready?
By Jim Knaub
Radiology Today
Vol. 11 No. 11 P. 4
Thanksgiving dinner leftovers will be just entering the turkey sandwich phase when it's time to board the plane for Chicago and RSNA. Attendees are already scheduling meetings, sessions, dinners, and other appointments for radiology's big show. We're no different here at Radiology Today. This issue contains our popular and handy RSNA 2010 Road Map—which includes an exhibitor booth index, exhibit hall maps, and program highlights—right in the center of this issue.
While the annual radiologic pilgrimage to Chicago is an exercise in planning—as our road map and the contents of your smartphone calendar indicate—one of the most interesting aspects of attending RSNA is finding out what's the buzz grabbing people's attention. We'll keep our eyes and ears open and share what we think is the most interesting news from RSNA. We'll post our finds on both the Radiology Today blog (www.RadiologyTodayblog.com) and on our Facebook page. We'd also like to learn what you think are the most important RSNA developments, so share your thoughts on our Facebook page.
I think one of the conference's huge buzz items will be the speech by former President Bill Clinton, who will address professional attendees on Tuesday, November 30. The press is prohibited from covering the event—there will be a report in the RSNA show daily newspaper the following day—so I'm really curious to what extent Clinton will talk about healthcare reform. It also suggests to me that Clinton won't be delivering a lot of good news to radiology. His speech will occur after the November elections, so the talk won't be a cleverly disguised campaign rally, but the speech may focus on the political fallout of those midterm elections, including the impact on healthcare reform.
Radiology Today will be celebrating its 10th anniversary at RSNA, so stop by our booth—No. 5403—to say hello, wish us a happy anniversary, and tell us what you find most interesting about RSNA 2010.
Enjoy the issue.
jknaub@gvpub.com