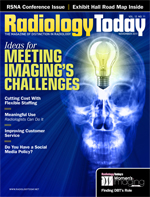 November 2011
Are You Ready to Ride?
By Jim Knaub
Radiology Today
Vol. 12 No. 11 P. 3
It's always interesting to gauge radiology's mood at RSNA. I have to admit that I'm not expecting tremendous optimism to fill the halls at McCormick Place—but I'd like to be proven wrong.
Reimbursement is being squeezed. Exam volume is flat or falling in many cases. The economy continues to struggle, and many people are putting off healthcare where possible. Budgets are tight. The future of healthcare reform is anything but clear. The House of Representatives, the Senate, and the Obama administration have shown us nothing that resembles any kind of realistic, coherent strategy for dealing with our national budget and debt problems.
All that uncertainty can make it difficult to plan confidently for the future. And yet…
"This is a very exciting time for radiology, but it's also a critically important time for us to remain clinically and academically essential and fully understand our role in an evolving healthcare system," said RSNA President Burton P. Drayer, MD, in his video welcome message on the RSNA annual meeting website. "We must weather economic uncertainty, realignment of care, utilization management needs, and controversy over radiation dose. Radiologists must form a united front in advancing the needs of clinical radiology and the imaging sciences in both North America and throughout the world. For this, we need to arm ourselves with the latest in technology and research and participate in meaningful discussions about the issues we face."
Drayer has the right attitude. He says it in a more professional way, but he's telling you to ride out and face the day. At the risk of sounding Quixotic, level your lance and charge rather than hide in the castle waiting for the invaders to come. That's why this RSNA issue features articles on to meet some of the challenges facing imaging organizations today.
 And after you've slain a windmill or two in Chicago, stop by booth 8937 and say, "Hail fellow, well met." Actually, "hello" will suit just fine.
Enjoy the issue. See you at RSNA.
jknaub@gvpub.com