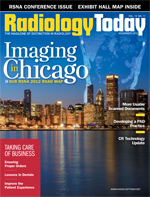 November 2012
Technology Update: CR — A Changing Role
By Jim Knaub
Radiology Today
Vol. 13 No. 11 P. 32
Direct DR is expanding, but CR still has its strengths and uses in many facilities.
The X-ray market certainly is moving toward direct digital radiography (DR). However, like Mark Twain in 1897, reports of computed radiography's death are an exaggeration.
"In the real world, CR and DR coexist," says Darren Werner, radiography product manager for Konica Minolta. "A savvy end user knows how to blend the two to meet their imaging needs."
Werner acknowledges that DR units frequently replace CR as older systems come up for replacement but also points out there are significant reasons and situations where choosing CR still makes sense. The three key reasons, according to sources interviewed for this article, include lower cost; flexibility; and redundancy, both for peak periods and as backup systems.
Lower cost: While the purchase expense of DR systems has dropped, CR can still cost significantly less. In many cases, its price has dropped, too. DR systems can maximize throughput in a busy imaging environment, but that capacity can be a false economy when exam volume does not approach capacity.
"The primary reason people look at CR over DR is financial justification," Werner says. "I would counsel any potential buyer to look at the volume the facility is looking to realize over scope of your investment in making that assessment."
Small imaging facilities, facilities with a decentralized approach to radiography, and clinical practices that offer their own imaging service are generally seen as good candidates for CR systems. "CR can offer private practices sufficient volumes and lower cost [to move] into a profit zone with X-ray in their practice," Werner says.
Heidi McIntosh, worldwide marketing manager for Carestream Health's CR products, says her company also has seen an increase in smaller practices adopting CR as its price drops. She cites an example of a solo chiropractic practice that made the switch because its owner said she was receiving more and more digital studies and felt she needed to make the move to filmless imaging to keep current with hospitals and other practices.
McIntosh adds that many hospitals are opening their own urgent care clinics and using CR systems in them. "They are going to invest in CR rather than DR because the DR panel could sit silent for long periods in an urgent care setting," McIntosh says.
Flexibility: CR plates offer users various sizes that simply are not yet available in direct digital detectors. Some DR systems offer only 14- X 17-inch or 17- X 17-inch detectors, Werner notes. If an organization routinely uses 8- X 10-inch, 11- X 14-inch, or 14- X 14-inch plates, the facility would have to adjust its workflow if those detectors are not available.
Distributed workflow is another cost and flexibility issue that CR can serve well. Fewer DR units can handle the same exam volume as a larger number of CR units. Fewer units may have the effect of centralizing imaging, which could be an issue in some facilities. David Watkins, assistant vice president of radiology-South Region at Carolinas Healthcare Systems, says in some of its facilities with modest volume they use CR because several decentralized CR stations are more efficient than a centralized DR system.
 "We can do faster turnaround with remote CR stations as opposed to centralized DR," Watkins says. "That's where I think CR still has value and as a redundant system."
The cost gap between DR and CR systems is narrowing. The most recent KLAS Research report on CR systems, released in February 2011, notes that some imaging providers report they can outfit a DR room with a Carestream DRX-1 system for less than the cost of some multiplate CR systems. Watkins notes that the opposite also can be true, and a facility may be able to purchase a multiplate CR system for less than the cost of a single-plate DR system. So facilities need to consider cost, volume, and the desire for a centralized or decentralized approach in their planning.
Watkins says a blend of CR and DR often is the answer. For example, he says, a facility that operated with 10 CR units may upgrade to DR and set up a department with six DR units and two CR units to maintain its previous capacity and efficiency.
McIntosh concurs that many larger facilities deploy both DR and CR units. In such an arrangement, one practical consideration is whether the DR and CR systems utilize the same user interface. Carestream's DR and CR units all share the same interface and so work in the same environment with both cassette types. Some in the field see multiplate CR systems giving way to DR detectors, with single-plate CR units often filling the need for decentralized radiography and backup capability.
Mammography is another area where CR can serve well. Many organizations have widely decentralized mammography operations. The ability to easily transfer digital images to a centralized mammography reading facility greatly simplifies the job compared with the alternative of transporting film to one reading site.
Redundant system: CR systems are widely used as backup or high-volume periods or when equipment is out of service. As DR expands as the primary radiography system, CR can provide that backup system without a film lab and the associated chemicals.
Multiplate Systems
The KLAS report on CR systems ranked the following four as the top multiplate systems:
1. Konica Minolta Xpress Dual Bay
Touting its Xpress system as the fastest dual-bay CR System, Konica says it is designed for total performance in workflow, image quality, configurability, high reliability, and easy serviceability. Key features of the Xpress Dual Bay, according to the company's website, include the following:
• 24 seconds to preview and 40 seconds cycle time;
• dual bays with input and output bays, requiring only 6 seconds to wait before inserting the second plate;
• it's configurable to process multiple plates simultaneously;
• the ability to scan a plate at any reader to balance workload;
• a compact footprint; and
• top detector quantum efficiency in plate technology.
2. Agfa CR 85-X
Agfa describes its CR 85-X as a multiplate, multiuser system suited for facilities with centralized CR. The digitizer features a drop-and-go buffer that reduces wait times and increases productivity. It also functions as a multiapplication digitizer with three different image-resolution modes. The digitizer automatically takes up to 10 cassettes from the input buffer, reads the demographic data from the memory on the cassette, scans the imaging plate, digitizes the image, and returns the cassette to the output buffer for new exposures.
Other system highlights, according to the company, are the following:
• throughput of up to 112 plates per hour, depending on the cassette size and application;
• standard resolution of 6 pixels/mm;
• 10 pixels/mm is available for all image plate sizes; and
• maximum resolution mode of 20 pixels/mm available for dedicated 18- X 24-cm and 24- X 30-cm extremities cassettes and plates.
3. Carestream DirectView Max CR
Carestream changed DR with its DRX-1 wireless direct digital detector, but it's still a player in the CR market. Its drop-and-go workflow enables the system to process up to 101 cassettes per hour and handle as many as 16 cassettes at one time. The digitizer enables image review in 34 seconds and cassette reuse in 40 seconds.
Other highlights, according to the company, include the following:
• it enables radiographers to perform most system functions away from the main unit;
• it connects to PACS, laser printers, and DICOM format devices;
• it facilitates storage, retrieval, and distribution of entire radiography record;
• a consistent, intuitive user interface; and
• patient data protection.
4. Fujifilm FCR XG5000
The company says its general-purpose multiplate system is designed and engineered to be versatile, user friendly, and efficient. System highlights, according to company information, include the following:
• 14- X 17-inch images at 10-pixel resolution available in 39 seconds;
• prints available within 110 seconds of cassette insertion;
• it processes up to 103 plates per hour;
• stacker accommodates four cassettes at once; and
• a 26- X 29-inch footprint.
Single-Plate Systems
Smaller facilities, places with decentralized X-ray, and physician private practices often view single-plate CR systems as a practical choice for their radiography needs. If exam volume doesn't tax capacity, there's no real reason to pay for additional capacity for routine X-ray exams. The most recent KLAS report on CR systems ranked the following five as the top single-plate systems:
1. Agfa CR 30-X
This is a compact, tabletop digitizer for decentralized CR environments, combining high image quality with high throughput from X-ray exposure to print or soft copy. It positions the CR 30-X as a solution for private and decentralized CR environments, including decentralized hospital departments and orthopedic, chiropractic, military, and veterinary applications.
Other highlights, according to the company, include the following:
• it scans at a spatial resolution of 10 pixel/mm;
• it scans phosphor plate at the full width of 43 cm;
• it supports all common cassette formats;
• it offers low total cost of ownership;
• it uses standard electrical outlets;
• installation can be done in a single day; and
• it uses Agfa's MUSICA2 intelligent image processing software to automatically optimize the final image quality.
2. Konica Minolta REGIUS Nano
This single-bay CR system can process up to seventy-six 14- X 17-inch plates per hour and features a touch-screen control station. The Nano CR can be networked with other Konica Minolta CR and DR units to satisfy a broad range of needs, from large hospitals or imaging centers to stand-alone clinics or surgery centers.
Other system highlights, according to the company website, are the following:
• Hybrid Processing, a patented Konica Minolta innovation that divides an image into multiple frequency bands to produce more natural-looking images with less noise and artifacts;
• in addition to the standard 10 pixel/mm resolution, a 87.5 µm mode provides the capability to view subtle pathological changes in special extremity and pediatric applications; and
• flexible configuration through networking with additional units meets workflow requirements and supports redundancy for backup needs.
3. Carestream DirectView Elite CR
This CR system is designed to serve medium-to-high image volumes for hospitals, imaging centers, clinics, and large general private practices with cycle times of up to 90 plates per hour for 35- X 43-cm cassettes. Designed for adaptability, the DirectView Elite configures to the image preferences of individual users and can accommodate general radiographic exams, 35- X 84-cm long-length imaging exams, and 15- X 30-cm dental exams.
Other system highlights, according to the company, include the following:
• it offers three workflow and image viewing console configurations;
• it provides a mammography imaging option;
• it offers DICOM and Integrating the Healthcare Enterprise functionality and connectivity; and
• it improves image quality with DIRECTVIEW EVP Plus image processing software.
4. (tie) Fujifilm FCR Carbon X and XL series
Fujifilm positions this system for distributed applications such as inside the exam room or even a trauma department with a processing speed up to 92 images per hour and image previews in as few as 23 seconds. It can serve well as a backup and as a redundancy solution during peak periods. In addition to 10 pixels/mm standard reading density, the XL-2 also features a 50-µm reading mode ideal for extremity exams or other cases where seeing fine details is critical.
The Carbon X is designed for smaller facilities with variable caseloads or remote applications, with throughput speeds of up to 72 images per hour. It can supplement a DR room or offer redundancy when needed.
Other system highlights, according to the company, are as follows:
• image previews beginning in as few as 10 seconds, and
• a 2.4-square-foot system footprint.
4. (tie) Philips PCR Eleva S
Philips focuses on high-end DR systems but still offers a compact single slot reader with a throughput of 78 plates per hour for moderate performance needs at a cycle time of 46 seconds. Philips' website characterizes the systems as suitable in environments with moderate performance requirements, for private practices, as a one-room solution with low CR throughput, or as a backup reader.
In addition to general X-ray environments, the system also can meet needs in ICUs, where free exposure techniques and fast image transmissions are needed; trauma departments, where fast and simple operations and initial on-screen findings are required; and orthopedics, where long image formats are required.
Other features, according to the company website, include the following:
• intuitive user guidance;
•17-inch LCD color touch-screen monitor for optimized handling or nontouch LCD monitor (with optional wall-mount kit available);
• automated workflow features, such as auto shutter, auto rotation, auto mirror, auto export, auto print, and auto image stitching;
• DICOM functions (eg, WLM, MPPS, GSDF, Print, Image Export, Media); and
• up to eight work spots per PCR Eleva reader.
— Jim Knaub is editor of Radiology Today.