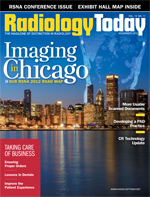 November 2012
Scanned (and Useful) Documents — Kaiser Looks to DICOM Supplement 104 to Bring Paper into PACS Workflow
By David Yeager
Radiology Today
Vol. 13 No. 11 P. 6
Scanned paper documents are a fact of life for medical providers but, in many cases, they're not much more useful than the actual paper documents, especially in radiology departments. Scanning may put information into a digital format and free up some floor space, but the documents need to be easily accessible to have clinical value. As radiologists' workflow becomes increasingly PACS centric, radiologists clearly need a way to efficiently use electronic documents, such as requisition forms or lab sheets, that follow medical images.
"I think people assumed for a long time that scanned paper documents were not a PACS problem, they were a RIS problem, and the PACS vendors left it to the RIS vendors to solve it. And you're starting to see a change now because the radiologist, more often than not, works within PACS," says R. L. "Skip" Kennedy, MSc, CIIP, technical director of imaging informatics for Kaiser Permanente medical centers in northern California. "And, as a result, they need to have immediate access and seamless access to all of the document types within PACS. The PACS is going to end up having to do document management because we're winning the battle for the worklist."
Kaiser is attempting to streamline the document management process by using the DICOM Supplement 104 standard to store PDFs in DICOM format. Because PDF is the most commonly used format for ancillary documents, digitizing them and making them easily accessible through PACS would be a boon to Kaiser's radiologists. Supplement 104 is appealing because it puts a DICOM wrapper around the PDF without altering the PDF's formatting, allowing the document to be stored and retrieved as any other DICOM object. When a clinician wants to view it, the PDF easily can be unwrapped and used as a typical PDF. Kennedy says this approach is convenient because it specifically addresses the problem of scanned documents without changing clinicians' workflow.
DICOM Wrapper
Once the PDFs are wrapped, they're stored in Kaiser's vendor-neutral archive (VNA). The VNA provides the back-end storage for six PACS systems, and the PDF documents are associated with the relevant imaging studies. In addition to the workflow benefits, this shift has the potential to drastically cut down on the amount of paper that's used.
"But I wouldn't propose for any workflow to actually use it as a primary document management or a content management system," Kennedy says. "This is really for those document types that are associated with other imaging content, like a vascular lab worksheet associated with the ultrasound."
Often, paper documents related to an image are scanned and stored in the secondary capture portion of the PACS. Kennedy says this method is extremely inefficient because the files are much larger than necessary and cumbersome to work with. Kaiser's goal is to improve the efficiency of scanned document management and enable functions such as the direct fill-in of PDF forms. Kennedy says the Adobe tools to do that are available, but document storage has been a barrier.
All that's needed to set up Supplement 104 capability is the software to wrap the PDFs and the ability to view the documents at a diagnostic workstation. Kennedy says the viewing and retrieving capability needs to be seamless to prevent workflow delays. Once these requirements are met, the infrastructure for digitally managing scanned documents in PACS is in place. However, not all vendors support the capability.
"Not everybody supports it," Kennedy says. "Right now, we don't support it for our primary PACS, so what we're doing is we're storing it on the side on the VNA with the expectation that by the end of the year we'll be able to view these documents."
An increasing number of PACS vendors support Supplement 104 (or are starting to). Kennedy says what's needed is the realization that these document types follow the medical images wherever they go. He predicts that when more PACS vendors become Supplement 104 compatible, it will come into common use.
EMR Driven
Supplement 104 is not a new standard—it's been around since 2005—but the imaging community has not widely embraced it. Kennedy likens it to DICOM Supplement 127 for CT Radiation Dose Reporting, which took some time before generating interest. Healthcare organizations may now be developing a similar attitude toward Supplement 104. Kennedy says the interest in EMRs has increased healthcare organizations' emphasis on digital solutions for content management.
"The EMR, I think, is driving a lot of this," Kennedy says. "There are a lot of ancillary paper workflows that are getting pulled into the EMR world, and people are looking at radiology and saying, 'You're still scanning bitmaps? Why?' I think we're being shamed a little bit, quite frankly, by the EMR people, who are doing a better job [with content management]."
— David Yeager is a freelance writer and editor based in Royersford, Pennsylvania. He is a frequent contributor to Radiology Today.