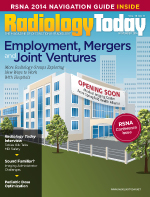 November 2014
Radiology Billing and Coding: The ICD-10 Delay—Five Steps to Take Right Now
By Ann Chenoweth, MBA, RHIA
Radiology Today
Vol. 15 No. 11 P. 8
The health care industry was taken by surprise when Congress slipped seven lines into the Protecting Access to Medicare Act of 2014 to delay the ICD-10 implementation date. Hospitals, physicians, and payers alike had been slowly but surely making progress, many even expressing confidence that they would be ready for the new codes on October 1, 2014.
Now that the dust has settled, many provider organizations are viewing the one-year delay as an opportunity to expand training, refine processes, enhance testing, and improve clinical documentation. Instead of putting preparation plans on hold, they are continuing with their ICD-10 implementation efforts. They are adjusting project plans and establishing new timelines and education schedules while moving forward at a steady pace. They recognize the risk of slowing, if not stopping, the momentum achieved thus far and the tremendous hurdle of reengaging key stakeholders after a lengthy hiatus.
So where does the industry go from here? How do health care organizations make productive use of the delay? Here are five key steps all facilities can take right now.
1. Maintain training momentum. The majority of coding and clinical documentation improvement professionals have participated in ICD-10 training activities, including focused education on the new code sets, clinical documentation requirements, and medical terminology in addition to anatomy and physiology. Periodic refresher training must be provided to coding and clinical documentation improvement teams to ensure precious skills are not lost. Focus practice on problem areas where knowledge gaps exist.
In addition, billing and coding and other information management leaders should use the extra time to extend their outreach and provide ICD-10 education support to physician office staff, ancillary departments, and affiliated facilities that may be doing their own coding. These efforts can reduce anxiety regarding the ICD-10 transition while improving coding accuracy across the entire care continuum.
2. Continue dual coding efforts. Even though organizations may reduce the volume of dual coding that coders are completing on a daily or weekly basis, it is important to continue the practice in order to stay ICD-10 sharp. ICD-10 education is resource intensive, and dual coding reinforces the training that already has been invested. Another advantage is the organization can create a records database with both ICD-9 and ICD-10 codes that can be leveraged for clinical documentation gap analysis, physician education, payer testing, financial impact analysis, and other important preparation activities.
Dual coding also supports the successful implementation of computer-assisted coding (CAC). The majority of CAC solutions on the market are based on natural language processing (NLP) statistical learning algorithms. The NLP engine "learns" over time as it processes more examples, resulting in improved precision and recall of codes. Leveraging CAC for dual coding contributes to the engine learning the meaning and context of medical record text and the corresponding ICD-10 codes. It helps ensure the underlying NLP engine is tuned for ICD-10 well in advance of the transition date.
3. Stay focused on clinical documentation improvement. Because it leads to better coordination of patient care and accurate reimbursement for the care delivered, clinical documentation excellence is beneficial to both hospitals and physicians even under the current ICD-9 coding system. However, ensuring clinical documentation accurately represents the patient's underlying severity of illness, quality of care delivered, and treatment rendered always has been a challenge. The additional documentation specificity required in ICD-10 only heightens the need for comprehensive clinical documentation.
Even with the delay, many organizations are expressing the need to capture additional documentation specificity, a critical component of delivering quality patient care, managing population health, and achieving new payment reform initiatives. HIM department staff also must continue to lead efforts around modifying EHR templates to capture the additional specificity needed for ICD-10. Ideally, this would occur at the point of care and within the existing physician workflow.
4. Expand payer collaboration, testing, and financial modeling. Prior to the delay, some providers reported that key trading partners such as clearinghouses and payers were not ready for end-to-end ICD-10 testing. Fortunately, the delay provides additional time for these entities to become compliant. It is important for organizations to understand how their trading partners are adapting to the ICD-10 delay and how it will affect testing timelines.
Furthermore, understanding medical review policies, preauthorization requirement changes, medical necessity updates, and new payer ICD-10 edits are essential next steps. The additional time can provide welcome breathing room for both providers and payers to ensure claims can be submitted and adjudicated accurately and in a timely manner so denials and cash flow are not negatively impacted.
ICD-10–based revenues may be neutral, positive, or negative, depending on the specialty. Therefore, organizations must determine which service lines will be impacted and by how much. If an organization previously did not have the time or resources to conduct a financial impact analysis, there now is an opportunity to reconsider. By analyzing current claims, including how they will change under ICD-10, providers can focus resources and identify remediation efforts in operational, clinical, information management, and financial areas.
5. Ensure system readiness. When the ICD-10 implementation delay was announced, not all vendors had fully updated their systems to support the new codes. Surprisingly, some had not yet communicated their conversion plans to their customers. As a result, many providers were facing the ICD-10 transition date with little or no time to ensure system upgrades and interfaces were functioning seamlessly without disrupting workflow.
Now that ICD-10 has been delayed, health care organizations can use the extra time to run checks and balances to ascertain vendor readiness, including determining the timing of new upgrades and products to support the new codes. Organizations should modify project plans and reallocate resources as necessary to ensure that the appropriate time is allowed for comprehensive testing and validation. It is extremely important that IT vendors stay the course and deliver ICD-10 updates as planned. By working together, providers and vendors can collaborate and implement necessary upgrades well in advance of the transition date.
Undoubtedly, the move to ICD-10 is one of the most challenging and complex transitions the US health care industry has ever experienced. After all participants expended so much effort, good will, and financial firepower, it was disappointing to learn the transition would be put off for another year. However, the industry can use the "reprieve" to maintain momentum and ensure all stakeholders, including hospital staff, physicians, and payers, are ready come next October.
— Ann Chenoweth, MBA, RHIA, is senior director of industry relations at 3M Health Information Systems.