November 16, 2009
Editor's Note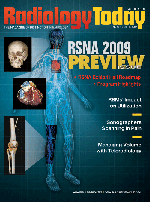 RBMs and the Wheel

By Jim Knaub
Radiology Today
Vol. 10 No. 18 P. 6
Radiology benefits managers (RBMs) provide imaging gatekeeper services for approximately 80 million Americans with private health insurance, according to Kathy Hardy's article on page 28. Six RBMs handle the lion's share of these services.
As it turns out, I'm one of the 80 million people whose gate is currently kept by an RBM. Not long ago, I received a form letter from my gatekeeper—National Imaging Associates (NIA)—telling me that it had approved the MRI exam of my foot. (I already knew this because the scheduler at the imaging center told me it had been precertified before she finalized my appointment.) The letter also informed me that I could go online and review the criteria for its decision. When I got around to it, it took about a minute to select my insurer, exam, and exam location (my right foot) on the NIA Web site and look at its criteria for approving my MRI. Just a few seconds later, there it was: "possible or rule-out osteomyelitis," one of 17 indications for approving a foot MRI. The wound clinic surgeon who debrided a nasty, infected puncture wound on my foot wanted to rule out bone infection.
Being curious, I decided to check the approval criteria for some of the other 30 insurers on NIA's Web site. The next one I checked had just 12 indications but covered almost exactly the same indications, only worded a little differently. The significant difference was two categories of exams the insurer and RBM instructed reviewers NOT to authorize: "any combo or bilateral study" and "additional images for same or poor contrast-enhanced study."
Next, I looked at another RBM's approval rules and found a completely different, much more convoluted path to essentially the same criteria.
Finally, I looked at the ACR's appropriateness criteria for CT or MRI for any lower extremity site. The criteria are based on the body part being examined rather than the modality, including 22 criteria similar to the insurers' guidelines.
It sure looks like there's a lot of wheel reinvention going on here with six companies and the ACR doing the same thing. They all do their own work so they can accept the conclusions—which are basically the same. Finalize one set of rules, hold the doctors who order exams and the imaging facilities to them, and squeeze some administrative waste out of our healthcare system.
While you're planning your RSNA trip, use our Exhibit Hall Road Map to get a look at what's hot in the hall this year. And don't forget to visit the Radiology Today booth (#8939).
Enjoy the issue and RSNA.
jknaub@gvpub.com