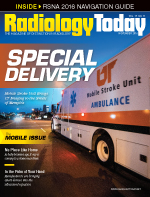 November 2016
No Place Like Home
By Beth W. Orenstein
Radiology Today
Vol. 17 No. 11 P. 14
As baby boomers age, X-ray is coming to a home near them.
Less than a month ago, Grandma, 87, was hospitalized for pneumonia. Discharged after a week, she was doing well at home, but her family reports that she is beginning to show signs of a relapse. The last thing her physicians want is to have to readmit her for the same or a related condition, especially if it's been less than 30 days since her last hospitalization. Under the Affordable Care Act (ACA) of 2010, if she is readmitted in that time frame, Medicare payments to the hospital and her physicians may be reduced. A chest X-ray would help her physicians determine what's going on with her, but it could be a while until her children are able to get her to a facility for an X-ray. Here's a viable option: Send a service to do a portable chest X-ray in her home. The X-ray can be sent directly to a radiologist via the internet, and the results will be ready shortly thereafter. Once they have the information, her physicians can determine whether she needs to be readmitted for more treatment, regardless of the payment, or if she can be put on stronger antibiotics and should be fine at home with proper supervision.
A Growing Need
Those who provide portable X-rays have noticed a significant uptick in demand for their services recently. One reason, they believe, is the increasing incidence of scenarios similar to the one that was just described.
"Right now, the hospitals are the ones getting penalized if patients are readmitted within 30 days for the same or related conditions," says Roger Faselt, president of Quality Medical Imaging, based in Orange County, California, which provides mobile imaging and laboratory services. Under the ACA, "In the future, not only will hospitals be penalized for readmissions within 30 days but so will the skilled nursing facilities that they came from," he says. About one-fifth of hospital patients are discharged to one of the nation's 15,600 skilled nursing facilities for rehabilitative care. Because of the possible financial penalties, many health care providers are doing all they can to diagnose and treat patients in their homes, if possible.
Another reason for the uptick in demand for home health X-ray is that the population is aging and more people, especially baby boomers, want to age in place, says Andrew Kester, RT(R)(CT), an EdD candidate and educational coordinator of applications for MinXray Inc of Northbrook, Illinois, which offers compact, portable X-ray equipment and digital imaging. "Older Americans are wanting to stay at home and not live with family or go to a nursing home," Kester says. "All that has meant an increase in demand for health care at home."
A trip to the emergency department (ED) to determine whether an elderly woman broke her hip when she fell out of bed in the night could mean a long wait to be seen—and that is if she is able to get to the ED, Kester says. She may live alone and have to wait for one of her children to come and take her to the hospital for the X-ray. Or she may be difficult to move, and her family members can't manage to get her in their car themselves. Also, if she goes to the hospital, the doctors may order a bunch of other tests, looking for other possible concerns, and end up wanting to admit her.
"When you're in the hospital, there's the added chance they'll find something else and admit you," says Obie Burger, Jr, LRT, RT(R), ARRT, director of business development for K&A Radiologic Technology Services in East Syracuse, New York. He agrees that all of these scenarios are contributing to the demand for X-rays at home. "The focus is on keeping individuals in their own homes longer, where they want to be, and [so] we're getting more and more requests for our services," he says.
Timing Is Perfect
The increase in demand for imaging in the home has come at a perfect time. "Improvements in portable diagnostic imaging in the last 10 years are significant," Burger says. Today, he adds, the quality of an X-ray taken with digital equipment in the home is no different from that taken with X-ray equipment in the hospital's imaging department.
"The only reason the radiologist reading the exam would know it was taken at home is that we list that on our report," Burger says. "The quality of the images has more to do with the patient's ability to hold still for the exam than the machinery used to capture the image or where that machinery is [located]."
The move from film to digital has helped tremendously. Technologists don't need to process film to see the images. With digital, they can see instantly whether the images they captured are of high quality or whether they need to be retaken. "With digital radiography there are no supplies needed," Kester says. "No paper. No chemicals. The [technologist] gets his dispatch like the UPS driver and goes to the house. He unpacks his X-ray equipment, takes the X-ray of the chest or pelvis or whatever is ordered, packs up, and moves on."
Portable X-ray equipment has become lighter and more compact, too, making it easier for technologists to transport it in and out of a patient's home, those in the field agree. Unlike mobile X-ray equipment, which runs on batteries that add weight to it, portable X-ray equipment is plugged into a standard wall outlet.
"You're able to physically pick up a portable X-ray machine, carry it into the home, and plug it in to a nearby outlet," Kester says.
"Though the X-ray machines have gotten smaller over the years, we still face some challenges when we have to take X-ray machines into private homes and up stairs," says Desmond Brown, CEO of Mobile Medical Imaging, which is based in Baltimore and has five portable X-ray machines out on the road most of the time. "[However], new X-ray stands will be hitting the market very soon and will make it easier for technologists to maneuver X-ray machines up stairs."
The only other issue that may complicate the process is if the patient is obese. Then it can be difficult to image the patient at home and get quality images, the experts agree. Should the technologist arrive at the home only to discover that the patient needs to be imaged in a fixed facility because of body habitus or some other reason, the ordering physician is notified immediately, Brown notes.
Home Services Increasing
Most of the requests for portable imaging are for one of two reasons: chest X-rays to determine whether a patient has developed pneumonia or X-rays of hips, arms, legs, etc, to determine whether an at-home patient broke anything after a fall, the spokesmen agree. "By far, the most common exam is chest X-ray to look for pneumonia," Faselt says.
Kester finds that about one-half of the X-rays are for chest and one-half are for orthopedics. With the orthopedic requests, "If they had a fall, you are looking to see if they did any damage, or postsurgery, you might look to see if the pins are in place and whether anything has shifted," he says.
Kester and colleagues expect that the demand for home health X-rays will only continue to grow, not only as the patient readmission penalties increase for hospital readmissions that occur within 30 days of discharge—under certain circumstances—but also because the Centers for Medicare & Medicaid Services (CMS) is encouraging states to use Medicaid funds to keep the elderly and the physically and mentally disabled who receive benefits in their homes or community-based settings, rather than nursing homes. In August, CMS released a guidance document on the issue. It included a suggestion that states establish an open registry of home care workers to make it easier for those who need them to find them. There is some evidence that a shift has begun. The most recent CMS data show an increase in the amount spent on home and community-based services: 53% in 2014, up from 45% in 2009.
Medicare covers 80% of the cost of an X-ray, whether it's taken in a home or a facility, says Andy Diamond, president of Mobile Medical Imaging. The patient's secondary coverage would cover the remaining 20%. "We do get a transportation fee from Medicare, but as long as the patient has insurance, he wouldn't see a difference," Diamond says.
Even with the transportation fee, it's more economical than having to transport the patient in an ambulance or cabulance to a fixed facility, Faselt says.
Convenience, Fast Turnaround Key
For many families, having the X-ray at home is much better than waiting for hours in the ED or trying to schedule an appointment for Mom or Dad at a convenient time, Burger says. Fast turnaround times are critical, Faselt agrees. "Right now digital images taken with portable machines can be sent over the internet and be in front of a radiologist in two minutes, which makes for very fast turnaround times for reports. That's really important. If physicians are trying to make a decision about what to do for a patient at home who is experiencing shortness of breath or other serious concerns, they can do so much quicker when they have all the information they need," Faselt says.
Mobile Medical Imaging promises a same-day turnaround time for home health services. It tells clients "if the X-ray is ordered at noon, you'll have results by 4 PM," Brown says.
K&A tries to keep to a two-hour turnaround time, Burger says. "And we're 24/7."
The one concern that some families have is whether taking X-rays in the house is safe, Brown says. "We often hear people say, 'We don't want the radiation in the house,' but we tell them that they'd get the same amount of radiation walking around the street for five days. We use lead aprons on all patients to reduce exposure, but the truth is they're going to get that X-ray, anyway. Whether they get it in their home or at the hospital, it's the same exposure." Everything with portable X-ray equipment functions the same as in a dedicated X-ray facility, Brown notes. "The regulations, the machines, how often they're inspected, and who operated them … is the same."
Brown suspects that with the home care industry growing as rapidly as it is, portable X-ray machines are going to become smaller and smaller, making them even easier to take on location.
Patients appreciate that they're able to stay in their home or normal environment, Faselt says. "Someone with Alzheimer's disease or who is chronically ill—for them to go and have a procedure done somewhere can be pretty taxing. With portable X-ray, they can be treated without having to leave their bed or living room and, at the same time, you're saving the system money."
The home health care providers also offer portable ultrasound and EKG and have seen requests for those services increase as well.
— Beth W. Orenstein of Northampton, Pennsylvania, is a freelance medical writer and regular contributor to Radiology Today.