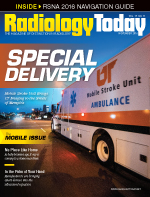 November 2016
In the Palm of Your Hand
By Keith Loria
Radiology Today
Vol. 17 No. 11 P. 18
Manufacturers are bringing smart devices into the ultrasound equation.
Portable ultrasound machines have done wonders for the medical community, but an even more groundbreaking ultrasound solution has come to fruition over the past two years, with several companies releasing smartphone-enabled ultrasound devices that bring diagnostic medicine to a new level.
Clinicians are just scratching the surface of how portable ultrasound can be used. For example, at the 2016 US Open Tennis Championships, onsite physicians were able to use the devices to check on possible player injuries.
Widespread adoption of this technology may prove useful in emergency departments, rural areas, and developing countries. These types of portable devices are also helpful for prehospital scanning by paramedics, enabling physicians to prepare to treat patients as soon as they arrive in the emergency department.
Portable and Easy to Use
Neena Rahemtulla, vice president of marketing for Clarius Mobile Health, says that Clarius is a wireless, handheld ultrasound scanner that works with most iOS or Android smart devices. It connects through Wi-Fi with a device of the user's choice, such as a phone or tablet. That device then displays the ultrasound image and allows for basic ultrasound function, such as depth and gain. It also allows cine loops or still images to be recorded, which can then be sent to the cloud for storage.
"Clarius is a departure from traditional point-of-care ultrasound devices that are much larger and multiple times more expensive," Rahemtulla says. "Weighing less than a pound and compatible with phones and tablets that many clinicians have with them, Clarius is easily carried from patient to patient, on ambulances, and to remote areas."
Clarius scanners are meant to be used for quick scans at the point of care and to guide procedures. There are three models—curved, with a virtual phased array for quick cardiac views; linear; and microconvex, for veterinary and pediatric applications.
Rahemtulla says clinicians who have seen Clarius have noted the following:
• It has exceptional image quality, and it's affordable.
• It works with devices they already own and carry around.
• It's portable and can be purchased/used as a personal ultrasound device.
• It's durable, thanks to a magnesium shell.
• It's easy to keep sterile.
• It's easy to use; most controls are automated.
• It uses the functionality of touch screen smart devices that most people are used to.
• Its batteries are rechargeable and can be used for up to an hour of scanning.
"We have feedback from the medical community that many are still doing blind procedures due to the current barriers related to prohibitive cost and [lack of] ease of use," Rahemtulla says. "Clarius is affordable and ultra portable, while providing excellent image quality, which makes ultrasound more accessible for people who want to use it."
Users will be able to download the Clarius app from iTunes or the Google Play Store to one or more smart devices. To start using Clarius, clinicians must set up a Clarius account, where they can choose to securely store images and manage the device. To initiate a scan, the user launches the app, selects the scanner, enters patient data if necessary, and then selects the preset corresponding with the region of the body they wish to scan.
Clarius has automated gain and frequency settings. Users are able to manually adjust gain and depth using the touch screen on the smart device. They can also flip the image, freeze an image, send images and clips to DICOM, or store the image and videos on the Clarius Cloud.
Kevin Irish, MD, an interventional radiologist based in Vancouver, British Columbia, Canada, is one of Clarius' medical advisors who worked with the company by testing its scanners on models during the development phase. He has been using the Clarius device for several months and was given both a linear and a curved probe, which he has utilized in limited test situations. He has also done some comparisons with other point-of-care machines.
"In my limited assessment to date, I have been extremely impressed with the Clarius device. The ability to put ultrasound literally in the palm of your hand is an important advancement in the development of ultrasound," Irish says. "This allows for easy ultrasound access for physicians, which could serve to significantly improve physical diagnosis—a modern day stethoscope, so to speak."
In Irish's practice, there are multiple applications for point-of-care technology, such as pain management and limited interventional procedures such as line placement, thoracentesis, paracentesis, and biopsy.
"The Clarius handheld unit is … perfect for these applications," Irish says. "It literally fits in your coat pocket and connects with your iPhone, which allows for extreme efficiency. There is no need to wheel a machine around like some of the other [point-of-care] units on the market."
Irish foresees increased use of the app by other physicians and those involved in the health care industry, including anesthesiologists, emergency medicine physicians, surgeons, OB/GYNs, and general internists.
"This device, for example, would be great for checking fetal presentation or simply fetal well-being, such as amniotic fluid index and heart rate, for OB/GYNs," he says. "It's great for basic cardiac output and monitoring pleural effusions and ascites for the internist. It would also be great for a fast exam by [emergency department] docs and a basic abdominal exam for surgeons."
As a radiologist, the main positives for using the system are portability and ease of use, Irish says.
"There are no cables, no need to find a plug, no need to have a large room to allow for bulky equipment," he says. "I can literally walk into a room with the patient and begin scanning."
Other Options
Mobisante previously sold both the MobiUS SP1 System for smartphones and the MobiUS TC2 System for tablets. Both portable ultrasound systems allow DICOM images to be quickly shared via Mobisante's Cloud-Based Image Management service or e-mail.
"I can see what I need to see, and the convenience is unbeatable," says Oliver Aalami, MD, a vascular surgeon with Stanford University Hospital and Clinics, in a featured testimonial on the company's website.
Lumify is Philips' first smart device ultrasound solution, built on a BYOD (bring your own device) platform that operates through Philips' ultrasound scanning app on a subscriber's off-the-shelf, compatible Android device.
It was named as one of the "Top Tech Advances of 2015" by Medscape editor-in-chief Eric Topol, MD, who pointed out that it was designed to help make ultrasound more accessible, help clinicians provide improved patient care, and reduce costs.
Vitor Rocha, CEO of Philips Ultrasound, notes that Lumify is commercially available in the United States to those with appropriate medical licensing.
"The simplicity of this solution allows a broader network of health care providers and clinicians access to ultrasound technology," he says. "With Lumify, ultrasound technology can go with the user to the point of care, whether that is in an emergency department, a hospital bedside, a clinician's office, or the sports field."
Lumify operates with everyday technology, such as a personal Android phone or tablet, and includes a Philips transducer, the Lumify app, and software updates. To operate, qualified users subscribe from Philips, download the Lumify app from Google Play, and plug the transducer into their smart device, using its standard micro-USB connector. Once connected, users can launch the app and begin scanning.
"Lumify's design revolves around enhanced convenience without compromising image quality or technology," Rocha says. "Ultimately, and long term, Philips envisions a world where smart device ultrasound spans the health continuum. Innovation on this solution continues with more transducers, apps, operating systems, and services that will be available through Philips' Lumify portal."
Lumify is intended to expand access to the benefits of ultrasound earlier in the health continuum and among more providers, facilitating quick, reliable diagnostics that can be shared easily and used to inform treatment and management, and, ultimately, help clinicians improve patient care. In addition to expanding access and connecting the care environment, Lumify also lowers the cost of ultrasound equipment through a flexible, subscription-based model that allows health care providers and institutions to scale their ultrasound solutions to meet their needs and environment.
"Access to technology that helps enable fast decision-making and supports an efficient course of treatment is critical," Rocha says. "Ultrasound is one of the most widely used first-line diagnostics tools, playing a vital role in early detection, monitoring disease progression, and diagnosis. Making ultrasound mobile creates opportunities to bring the technology earlier in a patient's care journey and into new realms of the health care delivery system where it's often needed most."
— Keith Loria is a freelance writer based in Oakton, Virginia.