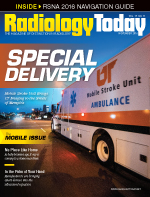 November 2016
Inside View: Standing Out in the Crowd — Crowdsourcing Offers an Underused Resource for Radiology
By José Morey, MD; Nora Haney; and Justine Kemp
Radiology Today
Vol. 17 No. 11 P. 26
Crowdsourcing is the collaboration of many people with various strengths and skills to solve a problem. It is a common tool that contributes to the rapidly innovative changes seen today. While the earliest knowledge we have of crowdsourcing was in the 1700s with the British government's Longitude Act, more recent examples include Wikipedia, a free encyclopedia that can be freely edited; Linux, an open source operating system; and Waze, a popular GPS navigation app that allows users to contribute content about driving routes, such as the locations of roadblocks and photo-enforced traffic lights.
But is crowdsourcing commonly used as a resource for the medical field? Medical education and the career that follows is a hierarchy where shortcuts to higher tiers are limited, if present at all. For doctors, the only path is medical student becomes resident physician becomes attending physician, plus or minus a year of research here or a fellowship there. This strict pecking order doesn't seem to leave room for the nonmedically educated to solve "our" types of problems.
That being said, a January 2015 article in MedCity News mentioned that capital directed toward crowdsourcing projects has been increasing at a tremendous rate, faster than that of social media when it was just starting. Furthermore, they highlighted areas of health care where crowdsourcing has a role meeting the needs of cancer survivors, delivering flu shots to civilians in an Uber, and more. There are even apps created to combat the Zika virus and diagnose complex medical mysteries that have been plaguing patients for years. Within the radiology domain, Radiopaedia.org, a trusted Wikipedialike search engine for radiographic pathologies that is prevalent in medical education, comprises images that were originally crowdsourced. The website now includes features where radiologists and other medical specialists can upload a patient image and ask for a second opinion. Another aspect of radiology that could be crowdsourced is medical research, which has been proven to be successful in the improvement of the computer-aided-detection technology used in virtual colonoscopies.
New Opportunities
From the successes of Radiopaedia.org and applications that solve medical patient mysteries, there seems to be a role for crowdsourcing in combining these two ideas. With interesting and rare patient clinical stories and diagnoses, why not add imaging into this mix? Patients have their own unique presentations of both common and uncommon diagnoses, each also being represented in slightly different ways on any given imaging modality. A database of patients' own clinical stories with imaging may allow for further advancement and knowledge about presentations of a variety of medical pathologies.
Consider this example: A common problem that patients run into while undergoing imaging is finding comfort in an MRI machine for the hour it takes to produce an image. Some patients become too anxious, require anxiolytic therapy, and may not even be able to stay in an MRI machine long enough to produce a quality image. However, this problem could be crowdsourced to determine how patients might better cope with claustrophobia without the need for sedating medication, whether through calming images, serene sounds, or by keying into another sensory perception. This could result in cost efficiency by reducing the needed rounds of MRI, decreasing the interval to a diagnosis for any given patient, and decreasing the use of unnecessary medications. No medical degree required.
With the field of radiology changing at lightning pace, the number and variety of problems that can be addressed by crowdsourcing is endless. It is an inexpensive and flourishing resource that should not be immediately excluded from any medical puzzle that we might face.
— José Morey, MD, is a senior medical scientist for IBM Research, a visiting assistant professor in the department of radiology and medical imaging at the University of Virginia, a member of the VA's Health Informatics Leadership Council, and a radiologist at the VA in Norfolk, Virginia.
— Nora Haney is an MD/MBA candidate at the Tulane University School of Medicine and AB Freeman School of Business in New Orleans.
— Justine Kemp is an MD/MBA candidate at the Tulane University School of Medicine and AB Freeman School of Business in New Orleans.