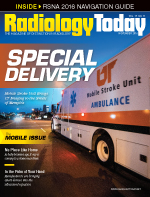 November 2016
CT Slice: Radiology Gone Wild — Advanced Imaging for Veterinary Patients
By Jeannette Sabatini
Radiology Today
Vol. 17 No. 11 P. 30
A patient may present with neck discomfort that makes it hard for her to eat, yet most doctors and radiologists would think twice about putting that patient in a CT scanner if she had razor-sharp teeth, scales, and a forked tongue. But not Pedro Armstrong, DVM, DACVIM, whose company has a CT scanner that is making, in his words, "unparalleled" diagnostic imaging technology more accessible to patients with such characteristics, as well as others with less daunting features like floppy ears and whiskers.
Armstrong, a veterinary internist, has a company called Mobile Pet Imaging, which delivers robotic high-definition CT (HD CT), fluoroscopy, and IR to the doorsteps of veterinary facilities. The mobile unit utilized by the company houses a scanner called Vimago, made by Epica Medical Innovations, which specializes in products for veterinary medicine. The scanner's multimodality capabilities have been used in this mobile environment to diagnose and treat animal patients, including dogs, cats, chimpanzees, tortoises, rabbits, and squirrels.
"Our clientele varies greatly from dogs and cats at your local veterinary practice to patients at different zoos or rescue sanctuaries. We have even scanned dolphins postmortem," Armstrong says.
Hannah, the patient with the unnerving, previously mentioned attributes, was one of the service's most memorable patients. A Komodo dragon who lives at the Palm Beach Zoo, Hannah was receiving acupuncture to help treat back and neck pain that was making it difficult for her to catch food and eat it on her own. The zoo called Mobile Pet Imaging, which carefully put Hannah in the scanner and got CT scans that helped determine the best route for her unique treatment plan.
"Based on the findings on a CT scan, her treatment plan was modified, and she now has more mobility in her neck, thus providing more freedom to eat more comfortably," Armstrong explains.
Better Resolution, Less Radiation
Armstrong started Mobile Pet Imaging in November 2014, with his business partner Xavier Meaux, DVM, whose background is in general and emergency medicine. Based on Armstrong's familiarity with veterinary medicine, Epica Medical Innovations asked for his input when developing a scanner that could be used for veterinary services.
"We met Dr. Armstrong before the Vimago was ever released," says Greg Stoutenburgh, founder of Epica Medical Innovations. "He immediately saw the possibilities and how he could use it to raise the bar of quality and service in veterinary medicine."
Both Stoutenburgh and Armstrong believe HD CT patent-pending technology surpasses imaging techniques traditionally utilized in veterinary medicine. It also has an "extremely" high resolution and uses significantly less radiation than standard CT, Stoutenburgh says.
"This new technology is unparalleled. It brings a new dimension in imaging, when compared to the traditional forms of imaging in veterinary medicine," Armstrong says. "CT scanning is superior to more traditional modalities like X-ray and MRI for imaging of areas such as the abdomen, thorax, and bony structures."
Says Stoutenburgh: "HD CT is diagnostic for every case you may diagnose with a conventional CT, but it also can make many diagnoses a conventional CT would miss."
Vimago is the highest resolution scanner "in the world," Stoutenburgh states. "This extremely high resolution allows small lesions and small patients to be scanned diagnostically," he says.
Armstrong adds: "HD CT allows the highest resolution imaging of any technology, along with excellent soft tissue contrast using a much lower radiation dose than any other technology."
The scanner also has fluoroscopy on board. One of its uses is to detect tracheal collapse, a common diagnosis in small breed dogs, Armstrong notes. "The main indications for fluoroscopy in dogs are for swallow and tracheal studies. We also diagnose a number of gastroesophageal reflux and persistent right aortic arch with this modality," he explains.
A Wider Range
According to the company's website, indications for HD CT and fluoroscopy include head, nasal and sinus, pulmonary/thorax, abdominal, musculoskeletal, pelvic, spinal, and general studies. The most common requests are for head, thorax, and abdominal scans. "Vimago is engineered for veterinarians to be used diagnostically, intraoperatively, and interventionally with the ability to quickly scan the entire body of any size patient from a mouse to a mastiff," states literature provided on the site.
HD CT overcomes the deficiencies of conventional CT related to resolution, safety, facilities' needs, and cost, Stoutenburgh says. As far as costs are concerned, Mobile Pet Imaging's CT services are "much more affordable" than costs related to care at traditional imaging centers and referral hospitals, Armstrong says. And, users—veterinarians—save money because they can provide advanced care without having to make an investment in equipment. There are costs, however, for updating bloodwork and fluids before and after the study is performed, the number of regions being scanned, and anesthesia, he notes.
The mobile service also allows diagnostic CT and fluoroscopy studies to be performed at the point of care. "Mobile Pet Imaging and other providers can cost effectively provide a higher standard of care to pet owners who otherwise may not have access to the best care, limited by either proximity or cost," Stoutenburgh says. "HD CT is now more accessible to the general veterinary practitioner and their patients since this important and valuable diagnostic modality can be done at their own hospital. Without [these services], these patients likely would not receive this level of care."
Facilities and patients using the mobile imaging company also reap the benefit of a fast turnaround time, since board-certified veterinary radiologists are on hand worldwide to read reports and findings via telemedicine, Armstrong adds. "Having multiple radiologists in different areas helps us provide a faster turnaround time on getting reports and findings back to the general practitioner," he says. "Radiologists are working from different parts of the world, but mostly in the US and Europe."
At present, Mobile Pet Imaging is serving a number of counties in Florida—Miami-Dade, Broward, Palm Beach, and Monroe—but Armstrong is working to bring the technology to more areas. "The HD CT and fluoroscopy services provided by Mobile Pet Imaging are not common at all within the state or nationwide. We hope to help change that in the near future, as we grow," he says. "We have increased the use and knowledge of CT in our local market and have great satisfaction that we are helping our local general veterinary community by providing more capabilities to diagnose their patients and, as a consequence, increase the quality of medicine being practiced."
The company is working to expand its IR services. "Interventional radiology, as a discipline in veterinary medicine, is in its infancy, and new exciting applications are being developed and studied in different centers in the world," Armstrong says. "So far, we have done one case of tracheal stenting."
Motivated by its success, Mobile Pet Imaging is putting a seed out to potential entrepreneurs. By next year, the company expects to have more mobile units in new markets. Additionally, the National Geographic Wild channel has featured Mobile Pet Imaging. "We service a local exotic specialist, 'Dr. K,' who has her own show and employs our services when needed," Armstrong says.
— Jeannette Sabatini is a freelance writer based in Malvern, Pennsylvania.