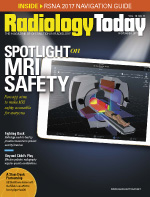 CT Slice: MACRA's Effects on Imaging
By Dominic Siewko
Radiology Today
Vol. 18 No. 11 P. 10
Epic change is hitting the United States health care industry's reimbursement system, with the effects impacting the constantly evolving regulatory environment for radiology. It is a topic that has dominated recent trade shows and professional society meetings, with physicians, radiologists, and hospital administrators scrambling to understand how the new payment models will apply to them.
Imaging Regulations and Reform
Beginning in 2019, the amount payable to a physician or a physician group under the Physician Fee Schedule will be amended by the Medicare Access and CHIP Reauthorization Act of 2015 (MACRA). Within the new process, adjustments will follow two systems: the Merit-based Incentive Payment System and Advanced Alternative Payment Models.
As a result, reimbursement will depend on the submission of health care metrics by the health care provider that apply to that radiology practice. There are progressive penalties for noncompliance with the program, starting with a -4% penalty in 2019 and progressing to -9% by 2022. The ACR leads all professional societies in terms of MACRA metrics to report, with 15% of all high-priority MACRA metrics being imaging related and 10 individual metrics related to patient radiation exposure alone, predominately tied to CT.
Over the past seven years, the imaging industry has had a strong push to lower or limit the amount of diagnostic radiation exposure patients can receive. Several initiatives have addressed technologist training, education, appropriate use, updated equipment, safety features, and tracking radiation dose metrics.
In 2010, the FDA announced its Initiative to Reduce Unnecessary Radiation Exposure from Medical Imaging to lay the framework around how to accomplish this. With the new MACRA metrics, CT still receives the lion's share of attention, and this will require radiology departments to change, or at least deeply review, how they collect and record data—not only from radiation dose but also pairing it with clinical and admissions data from the hospital's information systems.
For example, metric N/A/359 will require radiology departments to create a standard nomenclature for CT imaging exam descriptions. The goal of such a requirement is clear: It will permit data mining for various uses, including benchmarking, dose registries, research, and quality improvement efforts. The RadLex Playbook, a recommended choice for imaging professionals, would require radiology departments to map their current CT exam names to the standard naming convention.
Additionally, metric N/A/360 focuses on optimizing radiation exposure to patients by reporting a count of CT and cardiac CT procedures, as well as potential high-exposure exams. Providers will need to track, measure, and report for all patients, regardless of age, any CT and cardiac CT exams received in the 12-month period prior to a current study.
Reporting to radiation dose registries will also be required, per metric N/A/361, where the provider must report a percentage of total CT studies performed for all patients, regardless of age. Data reported to a dose index registry include a select group of elements such as patient name, weight, age, exposure time, tube current, kilovoltage, CT dose index volume, CT model name, and study description. This will require providers to participate in the ACR's Dose Index Registry, which has been recording and reporting data since 2011.
Overcoming Industry Challenges
A key MACRA challenge for radiology departments will be meeting the requirement of sharing CT images and data with nonaffiliated health care facilities, per metric N/A/362. It has been estimated that between $3 billion and $10 billion are wasted in the United States annually on unnecessary or duplicative imaging studies, and these costs could be reduced if providers had historical access to patient CT exams, which would also help them to manage individual patient dose. Providers will now be challenged to offer exam information and images on a secure, media-free, and reciprocally searchable basis—with patient authorization—for at least 12 months after the study.
One of the more interesting and complicated metrics to report will be N/A/364, which will try to measure the appropriateness of follow-up CT imaging for incidentally detected pulmonary nodules in patients 18 years of age and older. There are also other appropriateness metrics such as N/A/415 that target a reduction of emergency department CT head exams related to some accident scenarios. The N/A/416 metric applies to patients aged 2 to 17 (N/A/415 is for patients 18 and older) and seeks to limit CT head exams when patients present in the emergency department with blunt head trauma and a Glasgow Coma Scale score of 15. The Glasgow Coma Scale is a neurological grading scale based on three inputs: eye movement, verbal skills, and motor skills. Patients who score a "perfect" 15 show no signs of impairment or concussion, thus denying the justification for providing a CT head exam. This is one example that demonstrates the benefit of connecting hospital data systems to combine radiation dose information with previously unconnected clinical data.
MACRA metric N/A/436 targets CT technology and emphasizes the need for health care providers to have the latest in dose management features. In addition, the XR-29 Standard was handed down to manufacturers of CT equipment to modernize and add CT dose management technology. This metric requires that the final results for patients aged 18 years old and older be reported with documented evidence that advanced dose reduction technology was used, such as automatic exposure control and adjustable kilovoltage/milliamperage, according to patient size and the use of iterative reconstruction techniques.
What's Next?
It's clear that radiation dose regulatory management is not going away anytime soon. In fact, it continues to proliferate through national government agencies such as the FDA, The Joint Commission, the Centers for Medicare & Medicaid Services, and the impending European Medical Device Directive standards for medical radiation exposure. The continued emphasis on dose reduction, for CT in particular, will force health care providers and imaging professionals to reexamine their radiology data flow and access for such reporting.
— Dominic Siewko is the clinical marketing manager and radiation safety officer for Philips DoseWise.