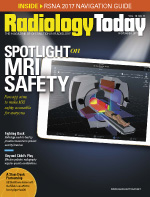 A Slam Dunk Partnership
By Keith Loria
Radiology Today
Vol. 18 No. 11 P. 22
GE Healthcare teams with the NBA in an effort to boost player health.
GE Healthcare and the National Basketball Association (NBA) are collaborating on research projects to address the prevention, diagnosis, and treatment of musculoskeletal injuries affecting athletes. The partnership earmarked $1.5 million for a select group of studies on bone stress injuries, a frequent and debilitating injury for both NBA players and everyday athletes. This was the third round of proposals that were sought, and study applicants were chosen this past spring.
John Sabol, PhD, GE Healthcare's chief scientist, says the NBA and GE Healthcare launched the strategic partnership to collaborate with leading clinical researchers who have demonstrated an excellence in orthopedics, sports medicine, radiology, and related disciplines.
"The multiyear collaboration is focused on orthopedic issues faced by both NBA players and the population," he says. "This includes conditions like joint health, inflammatory injuries, and acute musculoskeletal injuries. The combination of GE Healthcare's expertise in advanced imaging and clinical research with the NBA's network of sports medicine practitioners—physicians, surgeons, and trainers—provides a unique opportunity to address health issues relevant to elite athletes and the general public."
Frederick M. Azar, MD, chair of the research committee of the NBA Physicians Association, says the funded research aims to increase the understanding of the mechanisms of injury by investigating prevention and rehabilitation programs and developing new and improved tools for diagnosis and treatment. The researchers hope to reduce the impact of future injuries. Azar notes that the additional resources are helpful.
"If you look at injuries that occur during the year, there are probably between 400 and 500 that happen each season," he says. "Having a partner that is looking to advance knowledge of musculoskeletal injuries in the NBA has been very valuable because they provide resources that the NBA did not have available."
Azar estimates players miss close to a total of 4,000 games per season because of these injuries, so the impact is large. "It's nothing like a collision sport like football, but it's certainly an important thing for our athletes in the NBA," he says. "Our two entities working together complement each other on this."
Sabol says the goal of the research partnership is to increase mutual understanding of orthopedic or musculoskeletal injuries. "Specifically, we want to know more about how and why these injuries occur and the length of time it takes for athletes to fully recover and return to play. Once we have this information, we can enable clinicians by improving their ability to diagnose, treat, and determine when it is safe for injured athletes to return to play and prevent future injuries from happening," he says. "Ultimately, what we learn by studying professional athletes can be applied to help improve the diagnostics and treatment of amateur athletes and others."
Project Selection
Four research proposals were selected from investigators around the world to address acute myotendinous injuries.
"We do see a fair number of hamstring and calf injuries," Azar says. "We do track these injuries, and it's something we wanted to learn more about."
The strategic advisory board overseeing the partnership has chosen to also address the issues of patellofemoral overload and articular cartilage injuries of the knee. Currently, there are two studies underway, both examining the correlation between MRI imaging of the knee and other indicators of potential knee injury.
"One study looks at the knee health of elite athletes with various degrees of experience and athletic exposure, and the other aims to apply advanced MR imaging techniques to identify early and subtle changes in the knee health of Division I college basketball players over the course of their college careers," Sabol says. "The second approach to selecting projects is by soliciting proposals from researchers across the globe via open calls for proposals. The collaboration has sponsored three of these calls to date, focusing on tendon, muscle, and, most recently, bone stress injuries."
The submitted proposals were evaluated in a two-stage review process. The review was overseen by the cochairs of the call—two expert researchers or clinicians in the field; John P. DiFiori, MD, director of sports medicine for the NBA; and Sabol.
"The first stage was a scientific peer review in which a panel of expert researchers and clinicians in the field evaluated the proposals on their scientific merit and potential impact," Sabol says. "The top-scoring proposals then underwent a programmatic review by the collaboration's steering committee to select the final awardees based on alignment to the goals of the program and to ensure a balanced portfolio of research efforts."
The funding will address the following studies:
HAMI Study
Suzi Edwards, PhD, of the University of Newcastle, Australia, will lead the HAMI Study: Investigating Hamstring and Adductor Myotendinous Injury Risk Factors in Basketball, looking at top male Australian basketball players to determine the role of biomechanical and neural—ie, how the brain signals muscles—factors in muscle injuries.
Sabol notes myotendinous injuries are common issues in competitive athletes and can impair performance, limit playing time, and disrupt a career. He adds that this research may lead to improved injury prevention and rehabilitation programs for athletes by increasing the understanding of how an athlete runs, how muscle structure changes, and how an injury alters brain signals to muscles.
"Such injuries are often referred to as muscle strains, tears, ruptures, or pulls. Prevention programs for some specific myotendinous injuries have been described for varying levels of play; however, there is little evidence supporting many of these strategies," Sabol says. "When an acute muscle injury occurs, the best techniques for clinical assessment, choice and timing of imaging modalities, treatment, and return-to-play strategies are unclear."
The myotendinous injury research project is in its early stages. Investigators, who are currently assembling their research teams, began collecting player data at the beginning of the basketball season.
BAMI Study
Johannes L. Tol, MD, PhD, of the Academic Medical Center in Amsterdam, the Netherlands, is conducting the Basketball and Muscle Injury (BAMI) study, which targets prevention of hamstring and calf muscle injuries and reinjuries. In the first of three separate studies, researchers in Amsterdam will use MRI to examine what actually goes on within injured muscles to help prevent reinjury. The second and third studies will use strength testing and MRI to determine which exercises are the best for preventing hamstring and calf muscle injuries.
"Dr. Tol uses a new MR imaging technique [diffusion tensor imaging MRI] to look at individual fibers within muscles to observe the process of healing following a hamstring injury," Sabol says. "This information will be used to understand the changes within muscle fibers as they heal. This insight into how the healing process occurs over time can be used to predict when it is safe to return to play and prevent reinjury."
Wisconsin Study
Investigators from the University of Wisconsin-Madison, led by Bryan Heiderscheit, PT, PhD, will conduct Clinical, Biomechanical, and Novel Imaging Biomarkers of Hamstring Strain Injury Potential in Elite Athletes, a prospective longitudinal study of high-level athletes to improve risk assessment for hamstring strain injuries.
"Dr. Heiderscheit and his team will use MR and ultrasound imaging to examine athletes who have hamstring strains to understand the underlying physiological causes and effects of these injuries, better understand muscle function, and, ultimately, improve our ability to diagnose, evaluate, treat, and prevent these injuries," Sabol says. "Reinjury is a significant and common problem with muscle injuries, since these injuries heal slowly, and it is difficult to determine when the muscle has fully healed. Returning to play prematurely can slow the healing process and/or re-strain the injured muscle, which happens frequently."
It's believed that findings from this study may improve injury risk assessment and establish objective criteria to assess the risk of reinjury upon returning to play.
Mayo Clinic Study
Timothy Hewett, PhD, is leading Comparative Effectiveness of Hamstring Muscle Strain Injury Prevention Programs, a Mayo Clinic study. He and his team will investigate the effectiveness of hamstring muscle strain injury prevention programs in 1,000 high school basketball athletes divided into four groups.
The control group will use their normal warm-up routine under the guidance of certified athletic trainers while the other three groups will each use a different exercise program. Four hundred of the athletes will be tested to assess their flexibility, strength, and power before and after the training program.
"Dr. Hewett's study aims to evaluate the effectiveness of three different exercise and strengthening programs to prevent muscle injuries," Sabol says. "[Shear wave elastography] will be used to assess muscle stiffness. Following the season, the four groups will be compared to determine which prevention program was the most effective, and ultrasound measurement of muscle stiffness will be evaluated to see if it can be used to predict the likelihood of a future hamstring injury."
Final Thoughts
There is currently little solid evidence to support decisions about how to prevent and treat these injuries or when it is safe for an athlete to return to play; these research studies aim to provide understanding and evidence to help clinicians make these decisions.
"The information will be used by team doctors for all sports with similar injuries and physicians treating the general public," Sabol says. "Undoubtedly, during the research process, other unanswered questions will be identified, spurring other additional areas of research."
One problem with NBA players and most professional athletes is that they often hide their pain because their desire to play is so strong. Azar says that team physicians are interested in anything that will help prevent injuries from happening and help them get their players back on the court safely.
"We want to know what the risk of reinjury is when they are allowed to go back," Sabol says. "There is research out there [that addresses] how to expedite their healing with the latest innovative ways to promote full recovery, but we want to know when it's safe to get back where the risk of reinjury is very low, which is why we are focused on these studies. If we can get the latest cutting-edge technology and research and apply that to real-time NBA basketball, we can prevent injuries and get the job done."
— Keith Loria is a freelance writer based in Oakton, Virginia.