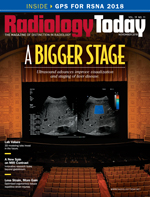 A Bigger Stage
By Keith Loria
Radiology Today
Vol. 19 No. 11 P. 12
Ultrasound advances improve visualization and staging of liver disease.
While the incidence of liver cancer is declining overall, mortality rates from liver cancer, specifically hepatocellular carcinoma (HCC), continue to rise. To help meet the need for more efficient liver imaging, ultrasound is increasingly being utilized and refined. Common clinical indications for prescribing liver ultrasound include abdominal pain, liver stiffness assessment, abnormal liver function tests, and HCC screening and surveillance for patients with cirrhosis.
"This is an exciting time for ultrasound imaging of the liver," says Roy Peterson, MS, senior director of clinical science and innovation at Philips Healthcare. "Ultrasound is usually the first line of imaging in the liver. Radiological management of liver disease often demands a multimodality approach; however, ultrasounds can be challenging in technically difficult to image patients. Because of these challenges, some of the most recent innovations and advances have focused on improving image quality and overall performance for scanning in these patients."
Rohit Loomba, MD, director of the University of California (UC) San Diego NAFLD [nonalcoholic fatty liver disease] Research Center and director of hepatology at UC San Diego School of Medicine, says clinicians are trying to use ultrasound to quantify fat accurately—as they have done with MRI—and then estimate inflammation noninvasively to detect fibrosis and nonalcoholic steatohepatitis (NASH), the progressive form of NAFLD.
"Once we solve this, there are advances towards improving ultrasound for hepatocellular carcinoma surveillance as well," Loomba says. "Ultrasound provides data on any gall bladder pathology, biliary dilation, liver echogenicity, presence of portal hypertension, and also hepatocellular carcinoma—and newer ultrasound machines can now quantify fibrosis."
He adds that there is a major unmet need in the assessment of liver inflammation and NASH, which is why ultrasound for the liver is so vital.
Opportunities and Challenges
Ultrasound provides a portable, low-cost-per-exam, high-resolution, real-time image for efficient diagnosis. It can also provide quantitative data regarding liver fibrosis and fatty infiltration without the need for a biopsy.
"Ultrasound can demonstrate abnormal liver morphology, the presence of liver masses, and provide hemodynamic evaluation of hepatic vessels," says Fernanda Mazzariol, MD, assistant director of clinical radiology at Weill Cornell Medicine. "In patients with compensated diffuse liver disease, ultrasound is an inexpensive, fast, noninvasive, and risk-free tool to provide important morphologic information and to screen for hepatocellular carcinoma."
In addition, ultrasound is able to noninvasively evaluate the liver vessels and assess for other abdominal abnormalities related to cirrhosis and portal hypertension, such as enlarged spleen and presence of fluid in the abdominal cavity. Due to its ability to evaluate arterial and venous blood flow, ultrasound is most important after liver transplantation to assess for vascular complications. It is also used to evaluate the flow and patency of artificially created portosystemic shunts used for treatment of portal hypertension, a complication of liver cirrhosis.
Core imaging performance of an ultrasound system is the key to success in imaging the liver, especially in the most complicated cases, but the prevalence of obesity, which continues to increase globally, makes ultrasound imaging more challenging. Loomba notes that abdominal fat hinders ultrasound performance because of the way it affects image quality.
"The most common challenge to image the liver is related to unfavorable body habitus characterized by obesity or high position of the liver in the right upper quadrant behind the patient's ribs," Mazzariol says. "In cases of severe fatty infiltration of the liver, the sound beam is markedly attenuated by the liver, decreasing its penetration. These factors decrease the ultrasound sensitivity, as portions of the liver are obscured and not evaluated in the ultrasound exam."
Patients who, secondary to their medical condition, are not able to cooperate with positioning and breathing instructions may also be a challenge.
Romain Alberico, marketing director at SuperSonic Imagine, says a significant clinical challenge relates to the growing epidemic of chronic liver diseases, especially NASH and the anticipated burden of subsequent liver cancer.
"Clinicians urgently need reliable noninvasive tests to screen for liver diseases, identify patients at risk of developing liver diseases, and assess the severity of liver diseases, without performing liver biopsy," Alberico says.
Stretching Boundaries
The latest advances in ultrasound for liver imaging include elastography for staging of chronic liver diseases and contrast-enhanced ultrasound (CEUS) for characterization of focal liver lesions, which has recently been FDA approved. Mazzariol says liver elastography can be performed using ultrasonography or MRI and is useful for differentiating patients with minimal liver fibrosis from patients with advanced fibrosis.
"In selected patients, elastography may eliminate the need for liver biopsy for staging fibrosis. Elastography can also be used to monitor disease progression and treatment response," Mazzariol says. "Contrast-enhanced ultrasound with microbubbles for characterization of liver lesions has been used for many years in Europe and Asia but has only been approved by the FDA in 2016."
CEUS can be useful to characterize liver lesions incidentally discovered in ultrasound exams and obviate the need for additional, more expensive testing with other imaging modalities, she adds.
Another area of development involves definitive quantification for staging liver disease. James Jago, PhD, principal scientist at Philips Healthcare, notes quantification analysis is performed through shear wave assessment for liver fibrosis. Liver fibrosis and cirrhosis, caused by viral hepatitis or, increasingly, fatty liver disease, is a growing worldwide problem, and staging these patients and assessing their response to treatment is an important application of ultrasound shear wave elastography.
Multimodality fusion imaging is yet another area transforming the role of ultrasound for the assessment and guidance of liver disease treatment. Fusion imaging combines CT, MR, or PET images directly on the ultrasound system.
"More and more clinicians are now using fusion imaging to improve clinical outcomes," Jago says. "For example, clinicians are taking a more targeted approach during CEUS exams and during interventional procedures to assist in the guidance of biopsies or even posttreatment confirmation of ablation zones around a tumor."
Amy Wilkinson, global marketing lead, advanced ultrasound applications for Siemens Healthineers, says the latest advances in ultrasound for liver imaging have been designed with a quicker diagnosis and more accurate interventions in mind. For example, BioAcoustic Technology on Siemens' ACUSON Sequoia Ultrasound System is tailored to the diagnosis of liver disease: its high signal-to-noise ratio reduces limitations of traditional beamforming to support characterization, intervention, and monitoring of chronic liver disease.
"Clinicians may now expand precision medicine by choosing from comprehensive, clinically relevant, and easy-to-use tools to personalize their diagnostic approach to the needs of each individual liver patient," Wilkinson says. "Unique offerings work together to expand care delivery in liver disease to high [body mass index] patients."
The ACUSON Sequoia, which features a dual apodization with cross-correlation transducer that penetrates 25% deeper than conventional ultrasound systems, provides six times the energy for acoustic radiation force impulse transmission to deliver improved shear wave speed, accuracy, and precision for tissue stiffness quantification, which is known to correlate to the progression of disease.
Brian McEathron, general manager of general imaging ultrasound at GE Healthcare, says that the company's new LOGIQ E10 offers shear wave elastography to help stage liver fibrosis and coded contrast imaging to more clearly delineate liver lesions, across a wide range of abdominal probes.
"Additionally, we offer volume navigation with sensors embedded in the probe for interventional and ablation procedures," McEathron says.
Paulo Ucio, senior manager for market development for Canon Medical Systems USA, Inc's ultrasound business unit, notes that the FDA recently cleared a suite of quantitative tools on the company's Aplio i800 ultrasound system to assess the spectrum of liver disease. He says the new liver analysis suite equips clinicians with diagnostic imaging tools to facilitate the analysis of fatty liver disease; shear wave elastography imaging, attenuation imaging, and shear wave dispersion allow clinicians to visualize and quantify tissue attenuation and dispersion slope for a more comprehensive evaluation of the liver.
Alberico says SuperSonic Imagine's latest technology, ShearWave Elastography, offers quantitative ultrasound biomarkers that are indicative of the severity of liver disease, historically assessed on liver biopsy samples. It's part of the company's 10-year-old Aixplorer ultrasound system.
"The Aixplorer products family have been designed to bring relevant and reliable diagnostic information all along the natural history of chronic liver diseases, from the screening of very early signs of steatosis to the prediction of cirrhosis complications and the diagnosis of liver cancer," Alberico says.
The platform is able to propose additional biomarkers of liver tissue composition that complement the noninvasive assessment of liver diseases: visco-elasticity parameters, related to fibrosis and intrahepatic inflammation; ultrasound propagation properties, related to steatosis and intrahepatic inflammation; and microvascularization parameters, related to intrahepatic inflammation and carcinogenesis.
Targeting Treatment
As a noninvasive, nonionizing modality, ultrasound's role in the diagnosis, intervention, and monitoring of liver disease will continue to expand. Mazzariol notes that increased utilization of lower-cost and less-invasive imaging options such as ultrasound should be on the horizon due to recent concerns regarding the use of gadolinium agents for MR imaging and the ongoing need for cost reduction in the medical industry.
Traditional gold standards for diagnosis, such as biopsy, could potentially become a thing of the past, and some countries are already realizing this potential.
"Expanding the role of contrast-enhanced ultrasound in the clinical pathway will help expand care delivery of perfusion studies to patients with kidney disease and pediatrics," Wilkinson says. "Tagging and delivering microbubbles for targeted drug therapy of malignant lesions is an increasing focus of attention of clinical research, as is the role of artificial intelligence in reducing variability and improving clinical workflows."
McEathron imagines a world where an automated risk assessment is run on each person entering the health system and patients at high risk of liver disease are quickly screened with a combined ultrasound imaging and ultrasound parametric exam, resulting in a liver health assessment and thereby enabling earlier detection of liver disease as well as conditions likely to lead to liver disease.
"Subsequent liver health assessments show patient progress resulting from lifestyle changes and drug treatment," McEathron says. "In other words, predictive analytics combined with imaging-based biomarkers to drive early detection and proactive treatment."
Alberico believes AI, along with the implementation of radiomics techniques, will be the next breakthrough in medical imaging that will enable physicians to analyze ultrasound imaging data in a new way.
"Having quantitative biomarkers and AI solutions will allow ultrasound imaging to enter the era of multiparametric diagnosis, which will probably revolutionize diagnostic imaging and personalized medicine," Alberico says.
Peterson says Philips expects the use of 3D/4D liver imaging to increase in the future, especially with the adoption of CEUS in the United States, as 3D/4D imaging offers more diagnostic ability in real time and quantitative numbers that can be utilized to help clinicians determine next steps for the most effective treatment.
"There are problems with today's approach of looking at lesions in 2D because these images may not accurately represent the true characteristics of the lesion, since these characteristics may depend on which 2D slice of the lesion is obtained," Peterson says. "To fully understand perfusion of a cancerous lesion, you need to see it in 3D—ie, where the feeding vessels are most active—so you can target treatment."
— Keith Loria is a freelance writer based in Oakton, Virginia.