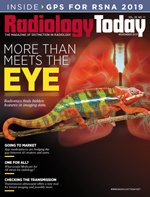 Managing to Succeed: The Latest Trend In 'Planar' Imaging
By Beth W. Orenstein
Radiology Today
Vol. 20 No. 11 P. 32
Texas Radiologist Obtains Pilot's License, Takes to the Skies to Render Timely Results
As a vice president of clinical operations and "SEAL team captain" for Radiology Partners, Byron Christie, MD, is responsible for covering 22 facilities spread over a wide geographic area in Oklahoma and Texas. He's found that commercial flights don't get him where he needs to be when he needs to be there. Driving doesn't work either; he'd spend more time behind the wheel than in the interventional suite or meeting room. His solution? Get his pilot's license and instrument rating and buy a small plane.
"Many of the places I need to go for my work—Palestine, Paris, Brownwood, and El Paso in Texas and Duncan, Oklahoma—are spread apart, and the only thing that made sense was to fly myself," says Christie, 53, who started training for his license in July 2016 and earned it by November of that year. Besides, he says, piloting his own plane "is safe and reliable when you follow the rules."
Soon after he earned his license, Christie bought a Cessna 182, four-seat, single-engine plane that he says was easy to fly. Once he logged 200 hours with the Cessna, he upgraded to a Columbia 400, a faster single-engine airplane that allows him to fly over the clouds. Christie finds that he averages about 300 hours (60,000 miles) in the air each year. Sometimes, he'll fly back and forth in a day. Other times, he'll fly out and stay a few days at a work site before turning around and flying back.
"I have had every situation crop up, including emergency situations requiring my presence. So, I fly there, perform the procedure, then turn around and fly home," he says. One time, he says, he was called to do an emergency nephrostomy on a patient with an infected kidney. The radiologist on site was not able to do the procedure, so Christie came to the rescue—by air. On occasion, thanks to severe weather, he's also had to abandon the idea of flying and drive instead. "Part of being a pilot is also being an amateur meteorologist," he says, "and knowing when it's safe to fly."
Fly, Then Drive
Christie keeps his plane at a hangar at Mathis Field in San Angelo, Texas, where he's based. He also has a hangar in El Paso because he goes there so often. "When I fly to a hospital," he says, "I land and park in the parking area for airplanes and have people from the hospital come pick me up and take me where I need to go." Sometimes he rents a car and drives to the site himself. Fortunately, he can usually find a small airport within a reasonable distance of wherever he needs to go.
Radiology Partners reimburses Christie for his air mileage, just as they would for road mileage, he says.

"The IRS has a number that the government sets for travel in a personal aircraft," he says. "It's enough to cover the gas."
How did earning his pilot's license compare with earning his medical degree? "Obviously, the pilot's license doesn't require the same giant amount of information you need to pass your medical boards," he says. "But in a way, it's similar. You're learning the lingo, the processes, the procedures, and the methods, which you need for both."
Flying himself to his work is "not all roses," Christie says. "But overall it saves me a tremendous amount of time, allows me to be highly mobile for my practice, and be able to show up for meetings all over the country. Flying allows me to still be an effective radiologist because the bottom line is, I'm a full-time radiologist."
— Beth W. Orenstein of Northampton, Pennsylvania, is a freelance medical writer and regular contributor to Radiology Today.