December 2010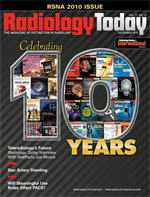 Making Strides
By Beth W. Orenstein
Radiology Today
Vol. 11 No. 12 P. 30
Stenting iliac arteries has been shown to benefit peripheral artery disease patients out to two years, according to a new study.
Peripheral artery disease (PAD) is a common circulatory problem among U.S. adults over the age of 50. Clogged or narrowed arteries in the legs affect some 10 million Americans, including 12% to 20% of those over the age of 65. Among those over the age of 70, one in five has been diagnosed with PAD. The disease is expected to become more prevalent as the U.S. population ages and cases of obesity and diabetes rise.
PAD can be difficult to diagnose, especially in women, because only one third of patients are symptomatic. Symptoms may include reproducible discomfort when walking that subsides at rest or, in severe situations, pain at rest, numbness, skin discoloration, and sores or other evidence of skin breakdown. People with PAD, especially PAD that causes pain, have a higher risk of experiencing a heart attack or stroke compared with similar-aged people without the disease. PAD is considered a warning sign for more serious, life-threatening problems.
The prevalence of PAD is equal among men and women, although it is recognized less often in women. Among women with PAD, 50% to 90% are asymptomatic or have unrecognized symptoms, which could put them at greater risk of the disease becoming more serious before it is diagnosed and treated, according to the Society of Interventional Radiology.
PAD can be treated with exercise, dietary changes, good blood sugar control, and medications that reduce blood pressure and cholesterol. However, more severe cases may require interventions such as bypass surgery or percutaneous transluminal angioplasty (PTA) and stenting.
Interventional radiologists developed balloon angioplasty and stenting to treat severe symptomatic PAD in the late 1980s. While most people think of stenting to treat blocked arteries in the heart, "the very first stents ever approved to treat circulation disorders were for the iliac arteries, which are the arteries that carry blood from the abdominal aorta to the legs and feet," explains Barry T. Katzen, MD, FACR, FACC, founder and medical director of Baptist Cardiac & Vascular Institute in Miami.
The advantage of stenting vs. open surgery for severe PAD is that it's a minimally invasive procedure that typically does not require hospitalization, Katzen says. The procedure takes roughly 60 to 90 minutes and is similar to placing stents in clogged arteries elsewhere in the body. Patients usually can return home the same day and can often resume normal activities the next day. On the other hand, surgical procedures require general anesthesia and, because they can mean prolonged hospitalization, may increase the risk of an incisional infection. PTA and stenting has become an important treatment option for symptomatic PAD.
Long-Term Benefit
While iliac stenting has become the standard of care over the last 20 years or so, some still question its long-term benefits. "People from outside the interventional world have questioned how patients benefit clinically from iliac artery stenting," Katzen says.
Katzen and Michael R. Jaff, DO, an associate professor of medicine at Harvard Medical School and medical director of the Massachusetts General Hospital Vascular Center, believe their paper in the October issue of the Journal of Vascular and Interventional Radiology finally provides an answer for the critics and shows the long-term health benefits of iliac artery placement.
"This study is adding evidence that endovascular procedures do make a difference and will improve the quality of life for patients," says Jaff.
Previous studies show that stenting is a durable treatment, Katzen adds. Other studies have confirmed that the placement of stents is safe and they open blockages long term.
"But this particular study went beyond what the FDA wanted to prove and provides actual clinical measurements of the benefits of the Zilver vascular stent for iliac artery disease in patients with leg pain," Katzen says. "Until now, what had been missing is a study that shows that patients have sustained clinical benefits from iliac stenting, which is really important. This new study shows that the patients experienced those clinical benefits after two years, regardless of gender, what part of the iliac artery was treated, and how long the blocked segments were."
"I think the most important point is that we didn't lose patency from year 1 to year 2, and we had persistent improvement in the quality of life as measured by the patients' ability to walk," Jaff says.
The researchers measured success with the Walking Impairment Questionnaire, a validated measure of patient-perceived walking performance for those with PAD, and the ankle-brachial index (ABI) or thigh-brachial index, which must have increased by more than 0.1 initially and not deteriorated by more than 0.15 from the maximum early postprocedure level.
For the questionnaire, patients rate their speed and distance as a percentage of the maximum score possible. The higher the score, the greater the patient's perception of his or her walking distance or speed. The ABI is the ratio of systolic blood pressure measured at the ankle by a continuous-wave handheld Doppler device to the higher of the systolic blood pressures in the brachial arteries.
Study Results
The first patients were enrolled in the study in 2003 at various investigative sites across the United States. The study enrolled 151 patients with 177 lesions treated, all of whom were treated with Zilver vascular stents made by Cook Inc. At two years, 91% of patients (94 of 103) met the definition of success. All patients underwent PTA before iliac artery stent placement. Stents could be placed in the common iliac artery (CIA), the external iliac artery (EIA), or both. Patients were followed with duplex ultrasonography three days after stent placement and then one month, nine months, and two years after the procedure.
Stents were placed in 90 CIA lesions, 64 EIA lesions, and 23 lesions of both the CIA and EIA. The most common diameter of the stents placed was 10 mm, and the most common length was 40 mm. Of the 151 patients, 117 (77%) with 133 stented lesions underwent two-year follow-up duplex ultrasonography, with images of a sufficient quality as determined by an independent, experience ultrasound core laboratory (VasCore at Massachusetts General Hospital). Using the Kaplan-Meier patency analysis, the patients showed 94% patency at nine months and one year and 90% at two years. The results were similar for patients with stents in the CIA (95% at nine months and one year and 88% at two years) and EIA (94% at one month, one year, and two years.) Stents in both the CIA and the EIA had a patency estimate of 87% at nine months, one year, and two years.

ABI measurements at two years were similar to the nine-month results and the difference was not statistically significant.
The results of the study showed that the location of the stent, the degree of the initial stenosis, and patient gender did not affect the success of the Zilver stent in providing durable patency at two years, and the clinical benefit, based on maintenance of ABI and Walking Impairment Questionnaire scores, was durable at two years and showed no significant deterioration compared with the nine-month results.
Several other studies have reported patency after stent placement in the iliac artery out to at least two years, and the results range from 71.3% to 91% patency. "Analysis of patency at two years suggests that the Zilver stent performs as well as, if not better than, other devices," Katzen says.
Limitations
Katzen can't say whether the results of the study could be generalized to all stents. "This is a particular study of one particular stent," he says. "However, I suspect that most people reading it would generalize that it could apply to other devices. But we, as the authors, can't generalize to other devices."
Jaff says he is not aware of any studies that planned to look at the benefits of the Zilver stent beyond two years.
The authors point out that their study was limited because there was no control group, preventing a randomized trial design, and no blinding to different therapies. However, Katzen and Jaff say the results further support the role of endovascular stent placement for symptomatic iliac artery disease in patients with PAD.
"What it means for patients," Katzen says, "is that if they're having problems walking, we as physicians can now say that we have a procedure that can provide sustained benefits. Iliac artery stenting can improve walking for at least up to two years."

For long-term success, Katzen says it's important for patients to modify their risk factors by losing weight, quitting smoking, and controlling their diabetes, if present. If patients are able to walk without pain, it may be easier for them to exercise and lose weight.
— Beth W. Orenstein is a freelance writer based in Northampton, Pa. She is a frequent contributor to Radiology Today.