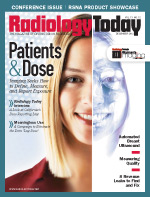 December 2012
Eight Reimbursement Leaks — How to Find and Fix Common Holes in Your Billing and Collect More Revenue
By Don Rodden ,CPA, CHBME
Radiology Today
Vol. 13 No. 12 P. 14
It's not unusual for more than 20% of physicians' revenue to be lost in the medical billing process. You may ask how that is possible, and the old adage "you don't know what you don't know" may be the answer. So here's some information to help you "know" what you need to know in this vital area of your practice.
As a physician, it's easy to look only at the actual—and large—billing service fees you pay each month and desire to make these as low as possible. But what if low fees are penny wise but pound foolish? It's better to determine whether you are paying the least while legitimately maximizing the amount of revenue you can receive for the professional services you have performed.
Eight Steps to Take
To help evaluate whether you are "yielding" all that you should, net of billing service fees, let's examine the eight key areas where money is lost due to inadequate billing processes—and how to maximize revenue.
1. Inaccurate provider enrollment (credentialing): Complete and accurate provider enrollment filings are an important first step for radiology practices. When forms are filed without complete and/or accurate information, Medicare, other governmental payers, and commercial insurance carriers will simply deny claims. The best case in that event would be that your billing staff have to work harder to get what the practice is owed. The worse case is that poor filing will reduce your reimbursements substantially.
If you use a billing company that provides these services, you need to be certain the staff are knowledgeable, experienced, and aware of changes, updates, and ongoing trends. Additionally, it's essential that the credentialing process is well organized and all your applications and Council for Affordable Quality Healthcare validations are performed in a timely manner.
2. Failure to track interpretation reports: Is every service you provide being billed? How do you know? It's essential that you have fail-safe checks and balances in place to assure that each and every procedure performed in the practice becomes a claim in the billing process. If your billing company does not audit and validate the receipt of your interpretation reports, you easily could be losing 10% or more of your revenue, no matter how effectively the rest of your billing process performs.
3. Inadequately trained coding staff: Failure to capture all applicable CPT codes and assign the appropriate diagnosis (ICD-9-CM) codes results in denied claims, which inevitably result in lower reimbursement. At a minimum, your coding process should include well-trained and experience certified coders that stay current with the myriad changes perpetually promulgated by the Centers for Medicare & Medicaid Services and followed by most of the private health insurance carriers.
In addition to the pure loss of revenue, if your coders are not certified, well trained, and up-to-date in coding rules, you run many compliance risks that could result in undesirable audits and painful fines and penalties.
4. Slow claim submission: There is a direct correlation between total dollars collected and the promptness of filing an original claim. There generally are unique filing time limits with each payer. By filing late, you're giving the payer an opportunity to deny your claim.
Sometimes the filing limits are reached because an initial claim was not filed promptly, forcing the delay of a secondary claim that may be denied because the secondary payer's time limits have been exceeded. Sometimes patient information is incomplete or inaccurate and initial claims are denied and it takes effort to find the correct payer. If this process isn't swift, it's easy for the timely filing deadline to pass.
5. Accepting less than what you're owed: Are payers compliant with the terms of your contract? Have you put a process in place to determine whether they are compliant? My company has seen hundreds of thousands of dollars lost by other billing entities not paying attention to payers who don't fulfill their commitments. Verify that amounts you receive are what you are contracted to receive and don't let underpayments go unchallenged. It is essential that your management team monitor payer activity and challenge any irregularities.
And if your payer contracts have low reimbursement rates, it is essential to negotiate rates that are reasonable and fair. Your billing process should give you all the knowledge and information you need to secure strong reimbursement rates. Tens of thousands of dollars can be lost annually just by accepting substandard reimbursement from payers.
6. Slow response to inquiries: Your patients and payers forward letters, faxes, and e-mails in addition to making phone calls. Does your billing process respond immediately to these inquiries? Letters, faxes, and e-mails are just as important as phone calls, so make sure your billing staff respond to all query forms. These inquiries often include valuable information, such as corrections to payer information to help get claims paid. Failure to respond to these promptly can have many adverse consequences. In addition to delayed or lost revenue, billing statements sent to your patients that do not reflect the changes they've already communicated to you can infuriate them. Some of these patients are likely to contact the facilities you serve, creating needless negative impressions of your professional practice.
7. Not challenging denied claims: If a billing process is clean, there may be only a minor percentage (3% to 6%) of claims that are legitimately denied other than for eligibility reasons. However, if the claim-filing process isn't clean, much higher denial rates can occur, even as high as 15% to 25%. Not responding to denied claims is a huge area of potential lost revenue, second only to failure to validate interpretation reports. Make sure your billing staff or company is responding to each and every denied claim and taking any necessary follow-up action as well as fixing systemic reasons for those claim denials.
My many years of experience has demonstrated the dollar yield on working denied claims is essentially equivalent to your denial rate. If you are not responding to your denied claims and your denial rate is 10%, you are losing 10% of your revenue.
8. Not auditing the entire billing process: Radiology billing is complex and voluminous. Due to the many potential failure points in the process, it is critical to validate each element of the process. You need both internal and external validation. Your billing staff or company should be validating their process and making the results available to you. Additionally, on a periodic basis, you should provide a list of roughly 50 random patient encounters and request the billing staff or company provide a comprehensive and detailed explanation of the account history, every action taken with the account, and any communication that took place regarding the account.
Final Thoughts
Billing used to be simple: You would submit a claim, and then you were paid—usually in full. The medical billing industry, which was once somewhat clerical in nature, has developed into a profession requiring professional competencies at every stage of the billing process. Trained and experienced credentialing experts, certified coders, IT professionals, denied claims experts, accountants, and highly trained patient service representatives are now all imperative to the success of the process. Each component requires auditing.
Your billing process is your No. 1 corporate expense and should easily be paying for itself with high yields from a solid, good performing group of professionals. You deserve nothing less.
— Don Rodden, CPA, CHBME, is a principal with HealthPro Medical Billing and the current president of the Healthcare Billing Management Association. He has more than 20 years of experience in the medical billing industry.