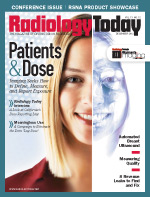 December 2012
ASTRO Visits Boston: Reporter's Notebook
Radiology Today
Vol. 13 No. 12 P. 26
Editor's note: This article was prepared from press materials provided at the American Society for Radiation Oncology's 54th Annual Meeting held October 28 to 31 in Boston.
Drug Slows Cognitive Decline After Brain RT
Memantine, an N-methyl-D-aspartate receptor antagonist typically prescribed to Alzheimer's patients, slows cognitive decline in brain cancer patients who receive whole-brain radiation therapy, according to research presented at ASTRO's annual meeting.
The phase 3 trial evaluated memantine's potential protective effects on cognitive function in 508 patients who received whole-brain radiation therapy between March 2008 and July 2010. The study also analyzed the length of time before experiencing cognitive decline, overall survival, and progression-free survival.
Patients received whole-brain radiation therapy of 37.5 Gy in 15 fractions and were randomized to receive placebo or a 20-mg dose of memantine per day within three days of initiating radiotherapy for 24 weeks. Results demonstrate that memantine delays cognitive decline in areas of recognition memory, global function, executive function, and processing speed.
"We are excited to see that adding memantine to the treatment plan for brain tumor patients helps preserve their cognitive function after whole-brain radiotherapy even six months after treatment," said Nadia N. Laack, MD, study coauthor and a radiation oncologist at the Mayo Clinic in Rochester, Minnesota. "Our findings suggest that memantine may prevent the changes that occur in the brain following radiation therapy, impacting future treatment practices for these patients, and suggest a role for further study in other patient populations receiving radiation to the brain."
Patients in the memantine group experienced a 17% relative reduction in cognitive decline at 24 weeks compared with those in the placebo group, as assessed utilizing the Controlled Oral Word Association test at eight and 16 weeks. The Trail Making Test Part A at 24 weeks also indicated fewer patients in the memantine group experienced decline. Patients were also evaluated at 24 weeks with the Hopkins Verbal Learning Test-Revised Delayed Recall, which showed a median decline of 0 for patients who received memantine compared with those in the placebo group, who had a decline of -2.
The trends of all three cognitive tests for the 149 eligible patients who survived 24 weeks indicate that the memantine group yielded better results than the placebo at all points. There was no difference in patients' overall survival or progression-free survival between the treatment arms.
Patients in the study included adults who exhibited brain metastases and were stratified by recursive partitioning analysis in either class 1 or 2 with or without prior radiosurgery or surgical resection. Patients underwent standardized tests of cognitive function, which were performed at baseline, eight, 16, 24, and 52 weeks. Only 32% of patients completed the drug therapy and assessments, mainly due to poorer-than-estimated survival and progressive disease, which led to poor compliance with the treatment protocol. Patients in both groups reported similar levels of grade 3 and 4 toxicities, including hair loss, fatigue, headache, and nausea.
SBRT Shows Good Cancer-Free Survival in Prostate Study
A phase 2 prospective trial found that stereotactic body radiation therapy (SBRT) produced excellent cancer-free survival rates with few long-term rectal side effects for intermediate-risk, organ-confined prostate cancer patients, according to research presented at ASTRO's annual meeting.
The multi-institutional study evaluated the toxicity and efficacy of SBRT in 129 intermediate-risk, organ-confined prostate cancer patients treated from 2007 to 2010 with a median follow-up of 36 months. Three years after SBRT treatment, 99% of patients were cancer free, with only one patient experiencing cancer recurrence. There were no reports of acute grade 3 to 5 toxicity. Thirty patients (23%) experienced acute temporary grade 2 genitourinary (GU) toxicity, and 11 patients (8.5%) experienced acute gastrointestinal (GI) toxicity. Late grade 2 GU and GI toxicities occurred in 14 patients (11%) and three patients (2%), respectively. One patient had a grade 3 bladder neck injury one year after treatment; there were no other grade 3 to 5 toxicities.
"Patients with intermediate-risk, organ-confined prostate cancer, at a median age of 69, are at risk for progression and spread of the disease when it becomes more difficult to treat. Our study demonstrates very promising cancer control rates and few side effects from SBRT," said Robert Meier, MD, lead study author and a radiation oncologist at the Swedish Radiosurgery Center in Seattle. "With further research and longer follow-up assessments, this could result in patients undergoing a much shorter treatment schedule of just one week of SBRT as opposed to the standard eight- to nine-week course needed with other radiation methods."
This study also examined the effects on patients' quality of life using the Expanded Prostate Cancer Index Composite (EPIC-26) questionnaire for urinary, bowel, and sexual function and determined that the results appear favorable compared with other radiotherapy modalities. Patients' urinary and bowel functions were lower one month after treatment but returned to normal by 24 months, as indicated by their EPIC scores. One patient required temporary catheter placement for acute urinary retention. At baseline, 52% of patients were potent, declining to 36% at 24 months.
The study included patients from 21 institutions who exhibited a pretreatment median prostate-specific antigen (PSA) of 5.9 ng/mL, which decreased to 0.8, 0.4, and 0.2 ng/mL at one, two, and three years, respectively.
Patients were treated for one week with a nonisocentric robotic SBRT platform using real-time tracking of implanted fiducials, and MRI was used to assist in target localization. SBRT was administered to patients at 40 Gy in five fractions of 8 Gy to the prostate, and 36.25 Gy was delivered to seminal vesicles. No patient had androgen deprivation therapy. Toxicities were assessed using common terminology criteria for adverse events.
Stereotactic Radiosurgery Good for Localized Renal Cancer
Stereotactic radiosurgery shows promise as a therapeutic option for patients with localized primary renal cancer who are considered poor surgical candidates, according to results from the first safety and toxicity trial of the treatment.
"Our first trial shows that low to moderate doses of stereotactic radiosurgery is a safe and viable option for renal cancer patients who typically do not have surgical options," said Rodney J. Ellis, MD, lead study author and clinical director and vice chair for clinical affairs of the department of radiation oncology at University Hospitals Case Medical Center Seidman Cancer Center in Cleveland. "Dr Lee Ponsky, who is the principal investigator for this study from the department of urology, and I agree that further studies are needed to determine safe levels for the maximum dosage. By doing so, we hope to find increased response and cure rates with this method."
Twenty patients ranging from the ages of 58 to 92 received initial doses of 600 cGy per fraction, followed by increments of 200 cGy per fraction to total doses of 24, 32, and 48 Gy. Follow-up on these patients ranged from two to 41 months. Doses were escalated after patients showed nonprohibitive levels of toxicity within 180 days of the date of treatment.
Limiting levels of toxicity were defined as any grade 3 or higher gastrointestinal/genitourinary acute radiation toxicity, according to the National Cancer Institute common toxicity criteria. Imaging and posttreatment biopsy results were evaluated for tumor response and treatment efficacy.
There were no reports of gastrointestinal or small-bowel toxicity or cancer-related deaths. For 94% of patients across all four groups, their tumors remained stable or decreased on posttreatment imaging. For patients who underwent a posttreatment biopsy, incomplete or refractory treatment was found in 91%, which suggests the need for higher radiation doses for adequate tumor control.
Acute toxicity was limited to grade 1 fatigue in two patients in the highest dose treatment group, which was relieved by rest. Late toxicity was limited to worsening of preexisting chronic renal disease in two patients who had a mean epidermal growth factor receptor of 19.5.
One-Week Course Offers Option for Prostate Treatment
A shorter treatment course of higher radiation doses may offer patients an alternate approach to the traditional eight- or nine-week treatment, according to research presented at ASTRO's annual meeting.
"Therapy options for patients with organ-confined prostate cancer can be time consuming and costly with traditional radiotherapy methods," said Alan Katz, MD, JD, lead study author and a radiation oncologist at Flushing Radiation Oncology in New York. "We found that higher doses of stereotactic radiotherapy with fewer fractions yielded great results in terms of tumor control. Our results show that additional standard radiation treatment added to SBRT [stereotactic body radiation therapy] is probably unnecessary, even with high-risk patients."
The study included 1,101 patients from eight institutions who were treated with focused SBRT between 2003 and 2011. All patients received SBRT delivered using the Accuray CyberKnife system, and the median dose was 36.25 Gy (35 to 40 Gy range) delivered with either four or five fractions. This dose is equivalent to a range of 90 to 112 Gy in conventional fractionation, assuming an alpha/beta ratio of 1.5 Gy. Patients were segmented into low-risk (59%), intermediate-risk (30%) and high-risk (11%) groups.
This first long-term study of prostate SBRT with a large number of patients evaluated the biochemical relapse-free survival rates over a five-year period for patients with organ-confined prostate cancer. The findings showed that prostate cancer is very sensitive to a higher, targeted dose of radiation rather than more frequent lower doses over time, which means that patients now have a viable option of choosing a one-week course of therapy as opposed to an eight- or nine-week course of treatment. The study evaluated low-, intermediate- and high-risk patients, who showed actuarial disease-free survival rates of 95%, 90% and 80%, respectively, after five years.
For low- and intermediate-risk cases, these results compare favorably with other modalities at five years. High-risk cases also appear to do very well, although the results for this subset of patients are preliminary due to the small number of patients with five-year follow-up. The median follow-up for all cases was 36 months (with a range of one to 66 months). Biochemical relapse, defined as a rise greater than 2 ng/mL above nadir, was determined in a total of 49 patients, nine of whom had a resolution of the rise and showed no clinical signs of a relapse. Additionally, androgen deprivation therapy was given to 146 patients and appeared to make no difference in the outcome of biochemical relapse.
Patients Often Don't Understand Role of Palliative RT
Many lung cancer patients who receive palliative radiation therapy (RT) to improve their quality of life mistakenly believe that palliative radiation may cure their disease, according to research presented at ASTRO's annual meeting.
The study investigated patient beliefs about the effectiveness of palliative RT and analyzed survey data from 384 patients over the age of 21 who were diagnosed with stage 3B or 4 lung cancer from 2003 to 2005. Patients in the study received or were scheduled to receive RT and completed a survey approximately four months after diagnosis. Results from the survey indicated that most patients believed that palliative therapy could help them. More specifically:
Sixty-four percent of patients did not understand that RT was not at all likely to cure their disease.


Seventy-eight percent believed that radiation therapy was "very" or "somewhat likely" to help them live longer.


Sixty-seven percent believed that RT was very or somewhat likely to help them with problems or symptoms resulting from their cancer.
"Our study found that, though most lung cancer patients are optimistic about the effectiveness of radiation therapy in relieving symptoms and prolonging life, many have inaccurate beliefs about the ability of palliative RT to cure their cancer," said Aileen B. Chen, MD, MPP, lead study author and a radiation oncologist at Dana-Farber Cancer Institute in Boston. "In order to help patients make informed decisions about radiation treatments near the end of life, healthcare providers need to improve communication and understanding about the goals and limitations of palliative RT. While palliative RT can be very effective at relieving symptoms from cancer, overly intensive care can also reduce patients' quality of life and lead to significant time and financial burdens for patients and their families."
Patients with metastatic lung cancer survive less than one year, on average, and fewer than 5% survive five years. While not all patients are open to hearing or accepting prognostic information, the study's results suggest that it is important for patients to have a better understanding of their cancer and various treatment options and goals to guide them as they make decisions. The study authors are concerned that if patients are overly optimistic about their chances of cure from palliative RT, it could lead them to seek more intensive and lengthier treatments, which could be costly and decrease their quality of life.
Recent studies show similar challenges in communicating information about poor prognosis to patients exist among medical oncologists as well as doctors who care for the terminally ill. While some doctors are hesitant to share or discuss poor prognosis with patients due to feelings of empathy, it is important for physicians to be educated about this process―data suggest that these discussions do not take away hope but empower patients to make decisions that are right for them.
Data for the survey were compiled using the Cancer Care Outcomes Research and Surveillance Consortium study, a population- and health system-based prospective cohort study, which collected data on more than 5,000 newly diagnosed lung cancer patients in five geographic regions, 10 VA sites, and five large health maintenance organizations. Patient/surrogate responses were evaluated to the question "After talking with your doctors about radiation therapy, how likely did you think it was that radiation would…" with the answer categories of "help you live longer," "help with problems from cancer," and "cure your cancer." Responses were graded in categories ranging from "not at all likely" to "very likely."