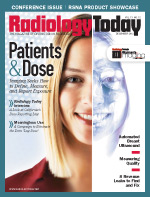 December 2012
Automated Breast Ultrasound
By Kathy Hardy
Radiology Today
Vol. 13 No. 12 P. 30
Editor's Note: As this issue went to press, GE Healthcare announced an agreement to acquire U-Systems.
Recently approved for screening, U-Systems' ABUS finds cancers and reduces operator variability. While unsettled, reimbursement concerns seem headed in the right direction.
As a diagnostic tool, ultrasound is known as a viable option for locating and identifying lesions in breast tissue. However, this handheld imaging modality can prove time consuming and cumbersome as a screening tool, requiring technologists to simultaneously obtain and view images. There's also the matter of approved, reimbursable uses for ultrasound.
However, that concept is seeing a renaissance with the FDA's approval of U-Systems' somo-v Automated Breast Ultrasound System (ABUS) for breast cancer screening as an adjunct to mammography for asymptomatic women with dense breast tissue. At this time, according to U-Systems, this is the only device approved specifically for screening women with dense breasts.
"We see this as the first major advancement in breast cancer screening since the introduction of mammography in the 1970s," says Ron Ho, president and CEO of U-Systems.
Previously, the same equipment was used in a diagnostic capacity, for which it originally received FDA 510(k) clearance about five years ago, he says. However, the company decided at that time not to pursue the screening market.
"Ultrasound has been used for women who already have something palpable to characterize the finding," he says. "Now the device is approved for use as a screening tool for asymptomatic women. Research suggests that ABUS can help find cancer in women with dense breasts, and the cancers are smaller and early stage. Enabling radiologists to use the information obtained from mammography and integrate that with the information obtained with ultrasound leverages the potential of ABUS in a screening environment."
Ho explains that somo-v ABUS was developed specifically for the high-volume breast cancer screening environment where workflow is paramount. "With the screening process, you need to be able to quickly determine if there's something in the breast that needs further review," Ho says.
The device's specially shaped transducer automatically scans the entire breast in about one minute, producing several images for review, according to Ho. In addition, ABUS is a nonionizing modality, reducing patient concerns regarding radiation. There also is a favorable comfort level for patients, Ho says, because there is less downward compression than experienced with mammography.
Exam Uniformity
"We've long known that ultrasound is good for seeing through dense breast tissue," Ho says. "We've taken that modality and made it into an automated process, which is good for workflow. We've taken the large footprint transducer and transferred the image to the viewer."
Handheld ultrasound, as mentioned previously, can take considerable time to perform, notes Marla Lander, MD, director of breast imaging at the Comprehensive Cancer Center at Desert Regional Medical Center in Palm Springs, California. First, the ultrasound technologist must be skilled at maneuvering the transducer to locate and view the questionable area of the breast. Then, the technologists must simultaneously conduct the exam and view the findings, another time-intensive process. However, with diagnosis, time flow is less significant.
"With the automatic function, we take away the operator-dependent experience," Ho says. "Handheld ultrasound takes longer, with the technologist moving the transducer and reading images at the same time. Also, with handheld devices, the images are not reproducible. With ABUS we can capture a 3D view of the breast, and a radiologist can batch read the images. The images are acquired by a technologist, and reading is done later."
Lander is a seven-year ABUS user and served as an investigator in the SOMO-INSIGHT clinical trials leading up to ABUS' FDA approval in the screening process. In her practice, she has seen both the screening and diagnostic benefits of this technology.
"This is something that was made for screening," Lander says. "Ultrasound is good from a diagnostic perspective for women with a history of dense breasts and other high risk factors, but including ABUS with their regular mammography exams is good for screening as well."
In addition to her involvement in clinical studies leading up to the FDA approval, Lander is involved in training users on ABUS, first working with technicians to help them recognize dense breast tissue. The goal is to have dense breast tissue recognized at the time of a woman's mammogram. She says that during the trials, about 90% of all ABUS was done at the same time as the mammogram.
"We would like to be able to offer patients ABUS immediately after their mammogram rather than bringing them back for the screening ultrasound," Lander says. "You don't need to perform the mammogram and ultrasound at the same time, but it does improve accuracy and makes the tech better at performing both procedures."
Diagnostic vs. Screening
According to Jean Weigert, MD, FACR, director of women's imaging for The Hospital of Central Connecticut, with this indication for ABUS, the patient's mammogram must prove negative but show dense breast tissue, at which point the screening ultrasound is performed. There still needs to be a division between ultrasound usage as a screening tool and its use in diagnostics, she says. ABUS as a screening tool does not replace ultrasound in diagnostics.
"If you performed both the mammogram and ABUS at the same time, you would still need to bring people back if there was a need for diagnostic ultrasound," Weigert says. "You would still need to confirm findings with handheld ultrasound to decide whether or not to biopsy. You want a focused view if something is palpable, so you would use the handheld ultrasound for that."
As far as a learning curve is concerned, Lander says ABUS takes some variability out of ultrasound reading which, in the end, could make the ultrasound easier to view. When using handheld ultrasound, viewing in the axial plane, it takes some familiarity to find lesions. "The somo-v takes that image and stores it as 3D and then reconstructs the image," she says.
Another benefit, Lander explains, is that ABUS slices in 2-mm sections in the coronal view vs. handheld ultrasound, which takes "razor thin" slices. In detecting cancerous lesions, size matters. "TDLU [terminal ductal lobular units], from which many lesions arise, are usually 2 mm in size, making it easier to see lesions with the ABUS-sized sections," Lander says. "It's harder to see lesions if the slices are too thin."
As far as any difficulty in viewing ABUS images, Lander says it's a matter of looking for any architectural distortions in the TDLU harmony rather than for one specific characteristic. That specificity comes later if a diagnostic ultrasound is required. "You don't have to be specifically trained in ABUS," she says. "You're just looking for an abnormality at the screening stage. You just need to be a good pattern reader to excel at this."
In all, she says an ABUS study should take one to three minutes to discern whether there is any disruption in normal tissue.
ABUS Research
Finding the science to support FDA approval for ABUS as a screening tool involved several clinical trials at various centers across the country. Part of the data-gathering process came from an ROC Reader Study conducted by the University of Chicago. Completed studies demonstrated that the addition of ABUS resulted in the discovery of about 30% more cancers in women who had a normal mammogram, a normal physical examination, and dense breasts. About 4% of lesions found were false-positives. According to Ho, 93% of the cases with cancers detected with mammography and ABUS were invasive cancers. "They would have been missed with just mammography," he says.
While not approved for use in a screening capacity until now, Ho says that doesn't mean physicians haven't used ABUS in that way in the past. "Someone who already owns the device may have used it for screening, just as they may have used handheld ultrasound or MRI," he says. "However, we couldn't promote the device for use in breast cancer screening. Now we're gearing up the commercialization of ABUS for this indication."
This next step in the breast cancer screening process comes at a time when states, and even the federal government, are passing or at least considering legislation regarding dense breast notification. "Even with legislation, the majority of women still are not aware that they have dense breast tissue," he says. "With this legislation, physicians are required to have a conversation with women about dense breast tissue. They can discuss other screening modalities that could help, along with mammography."
As someone who practices radiology in Connecticut, the first state to pass legislation requiring dense breast notification, Weigert sees value in utilizing ABUS as a screening tool. She agrees that the introduction of ABUS greatly reduces technologist variability in the ultrasound process. Handheld ultrasound is labor intensive, with the tech looking closely at the monitor to make sure they capture everything necessary to provide the radiologist with a proper view of the patient. The automated process is more of a "true screen," she says, with the technologist taking all the images and then providing an entire data set to the radiologist for viewing.
Reimbursement Questions
While Connecticut's dense breast notification law requires insurance companies to cover additional screenings with a doctor's referral, this is not the case in other states. FDA approval of ABUS for screening doesn't necessarily mean that insurance coverage is widely available. "With FDA approval for ABUS along with mammography for screening women with dense breasts, we're putting the cart before the horse," Weigert says. "We don't have a code for screening ultrasound."
For example, in the past Weigert would use a code for bilateral breast ultrasound with a descriptor code of dense breast to cover screening breast ultrasound procedures. "But if you're in a state with no dense breast notification or if your law doesn't include insurance coverage, you're left looking for a code to use for reimbursement," she says. "The patient is liable if the procedure is not covered. This could lead to even greater two-tiered medicine."
With no code in place for screening ultrasound, practices are getting creative. According to Lander, some are billing the procedure as ultrasound with 3D or adding prefixes. Others are using a code for inconclusive mammogram due to dense breast. Still others are simply billing as straight ultrasound, but then there's no reimbursement. There also are cases of practices having patients sign a release saying they are responsible for full payment.
The best bet is to check with payers concerning coverage and reimbursement; some payers are covering the procedure. The ACR's Economics Committee on Coding and Nomenclature contends there are codes to describe the procedure and that the current breast ultrasound code, 76645, does not differentiate between diagnostic and screening studies. (The ACR's current guide to billing and coding for ultrasound is downloadable from its website.)
Weigert says there is some reluctance in the industry to ask the Specialty Society Relative Value Scale Update Committee for a new code to cover screening ultrasound. "The thought is that there's only so much money available for reimbursements and, if they create a code for something new, they will take money away from something else to cover the new costs," she says.
Concerns about costs also could prove to be deterrents to ABUS adoption for screening purposes, Weigert says. According to Ho, the average price of the somo-v ABUS is $200,000 to $250,000, depending on the configuration of the scan station and workstation. However, with reimbursement for ABUS the same as that for handheld ultrasound, Weigert says there may be a concern that practitioners will not recoup their costs.
Patient Demand
"In a perfect world, ABUS is a good step in the early detection of breast cancer," Weigert says. "However, I think this opens the door for other technology that might be less expensive."
In the future, Lander sees a time when every breast center that offers mammography also will need to offer ABUS screening for women with dense breast tissue. ABUS isn't as expensive as MRI, is noninvasive, and involves no radiation.
"I can see this being part of the regular mammography suite," Lander says. "As women learn more about ABUS, they will start to demand it."
— Kathy Hardy is a freelance writer based in Phoenixville, Pennsylvania. She is a frequent contributor to Radiology Today.