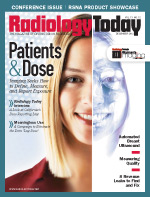 December 2012
Positive Identification — DNA Matching Verifies Patients Receiving Breast Biopsies
Radiology Today
Vol. 13 No. 12 P. 34
Science taken from the script of a CSI crime lab drama is now helping radiologists and breast surgeons better ensure that biopsies are properly matched with patients.
Strand Diagnostics, maker of the know error system (the company does not capitalize its product's name) for prostate biopsies, introduced a version for use with breast biopsies. The system involves DNA matching for cross-referencing patient identification of biopsy samples, with the goal of protecting patients from receiving an inaccurate diagnosis due to misidentification of biopsy samples.
"Patients are excited to hear that we are using DNA testing in our biopsy process," says David Dorfman, MD, a radiologist with Zwanger-Pesiri Radiology Group in Lindenhurst, New York. "They are happy to know whether they really need surgery or not."
Strand introduced its prostate DNA biopsy kit in 2009 after a forensic crime lab learned of problems involving biopsy sample errors. Dorfman, who performs most of the biopsies for the practice, says Zwanger-Pesiri incorporated know error into its prostate biopsy process across the board at its nine outpatient radiology practices about 2 1/2 years ago after hearing about the system from the lab that processes its biopsy samples. "I could see a benefit to our patients and others in the chain of custody," Dorfman says.
According to C. Mike Harmon, vice president of marketing and communications for Strand Diagnostics, approximately one in every 100 surgical biopsies is subject to patient misidentification, mislabeling, or specimen contamination. "Problems with the sample identification process don't occur in just one place," he says. "We want to make sure that a patient's diagnosis is based on the correct sample. DNA is the equalizer."
As Harmon explains, the know error system uses patient-specific bar coding and DNA Specimen Provenance Assignment (DSPA) testing to identify identification errors before adverse patient outcomes can occur. The DSPA test verifies patient identity by comparing genetic profiles obtained from the patient's biopsy tissues and a DNA reference sample.
Cheek Swab
Before the biopsy takes place, a reference sample of DNA is taken via a cheek swab with the patient's permission, according to Harmon. The patient also must sign off on the sample to confirm it's theirs. That swab is sent to Strand, thus keeping the patient's DNA sample in an independent location, separate from the lab where the biopsy will be sent. The patient's biopsy tissue sample is placed in a bar-coded specimen container included in the know error biopsy kit and sent to the pathology lab for evaluation. If the biopsy results come back positive, the DNA lab performs a DSPA test to compare the DNA profiles of the biopsy tissue and the reference sample. If the DNA and biopsy samples match, this information is compiled in a report to the referring laboratory. If the samples do not match, the laboratory is contacted, and further testing is required to properly identify the positive biopsy.
Harmon says if the biopsy comes back negative, there is no matching done to the patient's DNA sample. "The focus and concern is to use the system to prove a positive diagnosis," he says.
Where problems can occur is in the diagnostic testing cycle, Harmon says, where there is the risk of specimen provenance complications such as patient misidentification, specimen transposition, or foreign cell contamination. For example, a tissue sample can be contaminated by remnants of a previously evaluated tissue that were unknowingly left behind in the lab or particles can remain behind in the chemical bath where samples are placed during the testing process. If left undetected, specimen provenance complications can lead to diagnostic mistakes and adverse patient outcomes, Harmon says.
"During the diagnostic testing cycle, biopsy samples travel through multiple locations and are touched by multiple hands," Harmon says. "This process is repeated millions of times a year. With this number of variables, a process like this, even under the best quality-control standards, is prone to these types of complications. The DSPA process safeguards patients from misidentification errors that may occur during the diagnostic testing cycle."
In most cases DSPA testing, which is covered by insurance, is done at the same time as a patient's biopsy, but Harmon says there are instances where it's done retrospectively to verify patient identity if a physician suspects that an error has occurred. "Someone may not believe the initial diagnosis," he says. "In that case, technicians obtain blocks of the sample used for the slides that were studied in the diagnostic testing cycle and then take a swab from the patient."
HIPAA Protection
The DNA that is collected is protected by HIPAA. In addition, Harmon says Strand stores all DNA samples at its site and will continue to do so indefinitely. "As molecular diagnostics continue to evolve, I believe the industry will come up with a standard for how long to maintain DNA samples," he says.
Dorfman says he has not heard any complaints from patients when they learn that part of their biopsy process includes taking a DNA sample. "Patients understand that they're coming here to be tested for something serious and giving us a DNA sample allows us to proceed with confidence regarding their diagnosis," he says. "They see it as a value."
Radiology practices also are seeing a value by incorporating a DNA system into the regular biopsy workflow by giving technicians another level of confidence that samples are being handled correctly, Dorfman says. Even with that, there were initially some concerns regarding how this new system would impact the practice in terms of increased time per patient. He wondered if adding this extra step would slow down throughput or become an ineffective use of personnel.
"In the beginning, it did slow us down a little bit," he says. "It wasn't as much about taking the DNA sample as it was in the time technicians needed to take to explain the process to patients. However, as everyone became more comfortable with the process it only added a few seconds to the overall procedure. Technicians learned what questions patients would have most often and could then preempt them by providing that information prior to taking the swab."
Strand also helped to ease the transition process at Zwanger-Pesiri by tailoring its know error kits to resemble the biopsy kits with which technicians were already familiar while also incorporating some improvements. Everything is presented to the technicians in one kit. "Our old kit was in a bag, but the know error kits are in a box," Dorfman says. "The larger container is easier to work with and less clumsy."
Final Thoughts
As radiology groups continue to look for tools to help with the diagnostic process, Harmon sees expansion of know error DNA testing kits for use in determining other types of cancer.
"We always try to provide our staff with state-of-the-art equipment," Dorfman says. "Adding DNA sampling to our biopsy process is a natural step forward for us and our patients."