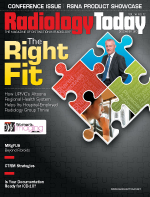 December 2013
Hospital Practice Ownership
By Jim Knaub
Radiology Today
Vol. 14 No. 12 P. 3
This issue's cover story looks at what, by all evidence, is a successful example of a hospital-owned radiology practice.
If that sentence seems like it could be the setup of a punch line, you understand why I thought it was an interesting topic. Several folks in the radiology community hold the opinion that a hospital owning and running an effective medical practice is a miracle on the order of loaves and fishes—or bipartisan cooperation in Congress. Yet when I first read Timothy W. Boden's article about the radiology service at the University of Pittsburgh Medical Center Altoona Regional Health System, it seemed both sides had received an important message about what was needed to turn around a struggling service: "The hospital and the radiologists alike have learned that collaboration can yield far better results than control."
Boden spoke with Altoona Regional radiologists, a hospital administrator, and the consultants who brought them together. The result is a timely article about consolidation, collaboration, quality service, and communication—all essential components to the ongoing success of medical imaging in the coming years.
Health care's evolution—with or without full implementation of the Affordable Care Act (ACA)—is changing imaging in a couple important ways. First, fee-for-service (FFS) reimbursement continues to be squeezed, reducing the profit margins for imaging procedures. That, in my opinion, will lead to further consolidation as imagers seek greater efficiency and market clout.
Second, while it's still early in the process, reimbursement is starting its move away from FFS toward a value-based system. If the ACA takes hold, accountable care organizations (ACOs) will foster more capitated reimbursement. That said, I think imaging services largely will end up as a service that ACOs purchase—at a discount, of course. I don't see many independent radiology groups rushing to buy into an ACO contracting group, given how little influence radiologists will have over utilization.
While I expect more hospital ownership in medical practice in general, I'm also not convinced that it will prove dominant. Even so, the situation at Altoona Regional speaks to the need for hospitals and radiology groups to work collaboratively and find ways to truly align their incentives.
If you're reading this at RSNA in Chicago, where this issue will debut, stop by booth 3112 and say hello. It's a pleasure to meet Radiology Today readers in person.
Enjoy the issue.
jknaub@gvpub.com