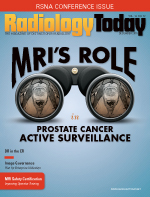 December 2015
MRI's Role In Active Surveillance
3T MRI Offers a Better Portrait of Prostate Cancer — and Its Risk to Men
By Jeannette Sabatini
Radiology Today
Vol. 16 No. 12 P. 12
Like many things, treating prostate cancer is about doing the right thing at the right time. MRI can provide highly accurate scans that can convince men diagnosed with localized prostate cancer that they do not have to rush to surgery or other treatments that can have harsh side effects. It can also precisely guide biopsies that can help plan treatments that result in a better quality of life for patients. MRI's role in prostate cancer management is becoming more refined. Legitimate concerns about cost and the lack of universal guidelines need to be addressed and results need validation, but much of that research is under way, according to researchers interviewed for this article.
Meanwhile, MRI's power to reveal a true portrait of a tumor, as well as the presence of extraprostatic extension, offer promise to greatly impact diagnosis and treatment of prostate cancer, helping patients and their doctors determine factors such as the need for a biopsy or aggressive treatment or a patient's eligibility for entry into a program of surveillance. When a biopsy is needed, those guided with MRI or MRI/transrectal ultrasound (TRUS) Fusion techniques are increasingly seen as superior to conventional biopsy.
"What MRI is now allowing us to do—and there is a lot of data out now to support this—is to image the prostate to find areas that are most likely to have clinically significant cancer, cancer that can potentially spread and kill patients. We can then biopsy those [cancerous areas] using MRI as a roadmap after fusing that data with real-time ultrasound," explains Jeffrey Weinreb, MD, FACR, FISMRM, a professor and chief of body MRI in the department of radiology and biomedical imaging at the Yale School of Medicine in New Haven, Connecticut.
What has empowered MRI in this area are refinements to techniques used, such as multiparametric MRI (mpMRI), and the availability of 3T scanners. "Thanks to the improved strength of today's 3T magnets, mpMRI has radically changed PCa [prostate cancer] detection and diagnosis. Combining computer-aided diagnostic functional imaging sequences that reveal different facets of healthy tissue vs tumor literally gives us a portrait of a tumor with important indications that help us rate its aggression level," says Dan Sperling, MD, DABR, medical director and chief of interventional uroradiology at the Sperling Prostate Center in New York.
Refining Decisions
The portrait, he explains, provides information about the size, shape, location, and aggressive nature of the tumor. "Clinical studies that compare presurgery mpMRI scans with the postsurgical histopathology of the prostate specimens demonstrate the high accuracy with which mpMRI correctly predicts significant PCa," he says. "For prostate cancer, the future of MRI is happening now. It has already changed the prostate cancer landscape."
"MRI is not yet perfect and some important tumors are MRI invisible, but it provides a lot better pathway to a correct characterization of what's in the prostate than anything we had before," says Leonard Marks, MD, a professor of urology at David Geffen School of Medicine at UCLA. "When MRI shows unequivocally a highly suspicious spot, we usually find cancer there, and often it's a serious cancer."
Such accuracy is especially important since findings on mpMRI are convincing patients and doctors that a man should not jump to undergo surgery or another form of treatment to "just get whatever's in there out" after being diagnosed with prostate cancer through a prostate-specific antigen (PSA) blood test and/or a digital rectal exam. Nearly all men with an elevated PSA screen make that decision despite the fact that most of them have localized, low-risk, nonfatal tumors, and the side effects to aggressive treatments, including erectile dysfunction and impaired urinary function, can be "debilitating," says Mark Litwin, MD, MPH, a UCLA Jonsson Comprehensive Cancer Center member and professor and chair of UCLA Urology. "As many as 40% of patients may currently be overtreated," says Litwin, who served as senior editor of a review of common practices in prostate cancer that he conducted with Marks and Christopher P. Filson, MD, MS.
"Reducing unnecessary treatment of men with low-risk prostate cancer has become an important priority because it would decrease treatment-related adverse events and help focus resources on those most likely to benefit," notes the report, "Expectant Management for Men with Early Stage Prostate Cancer," published in the July/August 2015 issue of CA: A Cancer Journal for Clinicians.
For this patient group, 3T mpMRI could be the first step following the initial diagnosis, say experts, including Weinreb, who is also a cochair of the PI-RADS Steering Committee. "mpMRI is giving more options to men found to have an elevated PSA," he explains. "We can say to these patients, 'Rather than having surgery or radiation therapy, let's get an MRI and see if there is an area in your prostate that looks like it is a high-grade tumor. If there is, we will biopsy that using MRI as a map; if not, maybe it is OK to come back in six months, or a year, and we will do another MRI to see if there are any changes. If there aren't any changes on that exam and in your PSA, let's just leave it alone and see what it looks like again in another year.'"
Such a process, which involves aggressively monitoring using biomarkers such as PSA testing, repeat biopsies, and/or MRI, encompasses a patient monitoring program known as active surveillance. "Active surveillance protocols," as noted in the review made by Litwin and Marks, "aim to maintain the opportunity of curing more aggressive disease via structured monitoring [eg, with PSA testing and repeat prostate biopsies], which attempts to identify any change in disease that would merit definitive treatment."
Active Surveillance
Some patients are considered good candidates for active surveillance based on their findings on the 3T mpMRI conducted prior to a biopsy, yet others also undergo a biopsy guided by MRI or MRI/TRUS fusion to make that determination. Sperling believes a patient's 3T mpMRI scan can be accurate enough to ascertain if a patient is eligible for active surveillance or not.
"Early detection is essential and when a patient's PSA is rising or unusually high," Sperling says, "mpMRI offers an alternative diagnostic pathway. Rather than rush to biopsy, additional blood or urine biomarkers can improve how specific such biomarkers are for prostate cancer, but the next step should be 3T mpMRI prior to biopsy. In the hands of an experienced radiologist/reader, a need for biopsy can be ruled in or out with a high degree of confidence. Any case in which a biopsy is ruled out, and there are no warning biomarkers, can be considered for active surveillance, which should be offered to the patient. Repeat mpMRI at suggested intervals—usually 12 months, to begin with—allows monitoring using evidence of disease growth or progression as a trigger for targeted biopsy." Biomarker testing, according to Sperling, would include PSA, PSA density and free PSA, or other tests as determined by the patient's physician.
Marks enthusiastically endorses the use of MRI-guided biopsy techniques to screen and enroll men for active surveillance. Based on his review, he reports: "MRI/TRUS fusion biopsy identified more high-grade tumors than conventional biopsy." He further explains: "MRI plays a very big role in targeted prostate biopsy. Before [mpMRI], we were shooting in the dark. Now [with mpMRI], we have a better idea where to put the biopsy needle," he says. "Without image-guided biopsy, many patients would enter active surveillance on the basis of a conventional biopsy and later be found to have cancerous lesions more serious than originally thought."
Overall, it is the patient who must sign on to active surveillance, and that decision should be based on discussions with professionals. Yet, according to the UCLA doctors' review, some doctors do not make such discussions a priority for one reason or another. "Some have argued that another barrier preventing physicians from recommending active surveillance is the financial disincentive related to not providing specialty care [eg, proton beam therapy]," the report notes.
Patients who opt for active surveillance have a personal role in their surveillance plan, Sperling adds. "Active surveillance encourages lifestyle changes such as healthier nutrition, exercise, and stress management that have been demonstrated to contribute to organic cancer control in many cases," he says.
Watchful Waiting
Men who are found to have less-aggressive prostate cancer on mpMRI are good candidates for another patient monitoring program referred to as "watchful waiting." Their protocols "do not involve aggressive testing or intervention but instead await the symptomatic evidence of progressive disease before further clinical evaluation," the UCLA reports states. Treatment offered to these patients focuses on palliation of symptoms. Watchful waiting, the report notes, is most often used for men that are elderly or for those with "comorbidities who are unlikely to benefit from curative treatment." Active surveillance, on the other hand, "focuses on younger, healthier patients interested in deferring or avoiding the potential negative consequences of primary treatment with surgery or radiation."
As noted, findings on a patient's 3T mpMRI can show when a biopsy is needed. In their review, Marks and Litwin cite reports that found mpMRI, with and without targeted biopsy, "quite robust in identifying high-grade disease and extraprostatic extension in men initially characterized with low-risk disease."
3T mpMRI can indicate the need for more aggressive treatment because it is able to reveal extracapsular extension, Sperling explains. "One of the advantages of 3T mpMRI is that it can be used to monitor active surveillance patients for tumor growth and progression, which would trigger an in-bore biopsy only as needed, rather than undergoing repeat biopsy," he says. "3T mpMRI can be used for guiding an in-bore targeted biopsy with minimal needles for the most accurate tissue samples [diagnosis]."
Sperling says he has worked with expert engineers to develop proprietary imaging software for biopsy and treatment planning and has collaborated with authorities in the United States and international academic centers in order to create and refine a clinical protocol that is branded Blue Laser. Offering a scenario to reflect the advantage of this protocol, Sperling says, "Let's say three photographers all use the same high-tech digital camera for a picture of the Golden Gate Bridge from the same vantage point. The photos will vary: one will be fairly average, another may have some exciting features, and the third will be totally breathtaking. We are confident we're like that third photographer."
MRI is seeking a role that will better define care for prostate cancer patients, but studies are needed to prove that MRI is worth the cost, Weinreb adds. "MRI is expensive, so not only does it have to be shown to be beneficial, it has to be shown to be cost-effective," he says, noting that studies on the topic are "under way."

The need for more guidelines are noted in the UCLA doctors' review: "Moving forward, the maturation of existing data, combined with adoption of consensus-based guidelines for reporting MRI findings, will help clarify the role of mpMRI in the management of men who are considering active surveillance."
Current studies serve to unlock other advantages to using MRI in this area. A Yale trial described by Weinreb is investigating the hypothesis that MR and PSA alone are adequate to detect the progression of prostate cancer for men in active surveillance, which would therefore eliminate or decrease the need or frequency of biopsy for these patients. A related study was done at New York's Memorial Sloan Kettering Hospital, led by Behfar Ehdaie, MD, MPH, who works in the department of surgery, urology service. The study, "Can Confirmatory Biopsy Be Omitted in Patients With Prostate Cancer With Favorable Diagnostic Features on Active Surveillance?," concluded: "If externally validated, a model based on initial diagnostic criteria could be used to avoid confirmatory biopsy in many patients initiating active surveillance."
Guiding Treatment
Many researchers predict growth in the use of MRI to guide treatment for prostate cancer patients. "New research suggests that combining imaging, a targeted biopsy, and cancer cell progression analyses offers the best prognostication and treatment matching for a patient," Sperling says. "If the patient is a candidate for a focal therapy, 3T MRI guidance and confirmation of effectiveness give a noninvasive method of achieving disease control with high quality of life."
Marks notes that he and the team at UCLA are actively pursuing treatment based on MRI-detected lesions. "Our premise is that if we can put a biopsy needle into a suspicious spot, and it turns out to be cancer, then why not put a laser fiber into that spot and ablate it?"
Sperling has many predictions for MRI's role in treatment in the near future: "Device manufacturers will develop or adapt ablative devices to be MRI-compatible, so other energy forms in addition to focal laser ablation will be used under preferential real-time MRI guidance," he says. "We will see production and distribution of ever more powerful magnets, a wider range of functional imaging sequences, and novel contrast agents for detection of virtually microscopic disease in the prostate, adjacent tissues, lymph nodes, and more remote tissues. This will allow tailored treatments and verification of the effectiveness of cancer vaccines and immunotherapies currently in development and testing."
— Jeannette Sabatini is a freelance writer based in Malvern, Pennsylvania.