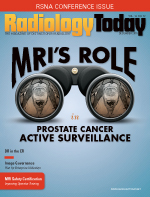 December 2015
DR in the ER — Emergency Medicine and Portable X-ray Are Proving to Be an Efficient Match
By Beth W. Orenstein
Radiology Today
Vol. 16 No. 12 P. 16
In 2014, patients made more than 136 million visits to an emergency department (ED), according to the Centers for Disease Control and Prevention. In recent years, 6% of EDs have closed their doors across the country, according to a study published in Health Affairs. While the number of EDs is shrinking, increased numbers are visiting those EDs.
"So anything we can do get to a diagnosis and treat patients in a safer manner quicker is incredibly valuable," says Gabe Wilson, MD, of San Antonio, a spokesman for the American College of Emergency Physicians.
Here's where portable direct DR is stepping up big. Portable DR allows technologists to take high-quality images in a shorter amount of time than even with portable CR systems and send the images to physicians for interpretation much faster. In the past two years, since Methodist Charlton Medical Center in Dallas acquired a wireless DR solution, Konica Minolta's AeroDR XE, "No one is ever waiting for us on an X-ray," says its Radiology Director Jeff Pustejovsky, RT(R).
Portable DR isn't available in every ED. "But it is quickly becoming the industry standard," says Howard Sanford, RT(R)(MR), operations manager for El Camino Hospital in Mountain View and Los Gatos, California, which recently acquired two Carestream DRX-Revolution systems to capture up to 90 images a day in its busy emergency and surgery departments, as well as for bedside inpatient exams.
"Digital mobile radiography systems have been around for a while now," says Rob Fabrizio, director of product development and marketing at FUJIFILM Medical Systems USA Inc, which introduced its FDR Go DR in 2013. Many hospitals are still using portable CR technology, and some are still trying to extend the life of those analog portables, Fabrizio says. Cost may be the issue. He says that portable DR costs probably two to three times more than portable CR. As with most technology, the longer it's around, the more quality improves, the price comes down, and people adopt it. At least 90% of all new purchases these days are strictly digital, Fabrizio estimates. "And that number continues to increase every year," he says.
When Speed Matters
Technologists and radiologists using portable DRs in their ED are finding the newer technology makes them more productive. "With our portable DR units, we are able to access and see images instantly, which helps our workflow and definitely makes us more efficient," says Stephen Hatem, MD, a physician in the department of musculoskeletal and emergency radiology at Cleveland Clinic and chair of the ACR Committee on Emergency Radiology.
Portable X-ray equipment has been available for decades. But the early analog units required that a film cassette be brought back to the radiology suite for processing. This continues to be a challenge with CR cassettes. DR eliminated this issue. "With digital DR, you don't have to keep running back and forth, back and forth," says Glenn Williams, RT(R), a lead technologist at Cleveland Clinic.
Activity in the ED at Methodist Charlton has increased 20% over the past three years, Pustejovsky says. Thanks to its having acquired AeroDR XEs, "We haven't had to add staff," he says. "We can do more and our workflow is that much more efficient."
Portable DR panels typically weigh approximately six pounds, which is comparable to a CR cassette. The DR detectors are considered fragile because they have a glass panel inside, raising the obvious concern about dropping and breaking the expensive DR panels. Manufacturers are working to make panels sturdier. "The latest Fujifilm D-EVO II DR panels are significantly lighter and stronger; they feature tapered edges to make them easier to position under the patient," Fabrizio says. "All of these [changes] combined give you fewer worries about dropping them." Grip strips on Konica Minolta's AeroDR XE, which received FDA approval in 2014, help technologists handle the panel. At 5.7 pounds, Fujifilm's FDR D-EVO II and Konica's Aero DR XE are billed as the two lightest panels on the market.
These new DR detectors also are designed to withstand the bumps and bodily fluids found in ED trauma rooms. "We've had equipment ruined from fluid invasion," Pustejovsky says, "but not the AeroDR XE."
The Fujifilm detectors also feature a Fujifilm patent-pending antibacterial coating that is 10,000 times more effective than no coating, against 99.99% of bacteria on the surfaces of the detectors, Fabrizio says.
Portable DR allows the technologist and the physician in the ED to see the image in real time as it is being acquired. The instant feedback also leads to efficiencies, Glenn Williams says. As the technologists are working, they can see whether the entire area of interest is in the field of view and whether the quality of the image is satisfactory for diagnostic purposes, he says. Tommy Williams, RT(R)(CT), ARRT, manager of imaging services at Legacy Emanuel Medical Center in Portland, Oregon, which last year replaced its older analog systems with Fujifilm's FDR Go, agrees. Tommy Williams figures the technologists using them throughout the hospital save about 10 to 12 minutes on every acquisition because they don't have to run back and forth with the plates to the CR scanner to see if the views they took are good or whether they will need retakes.
Portable DR can benefit patients as well. Patients who come to the ED for treatment are usually pretty sick and appreciate not having to be moved to the X-ray room to see what's causing their pain, Fabrizio says. The ability to see the image as it's acquired is also better/safer for the patient because it allows for lower radiation dose, says Virgil Smaltz, MD, MPA, FACEP, emergency physician with Finger Lakes Health in upstate New York. "Not only can the technologist use lower settings with digital technology but they also have to take fewer repeat X-rays because they can adjust what they need on the fly," he says. Pustejovsky says using portable DR has enabled his staff to cut patient radiation dose compared with film by at least 50% but probably more like 75% on most studies. To help keep dose low, Legacy Emanuel's radiology department has set at target of under 2% for repeat X-ray exams. Tommy Williams is confident, thanks to the portable DR it uses, that is a realistic goal for its hectic 24/7 emergency/trauma department. One of the biggest reasons for repeats is patient motion, he says. Exposure time is longer with CR than with DR. The longer the exposure time, the greater the chance the patient will move, Tommy Williams says. That's one way DR helps reduce the need for repeats.
Maintaining Quality
Portable DR users say the image quality is as good as those acquired in a radiology suite. "You see everything you need," Pustejovsky says. Images from portable DR are well-accepted radiographs, Sanford says. "It's not a substandard image." The quality is essential because emergency physicians and surgeons depend on these images to make the right patient treatment decisions quickly and safely, notes Glenn Williams. There really aren't any body parts that can't be X-rayed using portables, Pustejovsky says. "We can shoot head to toe, anything and everything. We have a real good balance of soft tissue and bone. It's pretty nice."
Fujifilm's FDR Go has a Virtual Grid feature that adapts image processing to replicate grid use. Applying Virtual Grid means the image quality isn't degraded by scatter radiation. Tommy Williams finds the Virtual Grid can help reduce artifacts that are caused by misalignment of the tube to the detector angle. Because of this feature, spine work is infinitely better with a DR portable than with a CR plate, Tommy Williams notes. The team uses the Virtual Grid feature in 90% of all portable chests and 75% of abdomens, he says.
The growing use of portable DR hasn't particularly changed the role of the radiologist. Radiologists reading the images acquired on portable DR systems are using diagnostic quality, higher resolution monitors in their reading rooms. They, too, can see the images nearly as quickly as the technologist and the emergency medicine physician at the patient's bedside. "The images go over as soon as they're acquired to the PACS wirelessly," Pustejovsky says. If the emergency physicians making diagnosis and treatment decisions at bedside has a question for the radiologist on call, all they have to do is "pick up the phone and have a consultation," Pustejovsky says.
Wilson says, "Digital allows us to take action sooner without the radiologist's opinion, but if we do need the radiologist's opinion we can give them a call. They, too can look at the images within minutes and can have a discussion with us."

The workflow for the radiologists is the same whether the images are acquired on portable DR or standard technology, Sanford says. "It's just that with portable DR the radiologist can get it quicker."
Faster Pace
In some EDs that are equipped with DR, radiologists and technologists may be asked to handle a greater volume of studies in a shorter amount of time, Hatem says. But it seems doable, he says. Using portable DR has certainly meant a "faster work pace" for the technologist, says Glenn Williams, his lead technologist. It also has improved the relationship among the technologists and the ED staff, Glenn Williams says. "The ER team is looking for your help and wants your advice, and, if you can provide it in a more timely fashion, the relationship is better."
Technologists see only a few minor issues with using portable DR technology in the ED. One is that obese patients still have to go to a traditional X-ray room in some cases, Tommy Williams says. "You won't have an 80-kilowatt generator you need so that the X-rays can penetrate those patients," he says.
While the newer systems are very user friendly, there is also a learning curve for technologists, especially when they switch from analog to digital. "It's a totally different image than what we're used to looking at," Glenn Williams says." It isn't as big a switch going from CR to DR as from analog to digital, but it is different, he says.
At Legacy Emanuel, training for technologists is ongoing, Tommy Williams says. The training contributes to the lower dose requirements and need for fewer repeats, he says. Another potential issue, Tommy Williams says: "You need to put your portable DRs in an area where your wireless signal strength is pretty robust. These are big files sliding through the air. The most common issues we have with portable DR are wireless connectivity."
Wilson says there still are some instances where better images and positioning can be accomplished in the radiology suite. "So it's a balance of deciding how stable the patient is, what need there is for optimal images, and resource utilization," he says.
Portable DR "is one of those technologies in the chain of development over the past decade that has really improved things," Hatem says. Wilson says he has worked in departments that have portable DR and ones that don't. "Once you get one, everyone notices the difference," he says.
Tommy Williams says Fujifilm's FDR Go have gone over so well in his hospital's ED that it's only a matter of time before it has to buy more for the operating room. Surgeons have seen the type of image they produce and what this new generation of DR unit is capable of, he says. "And they'll demand they have them, too."
— Beth W. Orenstein is freelance writer based in Northampton, Pennsylvania. She is a frequent contributor to Radiology Today.