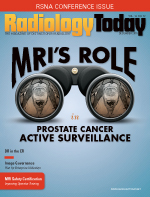 December 2015
Population Health Management: Its First Steps Are Largely Occurring Outside of Imaging, but Technology and Workflow Are Key Components
By Selena Chavis
Radiology Today
Vol. 16 No. 12 P. 24
The postreform, value-driven heath care landscape is rapidly evolving. As a result, health care organizations are increasingly looking to the promise of population health management (PHM) to position for future success. Successfully aligning with health care's triple aim of improving population health, enhancing patient experiences, and reducing costs will require that care delivery models become more proactive, minimizing the potential for adverse events and the need for high-cost emergency care.
In recent years, PHM has evolved into a recognizable industry buzz term embraced for its proven outcomes. However, the complexities of effectively managing a population's health are many, making it a challenge to successfully implement a winning strategy. Early best practice models suggest that sustainable strategies require effective care coordination, change management techniques, and technological infrastructures that will support data aggregation and longitudinal views of patient data in real time.
While the industry has been primarily in trial-and-error mode over the past several years, some best practices are beginning to surface as pace setters deploy the concept on a wider basis. PHM models vary by organization, but industry experts agree that there are two fundamental components critical to success: technology and workflow.
"They [technology and workflow] are both incredibly important, and they are totally separate from each other," says Steven Atlas, MD, director of the primary care research and quality improvement program at Massachusetts General Hospital, who points out that entities adopting PHM initiatives can have a love-hate relationship with technology.
Sometimes HIT can get in the way of workflow, but Atlas says it's impossible to implement PHM initiatives without the proper infrastructure. "You need to have systems that identify your patients, attribute them to providers or practices. … You need accurate registries to define patients who have diseases such as diabetes and heart disease," he explains. "All of those things really can't be done efficiently without information technology."
Karen Frederickson Comer, director of collaborative research and health geoinformatics at The Polis Center of Indiana University—Purdue University Indianapolis (IUPUI), concurs, noting, "information system integration allows high transaction volumes and near real-time augmentation of clinical data" that could not be achieved otherwise.
Equally important to technology are workflow considerations. Atlas says having the right allocation of resources is a necessity to pulling off effective PHM. "For us, one of the key elements is the use of central PHM coordinators who take the burden off the doctors' plates, off clinicians, secretaries, and staff. The extra help has been incredibly important to getting buy-in," he says.
Three Examples
As facilities such as Massachusetts General lead the way, more is becoming known about the different PHM approaches. The pioneers in the field can help others considering taking the PHM plunge by offering valuable insights and best practice advice.
Massachusetts General embarked on a population health initiative in 2014 to address standardization of care across patient populations and improve its overall performance in order to achieve pay-for-performance goals.
According to Atlas, it was important to the physician community to have the effort address high-level quality initiatives rather than be driven by payer expectations. "Prior to implementing [PHM], we were trying to achieve different measures for each insurer. Patients without insurance or who were covered by certain types of insurers were left out or possibly getting second-level care because we were focusing on the insured populations," he notes. "One of the goals was to be able to apply the same standards across all patient populations. That was a primary driver and allowed us to get a lot of physician buy-in."
On an institutional level, national quality initiatives such as value-based purchasing were driving the PHM effort. Atlas recalls that a lot of time was spent trying to collect the data and make them actionable across various payer metrics. The organization addressed inefficiencies by jointly developing and deploying TopCare, powered by Blender, to provide a foundation of analytics that would aggregate patient data from stakeholders along the care continuum and integrate critical patient information into clinical workflows.
Atlas points out that when Massachusetts General applied PHM across all patient populations, the number of patients needing to be tracked increased significantly. For example, for hypertension patients alone, the total rose from about 4,000 to 24,000. "We had been interested in developing an IT infrastructure to do this for some time," he notes. "We were able to use TopCare as a way to push us into taking the steps we had been preparing for over a number of years."
The organization was able to leverage the content in the tool to standardize quality metrics for all payers. When discrepancies existed, evidence-based information was supplied to the payer to change the directive.
The hospital piggybacked the broader PHM effort with a pilot initiative for cancer screenings. According to Atlas, this helped the PHM transition go smoothly because doctors were already thinking about patient populations.
In 2014, efforts focused on expanding use of the TopCare infrastructure to support PHM for three chronic diseases: diabetes, hypertension, and heart disease. While Massachusetts General had hoped to create a centralized network hub for the effort, Atlas says funds were unavailable to support the full strategy.
However, the hospital was able to hire and centralize PHM managers to aid physician practices with their initiatives. For example, PHM managers could detect patients with diabetes who are overdue for a visit and then schedule an appointment with the appropriate physician practice.
Atlas says the marriage of technology and workflow was top of mind during the process, with a flexible infrastructure being a crucial ingredient. "We have 19 different practices that range from community health centers to large, multiphysician practices and small private practices. All operate very differently," he points out.
At Atlas' practice, a medical assistant reviews patient status in the TopCare application to identify workflow solutions. For example, if a patient is overdue for a lab test, an order can be placed before the patient arrives. Nurses also reach out proactively to improve patient adherence to treatment plans.
One of the greatest hurdles to implementing PHM at Massachusetts General was changing the way physicians think about patient care, Atlas says. "Doctors are geared toward taking care of the patient who is in front of them; they aren't very good at dealing with the patient who isn't in front of them," he explains. "Now, it's not just about what you do while the patient is in the office, but how you engage the patient after the visit."
Early results suggest the initiative is paying off for Massachusetts General. In 2014, the hospital was able to meet the criteria to receive pay-for-performance dollars on every measure. "An extraordinarily successful year," Atlas notes.
Christiana Care Health System
Delaware-based Christiana Care Health System set out to be one of the first to develop a fully functional PHM initiative to position itself for risk-bearing accountable care. Supported by funds awarded through the Center for Medicare & Medicaid Innovation's Health Care Innovation Challenge, the health system piloted the "Bridging the Divides" initiative, a data-driven effort to better manage one of its most costly populations: ischemic heart disease patients.
Applying lessons learned through the initial three-year grant initiative, Christiana Care is rolling out an expanded and advanced technology-enabled care coordination platform. According to Chief Medical Information Officer Terri Steinberg, MD, MBA, Bridging the Divides has evolved into a care coordination system that leverages technology to aggregate patient-level data sets in real time and care management workflows that are supported by a foundation of regressive and predictive analytics.
Supported by two technological infrastructures, the Care Link care coordination hub forms the heart of the effort. Medecision's Aerial platform provides the functionality to support regressive data analytics and management functions by assigning patient care plans, offering instructions for contacting patients, displaying analytics-driven tasks for patient outreach, and supporting utilization review. The predictive analytics function, provided by ColdLight's Neuron, a data platform that identifies patients who meet enrollment criteria, offers severity scores and generates care management tasks.
Because data are critical to effective PHM, Steinberg stresses the importance of laying a foundation that eliminates the gap between existing, disparate data sources as well as the divide between clinical care settings and providers. The technological framework is critical to equipping care managers with the up-to-date patient profiles needed to proactively engage patients in their care.
Christiana Care also is integrating claims and clinical data to conduct risk modeling to determine more precisely when care is needed. For instance, Steinberg points out that pattern matching considers data associated with poor outcomes and assigns risk scores to patients with those characteristics.
To date, the initiative has produced impressive results. For example, patient satisfaction surveys have revealed that a majority of respondents believe the program has improved their quality of life. Also, inpatient Hospital Consumer Assessment of Healthcare Providers and Systems scores have increased and outcomes for the ischemic heart disease population have received a boost.
Through the use of tasks and alerts, the number of steps needed to assess and process readmissions has been reduced 50%, significantly streamlining workflows. Previously, care managers were e-mailed batch reports from the registration system; now, they receive real-time notification of each readmission.
In financial terms, Christiana Care believes the initiative has reduced costs by $1.75 million annually.
The Indiana Partnership for Healthy Communities
A multidisciplinary effort led by the Richard M. Fairbanks School of Public Health at IUPUI, The Polis Center at IUPUI, and the Indiana Clinical and Translational Sciences Institute, The Indiana Partnership for Healthy Communities has been tasked with developing and disseminating improved and sustainable processes for understanding and effecting population health. The partnership worked jointly with Regenstrief Institute to augment clinical data captured in the Indiana Health Information Exchange with spatial and contextual data.
According to Frederickson Comer, the organizations leveraged funding from the Centers for Disease Control and Prevention to develop a secure system for the daily geocoding of all incoming electronic records, allowing aggregation and linkage of population health data with geographically specific social, cultural, economic, and environmental data. "The next step was the design and validation of methods for synthesizing these data into community health measures that can be used to identify and characterize public health outcomes," she says, adding that the Fairbanks School of Public Health is leading an associated research effort that will end later this year.
The research team is attempting to identify and develop useful community health measures through several efforts. First, the research team identified pilot community health measures based on HEDIS (Healthcare Effectiveness Data and Information Set) performance measures, feedback from public health partners, and a survey of Indiana public health professionals. The feasibility of pilot measures also was assessed based on the likelihood of electronic capture, electronic record accessibility, the percentage of health care providers contributing associated data to the health information exchange, disease prevalence, and geographic granularity. A complete evaluation of the data is now underway.
On a community level, Frederickson Comer says understanding and controlling data bias and translating measures into useful formats for a wide range of public health users pose serious challenges. "To realize the full potential of this opportunity, a multidisciplinary approach is critical, including medical informatics, public health, epidemiology, and geographic information science," she says. "Technology played a significant role. Previously, linking patient and contextual data was a highly manual, time-intensive process. The ad hoc approach was inefficient and lacked the flexibility for data analysis that an integrated system can provide."
While the partnership's initial focus has been on assisting hospitals to obtain more value from their required community health assessment and community health improvement plans, the long-term aim is to improve cost-benefit ratios, identify administrative efficiencies, and develop better business plans.
— Selena Chavis is a Florida-based freelance journalist whose writing appears regularly in various trade and consumer publications, covering everything from corporate and managerial topics to health care and travel.