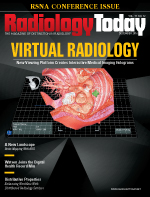 December 2016
Editor's Note: What's Hot and What's Next?
By Dave Yeager
Radiology Today
Vol. 17 No. 12 P. 3
Two clear signs that the end of the year is upon us are shorter days and the RSNA Scientific Assembly and Annual Meeting getting under way. Like the year's end, the annual RSNA show is a time not only to take stock of where things stand but also to look ahead. Which issues will occupy the radiology world's collective consciousness in 2017? Which technological advances will make meaningful changes in radiology practice? We'll all get a sense of what to expect in the coming year at the show, but in the spirit of looking toward the future, this issue covers some technologies and ideas that may soon help to shape the radiology industry as well as some that are changing it already.
Our cover story, by Beth W. Orenstein, looks at a new visualization platform from EchoPixel that generates 3D holographic images. Think Princess Leia and R2-D2. Whether this iteration of the technology catches on or another "killer app" emerges, it seems that viewing medical images in 3D in open space would be a big help in clinical practice and will likely continue to develop.
There's also a story about the Human Connectome Project. Kathy Hardy spoke with a couple of the researchers who are mapping brain regions with unprecedented precision; new MRI technology is aiding the search.
Another technology-based project is a growing presence in medical imaging: Sandra Nunn, MA, RHIA, CHP, reports on IBM's Watson and the consortium of imaging companies that are providing their insights to help Watson "think like a radiologist," as radiologist José Morey, MD, says in the article.
Finally, Tim Boden, CMPE, examines the challenges of staffing a small hospital and how teleradiology can provide needed expertise as well as constant coverage. With digital communications becoming increasingly efficient, more organizations are looking to teleradiology to fill coverage and subspecialty gaps. One recent report pegged the 2016 growth of the global teleradiology market at 13%, with the United States leading the way.
Who knows what else will be revealed at this year's RSNA? If you happen to be there, don't forget to stop by booth 3213 in the South Hall and say hi. Until next year …
Enjoy the issue and the show.
david.yeager@gvpub.com