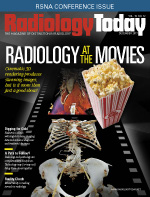 Editor's Note: Sneak Previews
By Dave Yeager
Radiology Today
Vol. 18 No. 12 P. 3
With one year winding down, a natural tendency is to ponder what the next one may bring. In this issue, we're presenting ideas and technologies that may play a prominent role in radiology and health care sooner rather than later.
First up, Dan Harvey's cover story gives us a closer look at cinematic 3D rendering. Cinematic rendering uses the same data sets as standard CT, but the software manipulates light in way that produces highly realistic images. Although most radiologists appreciate the increased clarity of the images, what's not clear is whether they are actually necessary for better patient care. Harvey talks to professionals on both sides of the debate to get their opinions.
Next, Beth W. Orenstein reports on the growing field of radiomics. Although the idea behind radiomics has been around for a while, technological advances are allowing radiologists to mine data from images like never before. Researchers are already hard at work identifying biomarkers for a wide variety of cancers to improve treatment planning and predict treatment response, and they may soon be able to identify imaging features that lend insight to noncancerous diseases.
Kathy Hardy writes about the parallel roads being traveled by radiology and pathology. Although the specialties have different demands, many experts think that pathology may benefit from radiology's hard-won knowledge about digital imaging. Time will tell whether radiology's lessons apply to pathology's future.
We're also taking a look at the use of augmented reality—the technology that gave us Pokémon Go—in medical care. Experts in the field see many potential uses for augmented and virtual reality—sometimes referred to as mixed reality—and medical imaging figures to play a prominent role in its development. No doubt, the next few years will bring many advances in this exciting new field.
Finally, if you happen to be attending this year's RSNA, don't forget to stop by booth 3253 in the South Hall and say hi.
Enjoy the issue and the show.