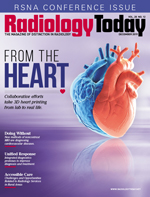 Accessible Care: Challenges and Opportunities Related to Radiology Services in Rural Areas
By Keith Loria
Radiology Today
Vol. 20 No. 12 P. 22
At a time when many rural hospitals are closing and an increasing number of areas are being designated as underserved, there is a great need to ensure access to vital medical services, including medical imaging. Eric B. Friedberg, MD, FACR, vice chair of the ACR Commission on General, Small, Emergency, and/or Rural Practice, says the best way to classify the state of radiology in rural areas today is that it goes from the "very challenged to outright crisis."
"Approximately 20% of the US lives in 'Rural, USA,' so you're talking 60 million people, and the number of hospitals that have closed in these environments since 2010 is around 100-plus, with at least 20% of the rural hospitals we have being vertically challenged and on the road to bankruptcy and potential closures," he says. "When they close, it profoundly impacts the community."
John Simon, MD, founder and CEO of SimonMed Imaging, a company that operates outpatient medical imaging providers and physician radiology practices in rural areas, says radiology is underserved in rural America and people often lack access to basic health care services; specialized care such as radiology is almost nonexistent.
"Competition from larger urban providers, both for patients and physicians, has also contributed to the decline of the rural health care delivery system," he says.
Charles Duffy, COO at Mercer Plains Medicine in Macon, Georgia, says right now in rural areas, radiology is one of the greatest needs.
"It all comes down to access for the patient and affordability of the equipment to the practice," he says. "Fortunately, at Mercer Plains Medicine, we've found affordable equipment so we can provide that access to patients throughout Georgia."
Rob Cascella, chief business leader of precision diagnosis at Philips, says when it comes to radiology practices and departments in rural areas, the industry has a long way to go before they match the level of access and capability of their counterparts in urban environments.
"Consolidation in health care has been a factor for years, and it continues to shape the business of health care—particularly in rural areas," he says. "As the shift to value-based care continues, it's becoming evident that hospitals—no matter their location—need to move from individual imaging procedures to connected, comprehensive care. But, as more health systems consolidate across the US, specialty practices—including radiology—are being impacted."
As a result, more radiology practices in rural areas are finding that they need additional support to manage a high volume of images. Due to limited staff, they are outsourcing image reads more than ever before.
"With continued industry changes, virtual radiology is becoming critical to radiology practices in rural areas," Cascella says. "This trend is helping bring quality health care closer to patients and making sure those who have imaging performed in rural or developing areas can benefit from expert, remote analysis, while also minimizing staff shortages and limitations."
Challenges Abound
It will not be easy. Cascella says there are two primary challenges related to radiology services in rural areas: accessibility and care standardization. Care accessibility is one of health care's biggest, most complex challenges and, in the United States, there are big swings between what's available in rural settings vs urban communities.
"Rural health care organizations are usually more geographically spaced out with limited staff and resources, and patients in these areas often travel long distances when seeking care," Cascella says. "When it comes to care standardization in radiology, the goal is to have the same high level of image quality, protocol, and diagnostic outcomes in a rural setting as in a center of excellence or academic medical center. Patient population volumes, limited budgets, quality of care, and staffing issues all present challenges for radiology practices in rural areas."
Access to high-tech equipment and lack of affordable care are additional challenges.
"Rural populations experience lower access to health care due to affordability, proximity, and quality, compared with their urban counterparts," Simon says. "In rural areas, scheduling screenings of any kind requires the patient to arrange appointments, travel, and likely request time off work."
Barriers to health care result in unmet health care needs, including a lack of preventive and screening services and treatment of illnesses. For example, 80% of the women who should have an annual mammography exam won't because they are unable to find a mammography facility that is conveniently located, according to Simon.
Another problem is that many patients often don't have reliable transportation to get to a hospital, which could be as far as 40 minutes away. And, even if they are able to get there, the hospitals have so much volume that it may be a two- to three-week wait for the patient to receive imaging; a lot can happen in two to three weeks if someone is in a precarious health situation.
"What we've seen in the past 15 years is a decline in primary care that's been followed by a struggle for the hospitals," Duffy says. "Part of that is because the referral network is broken—patients don't have a primary care physician who is guiding them through the process and building the relationship so they can refer them to the hospital when necessary."
That means that more patients are presenting in the emergency department (ED) for the diagnostic piece that would traditionally be carried out by the primary care provider. Duffy explains that EDs can become a de facto source of primary care for underserved areas; this can have a dramatic impact on a hospital's ability to perform the duties that it was intended to perform. A more robust primary care presence in rural areas would help the hospitals tremendously.
"There are also a lot of barriers to communication in rural areas, from a lack of cell service and internet reliability to simply not knowing where our patients are living at any given time," Duffy says. "When we can have face-to-face conversations while they're in our office, the more likely they are to understand everything about their diagnosis and treatment. The more we can do and the more information we can give in one office visit, the better."
Exploring Opportunities
Opportunities exist in preventive care and patient education, Simon says.
"Patient education is essential for keeping a population healthy. When they understand the importance of taking care of their body, patients become proactive and are more likely to seek preventive care," he says. "Other opportunities might look like bringing in a specialty care service center, like radiology, once a month to screen patients and provide access to the high-tech equipment and affordable care they aren't able to receive."
From an equipment standpoint, Duffy feels there is a significant opportunity to add imaging equipment that fits into rural community clinics, and, in the next five to 10 years, he believes there will be more DR systems that are purpose-built for small outpatient centers and practices. Mercer Plains clinic uses the KDR Advanced U-Arm from Konica Minolta.
On the health care IT side, Mercer Plains uses Konica Minolta's Exa platform, which allows X-rays to be read by a remote radiology group in 15 minutes—before the patient leaves the office.
"It's a game-changer for our primary care clinicians to have that information and be able to address it with patients almost in real time," Duffy says. "As diagnostic imaging solutions become more portable or have a smaller footprint, practices with space limitations can start to provide more imaging services, which are diagnostically crucial to primary care and population health."
Duffy says rural hospitals are also deploying mobile CT units, which he says are particularly useful for rural areas because most hospitals and clinics don't have the patient volume to keep a CT busy full time.
Friedberg would like to see some attention paid to crafting national policies for thoughtful types of reimbursement and subsidy strategies that recognize the value and importance of maintaining the viability of a rural community, as well as encouraging and rewarding local innovation and investment in rural hospitals.
Building Relationships
In a rural environment, there are limited locations available, whereas in urban environments patients have the power of choice. Urban environments are also more likely to have the latest technology, assuring reliable and accurate results at a fraction of the cost.
For example, in an urban setting, a woman goes for her annual mammogram and the image is processed and read in one location, relatively close to home. If an abnormality is identified, a second scan will likely be conducted with a more advanced modality for a more detailed view and reviewed by specialists with experience reviewing similar images. This typically results in a fast and accurate diagnosis.
In a rural setting, the same patient is likely to experience a more complex journey. First, she may need to travel farther to her provider—following recent consolidation—which can impact daily routines and work schedules. Second, the equipment may not be the most up to date or include the advanced modalities needed for a second scan, if an abnormality is identified. Finally, without the use of telehealth technology, the expertise of the radiologists who read the images will likely vary. Factored together, these three differences could result in rescans and delay diagnosis, potentially at a higher cost.
One of the biggest differences between urban and rural health care is that a rural health provider is often the sole source of care in the area, so those clinicians are going to see everything. Access to imaging equipment can be limited for both patients and clinicians—which also increases wait times for imaging services.
"Because of these issues, I think rural clinics push their equipment and images further than a primary care practice in an urban area would, in hopes that we can get more information in the absence of specialists," Duffy says. "The role of the rural clinic or radiology center also goes beyond just having the equipment there. It's about building a primary care relationship and creating a place where our patients can come and get comprehensive medical care. And imaging has to be a part of that."
Tech Advances
One important way that the health care industry can make care more accessible and convenient for patients, without sacrificing quality, is through diagnostic imaging technology.
"Next-generation imaging technologies will change this pattern by democratizing health care and providing access to care in any setting—improving patient outcomes, lowering costs across the board, and playing a significant role in a patient's care journey," Cascella says. "Many times, diagnostic imaging is the first step in timely, precise diagnosis and setting the best path to treatment."
A number of new technologies have come along in recent years to improve patient experience and imaging reliability in rural areas, including 3D mammography, 3D whole breast ultrasound, 3T MRI, and ultra-low-dose CT scans. Simon offers a few examples of how these technologies have improved care: 3D mammography provides a clearer, more accurate view compared with digital mammography alone; 3D whole breast ultrasound finds more cancers (7.1 per 1,000 screens) than 2D mammograms; 3T MRI operates at twice the normal strength, generating greater signal-to-noise ratio, a major determinant for highest quality images; and ultra-low-dose CT scans allow structures that were not previously visible to be seen while lowering X-ray dose by up to 80%.
"New technologies provide opportunities to address rural setting challenges, opening doors to previously inaccessible specialists, specialized equipment, and a higher quality of care, while also reducing costs and allowing patients with socioeconomic constraints to be able to seek the care they need," Cascella says.
He sees two imaging advancements driving change in the future: AI and virtual radiology.
"Virtual radiology supports quality standardization across any type of care setting, irrespective of location," Cascella says. "While it is difficult for many rural communities to staff their own radiology services, access to outsourced diagnostic analysis, remote specialists, and mobile imaging centers that can perform screenings allows patients in rural areas to benefit from radiology services that may otherwise be unavailable to them."
Additionally, he shares, as the industry continues its shift to value-based care, AI-driven technology such as virtual radiology will be critical in bringing quality health care closer to patients and making sure those who have imaging performed in rural or developing areas can benefit from expert analysis, independent of where a radiologist may be located geographically.
"With the ability to be supported in the cloud, speed workflows, and rapidly consolidate data, AI-powered virtual radiology can bring the expertise of the radiologist who is skilled in breast cancer imaging readings to the patient in rural America who otherwise wouldn't have access," Cascella says.
— Keith Loria is a freelance writer based in Oakton, Virginia.