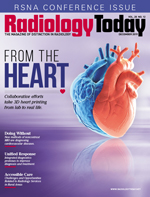 Editor's Note: Breaking Down Barriers
By Dave Yeager
Radiology Today
Vol. 20 No. 12 P. 3
Medical professionals often confront barriers. Technological, bureaucratic, financial, and cultural barriers, among others, can hinder optimal care and cause frustration among providers and patients alike. But an exciting aspect of medical care is that it's continually evolving to surmount those obstacles.
This month's issue spotlights some of the ways that people are circumventing or, in some cases, erasing barriers.
For our cover feature, Kathy Hardy takes a closer look at 3D-printed hearts. Innovations in the field of 3D printing are allowing surgeons to produce patient-specific models with unprecedented accuracy; the models serve as surgical guides for complex procedures. Other researchers are taking the concept a step further and trying to develop 3D printing methods that would allow viable replacement valves, grafts, and even entire hearts to be produced from patients' own cells. While these developments are still in the future, they have the potential to create a seismic shift in cardiac care.
In other matters of the heart, Beth W. Orenstein reports on efforts to obtain cardiac and vascular images without gadolinium. Uncertainty surrounding the possible effects of gadolinium accumulation in the brain coupled with its contraindication for renally compromised patients—who have a higher than average risk for peripheral vascular disease—has put an increased emphasis on noncontrast imaging. Experts in the field believe noncontrast MR holds significant promise for cardiac imaging.
Another feature focuses on integrated diagnostics. Dan Harvey details the efforts of researchers and clinicians to combine the knowledge of radiology, pathology, and genomic analysis for a comprehensive view of patients' conditions. Although there are some technical challenges involved, the experts Harvey interviews feel that the biggest hurdle lies in changing the way people think about workflow. Sessions at last year's and this year's RSNA, however, attest to the fact that interest is growing.
Finally, Keith Loria examines the challenges and opportunities associated with providing care in rural areas. With hospital consolidation on the upswing and many rural medical centers closing, providing care to the 60 million people who live in rural areas is an ongoing challenge, and radiology services are a significant part of the mix. Overcoming barriers to care and making sure those services reach the people who need them requires creative thinking.
Enjoy the issue and, if you happen to be at RSNA, visit us at booth #3255.