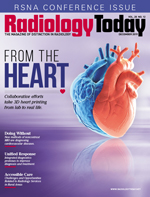 Interventional News: A Hot 'Tip'
By Steve Campbell
Radiology Today
Vol. 20 No. 12 P. 9
New technology offers improved IR workflow.
One challenging aspect of the technologically advanced operating room and angiography suite is the proliferation in recent decades of computers, monitors, and other devices. Given the space and time constraints, it is vital that any new technology fit seamlessly with what's already in use, while delivering enhancements in physician productivity and patient care.
"The modern operating theater has many distractions arising from simultaneous data, imaging, and clinical feeds that can affect the concentration of the surgeon or operator, especially while performing technically or mentally demanding maneuvers," says David Liu, MD, FRCPC, FSIR, an interventional radiologist at Vancouver General Hospital and a clinical professor of radiology at the University of British Columbia in Canada.
To tackle these concerns, Liu and Behrang Homayoon, MD, BASc, FRCPC, head of IR, medical imaging, at Surrey Memorial Hospital in Surrey, British Columbia, Canada, have championed a new approach to refocusing the operator on the procedure at hand, rather than allowing him or her to become distracted by the myriad controls, keyboards, and data entry methods that can inundate the interventionalist. Using this input, NZ Technologies of Vancouver has developed, manufactured, and commercialized the Touchless Interaction with PACS in Sterile Operations (TIPSO) image manipulation device, which is designed to unify access to data across multiple platforms for physicians conducting medical operations and procedures, through real-time, wireless, touchless access to radiological images at the patient bedside.
Human-Machine Interface
TIPSO is a human-machine interface (HMI) that uses state-of-the-art, proprietary 3D image processing algorithms and software to sense a user's hand and finger motions. The device translates motion gesture commands, which are wirelessly communicated in real time to a workstation, to allow manipulation and review of imaging and, potentially, other data streams without having to leave the sterile field or learn new input. TIPSO is platform agnostic and can be configured to work with all PACS and radiologic imaging platforms.
Previous to the development of TIPSO, clinicians would be required to leave the operative space and break the sterile field to review images. Using a traditional workstation, the physician would then become unsterile. This process of "scrubbing out" to view images and then "scrubbing in" again could happen multiple times throughout a procedure, not only affecting the physician's focus but also leading to delays that could increase the chance of contamination, raise the overall cost of the procedure, decrease overall efficiency, and increase procedure time.
Currently installed in hospitals in the United States and Canada, TIPSO has been the subject of three recently published studies that evaluated the technology's applications. Collectively, the reports found that the TIPSO technology improves workflow through minimizing the episodes of scrubbing out for image review. The articles also reported a reduced use of contrast agent, less radiation exposure, and increased procedural precision.
Homayoon, lead author of the most recent paper, notes, "Our study shows that TIPSO significantly improves physician interaction with and access to medical images."
Simpler Workflow
TIPSO's genesis came a few years ago when Nima Ziraknejad, PhD, PEng, founder and CEO of NZ Technologies, applied his expertise in advanced computer vision applications and HMI to the angiography suite. He recognized that resolving the issues of a lack of space, as well as multiple data feeds and device interfaces, would enable physicians to conduct medical procedures more efficiently and with better results.
"By talking, in the early days, to doctors who work in the modern angiography suite, the NZ Tech research and development team applied itself to developing TIPSO as a solution to this important problem," Ziraknejad says. "Our design process focused on the end-user needs, not the technology."
However, the work didn't proceed in a vacuum. The technology's development has received advisory and financial support since the company's founding from Canada's National Research Council's Industrial Research Assistance Program. NZ Technologies also received financial support for product commercialization from the Build-in-Canada Innovation Program, a federal initiative that recognizes promising technologies, then seeks to accelerate market adoption through field validation activities.
Liu notes that there has been much talk about the evolution of the operating room and angio suite technologies as well as the breakneck speed of technological innovation that improves patient care, requiring a growing number of standalone input systems that surround the clinician. He sees TIPSO as a tool to simplify workflow and, more importantly, allow physicians to remain both mentally and physically focused in the sterile zone.
"There are a number of procedures that could be made more efficient by allowing physicians to use the TIPSO wireless touchless system to directly control and adjust conditions as needed," Liu says. "Early targets could include adjusting bed heights or lighting, as well as controlling gas levels or robotic arms. It's a promising advance that delivers improved productivity, allowing physicians to focus their full attention on their patients."
— Steve Campbell is a writer and communications and public relations professional in Vancouver, British Columbia, Canada. He can be reached at scampbell@campbellpr.bc.ca.