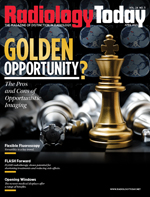 Flexible Fluoroscopy
By Keith Loria   
Radiology Today     
Vol. 24 No. 3 P. 14
Versatility is a key trend.  
When it comes to fluoroscopy equipment, the industry buzz for 2023 is all about efficiency and dose reduction. Customers are also looking to move away from traditional tableside units, migrating to mobile systems. 
Annemarie Blotwijk, global product management leader for diagnostic X-ray at Philips, says fluoroscopy has undergone a major shift over the past few years, as several examination types previously performed primarily with the help of fluoroscopy have been taken over by other diagnostic modalities, such as ultrasound, CT, or MRI. "This trend implies that customers are looking to acquire fewer fluoroscopy systems that, at the same time, can be used more efficiently than previously," she says. "Simultaneously, the fluoroscopy field is struggling with a shortage of staff and well-educated staff in particular. Hence, fluoroscopy systems need to be as automated and intuitive as possible to guarantee fast and optimal procedures."
Another way to increase the systems' efficiency is to expand the application field. This can either mean combining different functionalities, such as fluoroscopy and diagnostic radiography, in one system or that customers are looking to buy a fluoroscopy system that can be used for all fluoroscopy exams, partly performed by specialists from different departments, such as radiology, gastroenterology, and urology. Fluoroscopy systems remain a key modality within radiology departments, with utilization in endoscopy departments and outpatient urology clinics.
Tina Hodgson, senior solutions manager for Canon Medical Systems USA, says the industry is continuing to develop solutions that allow radiology departments to be flexible and evolve with procedure demand and mix, such as multipurpose rooms. "The market in the United States continues to move toward remote fluoroscopy systems, though the conventional systems will continue to have a place in the market," she says. "Many of the remote style systems offer optional features, such as digital subtraction and auto stitching for long-length imaging."
Given the need for exam flexibility and procedure evolution, Canon expects to add to its fluoroscopy portfolio via the recent acquisition of NRT, with its range of radiology and fluoroscopy products such as the Adora and Celex. 
Elevating Fluoroscopy
Martin Pesce, X-ray product manager for Siemens Healthineers North America, says although there have not been many groundbreaking innovations in the fluoroscopy market lately, there has been a strong focus on minimizing dose in exams and improving workflow. The company has addressed those areas with the Enhanced CARE Package, introduced in 2022, which provides low-dose image capture, dose regulation for more efficient workflows, and a proactive fluoro-loop, which helps to avoid additional radiation dose.
"Each of those helps us to reduce dose, as well as increase reliability and accessibility, and those are the kinds of things people are still interested in," Pesce says. "Our Snapshot mode allows us to take pictures automatically in the background instead of always having the fluoro on. The Digital Zoom can be done without having to keep the foot on the pedal. Both features reduce dose."
Siemens Healthineers' Luminos Agile Max combines patient-side fluoroscopy and unlimited radiography, a two-in-one system that allows users to increase system utilization, saving costs associated with an additional system and room. The company's newest system, the Luminos Lotus Max, is a remote fluoro system that includes the CARE package as well as a mood lighting option, which is gaining in popularity.
"Typically, in X-ray rooms, it's always dark, and a user can program the system to have different colors or change colors to help put the patient at ease," Pesce says. "There are also improvements in workflow that make the system easier to use than previous models." For example, the company was the first to introduce an elevated table in the fluoro market, which makes it easier to work on elderly patients and patients with mobility issues.
Systemic Automation
Philips recently launched two fluoroscopy systems, Fluoroscopy 7000 N and Fluoroscopy 7000 R, that are true twoin- one solutions, combining high-end radiography and fluoroscopy capabilities in one room. Blotwijk says both systems offer the same user interface as other Philips fixed and mobile radiography solutions in order to facilitate staff switching between systems without the need for extensive additional training.
"At the same time, they offer a high degree of automatization; for example, the dose rates are automatically preset, based on information about patient size," she says. "Additionally, these systems can be equipped with an optional digital subtraction angiography package, or image stitching, so that customers can perform a wide range of examinations with the systems and room utilization is high." 
Both systems offer the Eleva user interface and portable detectors. "This implies that staff switching between systems becomes very easy and fast," Blotwijk says. "A high degree of system automatization, such as automatic grid switching, depending on the chosen [source-to-image receptor distance] for Fluoroscopy 7000 R systems, enhances the ease of use and helps the staff to focus more on the patient and less on technology."
Furthermore, Philips' Intelligent Exposure Control with grid-controlled fluoroscopy (GCF) X-ray tubes offer in-pulse control, which ensures that image quality is optimal from the first frame, unlike afterpulse control. Secondly, parameters are automatically adjusted during the examination to account for different anatomies.
"Finally, the GCF tube gets rid of all the soft X-ray radiation at the beginning and end of each pulse, reducing unnecessary radiation to the patient," Blotwijk says. "The switching time between fluoroscopy sequence and spot exposure is significantly lower than in other systems, which ensures that nothing is missed while imaging a dynamic process."
Enhancing the Workspace
At RSNA 2022, Carestream Health revealed several enhancements to its DRX-Excel Plus platform, which combines radiography and fluoroscopy into one unit, with improvements to the system's console, detector, and mainframe that augment workflow and radiographer experience. Designed specifically for large and midsized hospitals and medical centers, the DRX-Excel Plus delivers accelerated workflow, highresolution images, and a wide range of exams, while the new Adam console fully integrates the system with longlength imaging auto-stitching capability, allowing multiple images to be stitched into one image for easier reading of spine and lower-limb exams.
"This console completely reimagines the workspace, with all activities done through the console," says Marco Riolfo, Carestream's global marketing manager for digital radiography rooms. "A radiographer can configure the room parameters with ease and navigate intuitively while achieving excellent image quality and optimized dose."
While few vendors offer a true multipurpose, remote, fluoroscopic system, Canon can support these needs and offers the Ultimax-i FPD Multipurpose System. "This system will meet the requirements of radiology department fluoro exams, along with allowing the expansion of service line offerings into pain management, interventional overflow, and other complex procedures, while providing high-quality images for this wide variety of clinical cases," Hodgson says. "We continue to offer the conventional style [radiography and fluoroscopy] system, Kalare FPD, as this demand remains strong in the United States. It boasts many dose reduction features along with high patient weight capacity of 600 pounds, making it suitable for bariatric imaging. It offers flexibility to control generator functions at the tableside."
Market Evolution
Today's fluoroscopy systems are designed to be easier and help combat the challenges of a smaller workforce. For example, Philips Diagnostic X-Ray addresses workflow from an end-to-end perspective of all users. "We have a standardized user interface and platform across our fluoroscopy, radiography, and mobile portfolio, which makes it easier for staff to learn to use the systems," Blotwijk says. "The fully digital UNIQUE image processing is also harmonized across the portfolio for a consistent image perception. Finally, we are offering gridless workflow for the portable detectors with SkyFlow software package. It helps technologists operate more efficiently."
The required dose for optimal image quality can be significantly lowered with a Philips GCF tube, as it creates the pulses inside the X-ray tube. This technology can produce sharp pulses without the rising edges and falling tails seen in standard fluoroscopy tubes, removing unwanted soft radiation.
"In addition, GCF is more precise and powerful and can create smaller, shorter pulses with lower current but higher voltage," Blotwijk says. "For pediatric examinations, Philips GCF enables a dose rate reduction up to 68% compared with pulse-controlled fluoroscopy, depending on patient type and clinical application.
Pesce says the US market has always leaned more towards tableside systems, but the rest of the world relies more on remote systems. The trend is now starting to catch on in the United States, as well.
"The number of remote system sales is increasing, and we are seeing our competitors introducing more systems with remote tablesides," he says. "That's where we see the trend going."
Most in the industry feel fluoroscopy will continue to face the same challenges that currently face all imaging modalities: There is a clear need to do more with less.
"Therefore, all the topics that relate to efficiency, workflow, ease of use, and firsttime- right diagnosis will continue to be in the center of the developments around fluoroscopy," Blotwijk says.
The systems are continuing to progress and improve radiologists' workflows, and more advancements are on the horizon. At the same time, customers will continue to seek solutions that can meet their fluoroscopic needs within the radiology department, expand service line offerings, and increase utilization of the equipment.
"Lowering radiation dose remains a perennial area of focus for fluoroscopy, and in the future beyond 2023, AI algorithms may help reduce dose via dosimetry and image enhancement," Hodgson says. "AI may also play a role in image analysis to identify abnormalities or patterns not immediately apparent to a human observer."  
—
Keith Loria is a freelance writer based in Oakton, Virginia. He is a frequent contributor to Radiology Today.