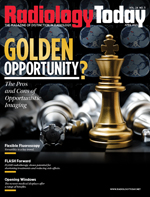 Flash Forward
By Rebecca Montz, EdD, MBA, CNMT, PET, RT(N)(CT), NMTCB RS
Radiology Today      
Vol. 24 No. 3 P. 18
FLASH radiotherapy shows potential for shortening treatments and reducing side effects.  
Advancements in medical imaging and radiotherapy have drastically transformed how patients are diagnosed and treated. Commonly used either by itself or in combination with surgery or systemic agents, such as chemotherapy and immunotherapy, the treatment destroys cancer cells with external beams of high energy, primarily X-rays, protons, and other types of energies. It can be delivered precisely to minimize damage to surrounding cells. 
Two common types of radiotherapy are high-dose per fraction radiotherapy, referred to as stereotactic body radiotherapy (SBRT), and conventional low-dose per fraction radiotherapy, known as fractionated radiotherapy. However, a third class of radiotherapy has emerged, known as FLASHradiotherapy (RT). FLASH-RT is an experimental treatment modality delivering radiotherapy at ultrahigh dose rates in the research setting.
Comparison of Radiotherapies
SBRT allows treatment to be delivered over a shorter course, such as five treatments or less over two weeks or less, than fractionated radiotherapy, which may take multiple weeks to complete. SBRT is used in the treatment of several types of cancers. However, SBRT and fractionated radiotherapy have similar side effects and dose rates, meaning the amount of radiation given per minute is comparable. Although SBRT allows for shorter patient treatment scheduling, it can still be associated with the same side effect profile seen with conventional radiotherapy regimens.
FLASH-RT can be given at much faster speeds and much higher dose rates than other radiotherapies. Early research indicates that this extremely short time of exposure, as compared with conventional radiotherapy, may have a protective effect on normal tissues. Alexander Lin, MD, the medical director of Roberts Proton Therapy Center and the Morton M. Kligerman Professor of radiation oncology in the Perelman School of Medicine at the University of Pennsylvania in Philadelphia, explains that FLASH-RT is given on the order of at least 40 Gy/second, which is up to 400 times faster than conventional methods. He also notes that early animal studies suggest that giving FLASH-RT—as compared with non-FLASH-RT—can better spare normal tissue from toxicity while maintaining tumor control at similar rates. In support of the progress being made with FLASH-RT, Joshua Meyer, MD, the vice chair of translational research in the department of radiation oncology at Fox Chase Cancer Center in Philadelphia, says, "FLASH-RT is promising with a lot of excitement around it, but needs to be investigated more before patient treatment can move forward safely."
The Bright Side of FLASH
Radiotherapy successfully treats and cures patients with various types of cancer, but cellular toxicity and side effects remain as challenges associated with it. Radiotherapy, like any form of cancer treatment (such as surgery or chemotherapy/immunotherapy), may lead to possible side effects. "The efforts to maximize therapeutic efficacy while minimizing acute and long-term side effects are important so as to obtain high rates of cure while optimizing long term patient quality of life," Lin says.
Recent advancements with the utilization of FLASH-RT are emerging and making significant strides in addressing these challenges. It is a new way of treating tumors. It spares healthy tissues while providing necessary radiation doses to cancer cells within a shorter time and has the potential to transform the future of cancer treatment.
FLASH-RT has the potential to benefit patients with respect to toxicity and can be offered with several types of radiotherapy. Lin says, like SBRT, a course of FLASH-RT could be completed in 1.5 to two weeks, over five treatments or less, compared with a five days per week course over two months of conventional radiotherapy while diminishing the side effects. Lin and his colleagues at Penn Medicine are optimistic that if the early results from animal studies translate to human treatment, it has the potential to significantly reduce treatment induced side effects and improve patient quality of life. Albert C. Koong, MD, PhD, FACR, FASTRO, the division head of radiation oncology at The University of Texas MD Anderson Cancer Center in Houston, agrees the major applications will be in the treatment of tumors adjacent to or surrounded by normal tissue where the treatment toxicity of standard radiation limits the dose that can be given to the tumor.
FLASH-RT can be given with different types of radiotherapy, such as electrons, photons, and protons, making it versatile, as electrons are limited and typically used to treat superficially located tumors, Lin explains. However, the use of electrons is limited largely to superficial tumors, while photons may deposit a significant portion of radiation dose in normal tissues. Protons may be an optimal method by which to deliver radiotherapy (including FLASH-RT) to sensitive and hard-to-treat areas of the body, as it can deliver its dose most conformally to a defined tumor area while minimizing exposure of surrounding normal tissue.
Impactful Contributions
While the mechanism for how the FLASH effect works is not known, several hypotheses are actively being tested by research groups around the world, Koong says. Early trials have shown that FLASH-RT has the potential to significantly improve the therapeutic ratio of radiotherapy for the benefit of patients. Although FLASH-RT is promising and exciting, much of the work performed thus far is preliminary and has been conducted in animals. Early investigations have revealed that FLASH-RT seems best applied in small and distinct areas rather than large anatomic regions, Lin says. He adds, "We are very excited about the promise of FLASH and believe that it has great potential in significantly improving care for patients in the future. More work needs to be done to elucidate and understand the exact mechanisms by which FLASH works, in terms of reducing toxicity and controlling tumors."
This work is currently being done at several centers, including Penn Medicine. Penn Medicine is one of the leading centers for FLASH research and has been awarded a $12.3 million grant by the National Institutes of Health to carry out groundbreaking research regarding FLASH-RT. The center is currently enrolling and treating large animals, mainly dogs, in a clinical trial using FLASH-RT. The results of such trials will inform future efforts, such as potential clinical trials and applications for humans. Clinical trials are vital to determine the types of cancers that will benefit the most from FLASHRT, which Penn Medicine and other centers hope to discover.
The University of Cincinnati Cancer Center, in collaboration with Cincinnati Children's Hospital Medical center and Varian, a Siemens Healthineers company, has also contributed to discovery regarding FLASH-RT, as they completed the world's first-inhuman clinical trial of proton FLASH. The FDA Investigational Device Exemption clinical trial, FAST-01 (FeAsibility Study of Flash Radiotherapy for the Treatment of Symptomatic Bone Metastases in the Extremities), studied 10 adults with bone metastases in their extremities.
Treatments were delivered to a total of 12 metastatic sites in the 10 patients' extremities. Seven of the 10 patients experienced complete or partial pain relief, and, of the 12 treated metastatic sites, pain was relieved completely for six sites and partially for two additional sites. Adverse events were mild and consistent with conventional radiotherapy.
Whereas preclinical trials with animals suggested FLASH-RT could deliver high-dose-rate radiation with fewer harmful side effects, prior to the FAST-01 trial, the treatment had never been tested under a clinical trial in humans. Ricky Sharma, MD, PhD, the vice president of clinical affairs at Varian, says the researchers from the FAST-01 clinical trial concluded that ultrahigh-dose-rate proton FLASH therapy is feasible in a clinical setting.
The trial started the collection and assessment of human data to evaluate the clinical feasibility and safety of the FLASH treatment. Emily C. Daugherty, MD, an assistant professor of clinical radiation oncology at the University of Cincinnati Cancer Center, says, "We are very early in the research regarding FLASH/highdose- rate RT in humans. Our trial was just the beginning. We believe that FLASH-RT would potentially be most useful in treating hard-to-kill cancers in the brain, lungs, or gastrointestinal area, where healthy tissue surrounding tumors is particularly vulnerable to radiation exposure." She says clinical trials in these sites cannot be authorized until studies show ultrahigh dose radiation is safe and effective in other, less-sensitive areas.
Daugherty says the treatment efficacy and toxicity profile are qualitatively comparable to published literature using conventional dose rate photon radiotherapy, and data collection is ongoing. There are many malignancies that are difficult to cure and where the ability to use radiation is limited because of the side effects. Now that the safety of FLASH is supported by the University of Cincinnati Cancer Center's FAST-01 trial, she feels FLASH-RT can potentially extend to various tumors in different parts of the body. Daugherty and colleagues are now planning to explore the FLASH safety profile in the thorax in their FAST-02 trial. The trial will consist of using proton FLASH-RT for bony metastases in the thorax—sternum, clavicle, ribs, and scapula.
Future of FLASH
As with any groundbreaking research there are still challenges with funding and processes. Keith Cengel, MD, PhD, a professor of radiation oncology at the University of Pennsylvania, says he can foresee a time when technological costs will come down, making FLASHRT a more accessible option for clinical use across human and veterinary radiation oncology. "Right now, the technology is difficult and very expensive, but that's only because it's new and fancy," Cengel says. He foresees that once there is more data on FLASH-RT, it could become more available.
The processes of starting clinical trials are demanding. Daugherty says FLASH-RT had never been studied before in a clinical trial on humans. The investigators employed rigorous safety and quality assurance checks and physics research before being able to open the FAST-01 trial. This required a great deal of collaboration and consultation between the University of Cincinnati Cancer Center, Cincinnati Children's Hospital Medical Center, the FDA, and Varian to successfully conduct the trial.
More centers are planning to start initial trials in the near future. "Multiple research groups are working on this technology," Koong says. "The University of Texas MD Anderson Cancer Center likely will start initial trials of FLASH radiotherapy within this calendar year."
Lin is excited about the emerging radiotherapy, "FLASH-RT is a promising option that we believe may benefit patients in the future," he says. "Current research will inform upcoming clinical trials to determine which patients may be most effectively treated with this type of radiation."
Sharma is also looking forward to learning more about FLASH-RT and its potential benefits to cancer patients in future clinical trials.
The future of FLASH-RT is bright, and, in the words of Cengel, "We could literally treat things that are not [currently] possible to treat and cure people who are not possible to cure."  
—
Rebecca Montz, EdD, MBA, CNMT, PET, RT(N)(CT), NMTCB RS, has worked at the Mayo Clinic Jacksonville and University of Texas MD Anderson Cancer Center in Houston as a nuclear medicine and PET technologist.