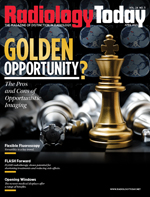 Opening Windows
By Keith Loria  
Radiology Today       
Vol. 24 No. 3 P. 22
The newest medical displays offer a range of benefits.  
There have been significant medical display advancements in both hardware and software in recent years. With the rise of color use in graphic user interfaces and multimodality imaging, the market has seen a significant shift from monochrome to color displays. 
Software advances allow more in depth testing, reporting, and configurable alerting functions. LED backlit displays are providing higher contrast and brightness levels with longer life and higher resolution.
"Large format options in a variety of resolutions are now available for those users wanting one display vs two," says Tara Neill, director of sales and marketing for Double Black Imaging. "Photosensors built into the displays for autocalibration are more accurate and used in conjunction with sophisticated calibration as well as to display fleet monitoring software. Color and gray levels are precisely calibrated to much tighter tolerances."
One of the most noteworthy trends in the medical display industry is the continued adoption of virtual reality (VR) for use in clinical review and radiology training, as VR allows radiologists to more easily collaborate remotely. Radiologists can consult with other physicians and upload medical images into  the headsets to collaborate in real time with other physicians, regardless of location, which mimics the tools they have in radiology reading rooms. More students can be taught in a VR teaching environment than by having them observe their instructors every day.
Another trend is the impact remote work is having on the type of medical display technologies clinicians need at home. "COVID accelerated the trend of remote radiology readings and the need for clinicians to work from home, and display technology is changing as a result," says Ryan Warren, global lead for health care and life sciences for Lenovo Workstations. "This means more practitioners are conducting radiology readings from outside the hospital and leveraging diagnostic displays at home." Medical displays with higher resolutions, more compact designs, wider color gamuts, and higher refresh and response rates are coming to market to meet the needs of a hybrid work environment.
Countless hospital systems, reading groups, and individual radiologists were thrust into quickly creating a robust, easy-to-use teleradiology solution during COVID-19. As such, Double Black Imaging worked with enterprises, radiology groups, and individuals to provide unique workstations and expedite this process during an overwhelming time.
"We provided untold complete systems, including displays, configured [central processing units], and ergonomic workstations, ensuring radiologists have everything required to read safely and comfortably from home, with the confidence of knowing their system exceeds industry standards for diagnostic interpretation," Neill says.
Radiologists transitioning from a reading room to a home office environment create challenges and opportunities. "The remote reading trend has accelerated since March 2020 and is still going strong," Neill says. "Maintaining the highest level of diagnostic integrity and ensuring diagnostic displays meet DICOM, ACR, and specific state standards are paramount. Workstation ergonomics become increasingly important as users work to reduce stress, burnout, and fatigue while enhancing productivity and comfort."
Radiologists require a workstation they feel confident making diagnoses on, especially when reading from home without a PACS/IT team to maintain it. "Having automatic calibration, reporting, and email alerting that communicates back to the enterprise or is configured to alert them directly gives them that assurance," Neill says. "In addition, tools that reduce eye strain, reduce cursor movement, and pinpoint specific areas of interest increase productivity and improve workflow."
Workflow Tools
Double Black Imaging has broadened its range of auto calibrating diagnostic, mammo/tomo clinical displays, and web management software to encompass the entire enterprise. "Our 12MP large format display allows radiologists multimodality flexibility in a single workstation, including digital breast imaging," Neill says. "We work to ensure the solution we provide fits the specific site need. We do not force a cookie cutter solution when large enterprise requirements and budgets differ greatly from a radiologist's home workstation needs."
The company's calibration software is developed in the USA, designed to exceed North American standards. This enables quick response to customer requests and incorporates features to improve radiologists' efficiency.
"All our diagnostic displays are auto calibrating, and our enterprise management tools include automatic testing, reporting, and alerting," Neill says. "[Users can] monitor their entire enterprise plus ensure compliance on home reading stations."
The company's productivity toolkit was born from its time in reading rooms, hearing radiologists' frustration with eye strain from ambient displays, having a difficult time spotting their cursor, needing to highlight a specific part of an image, and not having tools to accomplish these tasks. It also recognizes the importance of ergonomics in the reading room and incorporates its display solutions into ergonomic workstations.
"The new DBI proprietary Phoenix Ergonomic Workstation line is designed with the user's productivity and comfort in mind," Neill says. "These ergonomic workstations are fully customizable with corner options and offer multimonitor articulating functionality with ambient lighting built in, wireless charging, noise blocking panels, and ergonomic seating options."
Barco's remote platform offers a fully remote, cloud-based, and secure platform to support PACS and IT teams, to allow centralized management of remote workstations. "This product, QAWeb Enterprise, enables radiologists to work with confidence, knowing that their remote workstation is calibrated and complies with the latest regulatory guidelines," says Geert Carrein, Barco's executive vice president of diagnostic imaging. "Our suite of Intuitive Workflow Tools is intended to improve the radiologist's workflow."
An example is SpotView, which allows a more detailed look at a specific area in a radiological image, boosting the brightness of that particular spot and diming everything around it. "SpotView has been clinically proven to improve reading time by no less than 15.5%," Carrein says. Improving medical workflows is all about continuous research and improvement, he adds.
On Display
LG unveiled a new monitor at Arab Health 2023. The new diagnostic monitor is designed to provide improved image quality for diagnostic review. It is a 32-inch 8MP IPS Black display combined with enhanced brightness and IPS Black panel providing 100% standardRGB. The display includes a multiresolution mode and provides compatibility with all modalities, allowing users to adjust the monitor's resolution to optimize the connected device. Additionally, the new monitor is equipped with productivity and comfort features and sensors that ensure more intuitive operation and efficient workflow.
Lenovo is working to deliver solutions that support the hybrid work environment and accommodate clinicians' smaller workspaces at home. For example, the Lenovo ThinkStation P360 Ultra is a recently launched desktop workstation with an industry-first form factor.
"At half the size of a traditional small form factor desktop workstation, its chassis is less than 4L in total volume yet still delivers the high-compute performance needed to seamlessly render medical images," Warren says. "Additionally, many of Lenovo's workstation offerings are certified to work with the remote radiology reading platforms clinicians use when working outside of a hospital."
A significant feature of Lenovo's system is integrated connectivity, which reduces desktop clutter and potential points of failure within the reading station. Additionally, integrating docking stations into the devices so clinicians can connect a mobile workstation and power a laptop from the display also frees up space. There are also modular voice over internet protocol solutions, a plug-and-play camera, and audio modules for remote video consultation, ensuring compatibility and reducing complexity when radiologists are asked to set up their own reading station.
"It also includes high-energy blue light reduction, which helps with eye fatigue, and mini-LED backlights, which provide better brightness for home-based clinician workflows where ambient light is more prevalent than hospital-based reading rooms," Warren says. "Lenovo is designing displays that reduce the harmful blue light without compromising the high visual acuity/ color acuity of the display, which allows for better overall comfort for radiologists for them to read longer."
Enhanced Views
While some of the new displays may prove challenging for users at first, several companies have procedures in place to make the experience seamless when upgrading and switching over to something new.
"We work with our customers in a variety of ways, including pilot programs, training sessions, and customer advisory councils, as well as engagements with our partner and reseller networks," Warren says.
Double Black Imaging strives to adapt diagnostic display technology to make medical imaging more efficient. "We hear and see challenges users are facing and work to find technical solutions," Neill says. "Our engineering team and support are 100% USA based. This strategy allows our team to frequently implement features to our calibration software suite that are a direct result of customer interaction with our product development team."
Technology in the commercial display and TV market is constantly changing and evolving, and many of these advancements will be seen in the medical display market, according to experts.
"We anticipate the incorporation of OLED and QLED technology into medical displays, which will increase luminance while enhancing black and white levels without compromising the color value integrity," Neill says. "Displays will follow their commercial counterparts, providing higher resolutions, thinner and sleeker footprints, and longer lifespans."
Double Black Imaging sees software tools coming out that will further advance productivity. Service, support, and understanding the unique nature of each medical imaging environment will increase in importance, continuing advancements in medical imaging.
Lenovo expects the evolution of augmented reality and VR in health care to continue expanding as more providers use the technology to turn 2D images into 3D images in real time as a way to help speed up patient diagnosis.
"We're also seeing more of these systems being moved into the cloud to centralize the overall reading systems and the management of them," Warren says. "Doing this gives system managers more comprehensive control, and putting virtual systems into the cloud makes it possible to rely less on software. Finally, with the continuous improvement in panel technology like OLED and LED displays, we expect to see a big move away from typical LCD/LED systems." 
—
Keith Loria is a freelance writer based in Oakton, Virginia. He is a frequent contributor to Radiology Today.