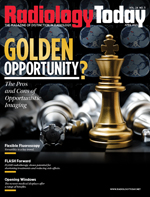 Editor's Note: Value-Added Imaging
By David Yeager
Radiology Today
Vol. 24 No. 3 P. 4
Who doesn't appreciate added value? Discounts on gas for grocery purchases, additional features from streaming services, or just plain good customer service are always welcome. It turns out radiologists like a good deal, too. Whether it's streamlined workflow, updated equipment, or data that help them render a diagnosis, there is an ongoing appetite for innovation and improvement. In this month's issue, we're exploring ways that researchers and vendors are facilitating these advances.
In our cover feature, Beth W. Orenstein takes a closer look at opportunistic imaging. Although not new, interest in accessing imaging data for reasons other than what was prescribed is growing. Opportunistic imaging has the potential to discover medical issues that may have been missed and/or notice them much sooner, potentially improving outcomes while saving time and money. The most significant downside is that some of these findings could lead to overtreatment. Orenstein delves into the practice with experts who are studying these questions.
We're also taking a look at fluoroscopy systems. Keith Loria has the details on the latest trends. Among them are more versatile systems, reduced dose, and a greater degree of automation. As procedure volumes rise, performing more types of exams with less equipment is becoming a necessity.
Rebecca Montz reports on an exciting development in radiation therapy, FLASH radiotherapy. FLASH allows physicians to deliver ultrahigh doses of radiation in highly concentrated areas, potentially sparing normal tissue, reducing radiation-related side effects, and improving patients' quality of life. Although still in an experimental stage, the results of recent studies show reduced toxicity in surrounding tissues while maintaining tumor control.
Finally, Loria has a round-up of medical displays. Advances in picture quality and workflow are enabling faster diagnoses and remote reading. As Loria notes, the workflow features are especially important because the demand for remote reading continues to grow. In addition, virtual reality is being used to enhance education and foster collaboration between physicians. Get all of the details on page 22.
Enjoy the issue.
— Dave Yeager
david.yeager@gvpub.com