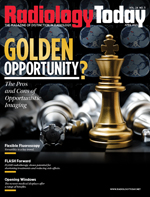 Imaging Ergonomics: The Shape of Breast Imaging
By Paola Wisner; Andy Smith, PhD; and Christophe Fraschini, PhD
Radiology Today   
Vol. 24 No. 3 P. 8
As breast cancer detection technology continues to advance, the design and ergonomics of imaging modalities should also evolve. Functional design is critical to improving the provider's experience and reducing workplace injuries. Patients also benefit from an ergonomically designed system, as it has the potential to create a faster and more comfortable exam. This is especially true for mammography and ultrasound systems, where high-quality imaging and clinical performance can be accomplished with a sensitive and creative system design.
Ultrasound System Design
Ultrasound imaging is heavily dependent on the operators, with most sonographers spending seven to eight hours a day performing exams, often resulting in hand or wrist injuries. In fact, the Society of Diagnostic Medical Sonography estimates about 90% of sonographers experience work-related musculoskeletal disorders.1 Incorporating ergonomics into ultrasound system designs can make operations more intuitive and efficient while reducing the user's repetitive motions and strains.
Some medical device companies are striving to combat workplace injuries by removing the system's trackball and replacing it with a more intuitive and ergonomic trackpad design. Designed to mimic the hand movements used while operating a smartphone, the trackpad reduces the total number of movements required to perform an operation while also being easy to adopt and use. Users can also lay their hands down in a more natural manner over the trackpad instead of needing to curve them around the trackball. Reducing the number of buttons and knobs is another step to simplify the system and make it easier to use for sonographers, thus helping reduce exam time and improve workflow.
Ergonomic design can be seen in other parts of today's ultrasound systems, which aim to continuously improve the operator's experience. Transducers are now designed to be smaller and more lightweight than earlier models, thus reducing strain and fatigue during imaging exams. Modern ultrasound systems are also designed with adjustable screens, ensuring the operator can move them to meet their height and patient positioning requirements. This reduces the potential for neck and back strains that sonographers typically experience.
Mammography System Design
The importance of ergonomic design extends to mammography, helping to improve workflow while minimizing employee discomfort throughout long workdays. With mammography systems, small features can make a significant difference in the technologist's experience. The addition of quick access C-arm control panels and foot pedals around the gantry eliminates the need for technologists to frequently move around the system. Additionally, multiple displays with intuitive icons and functional on-screen controls ensure that patient information and exam navigation is readily available, speeding up the screening process. These intuitive controls let technologists focus on the patient and performing the exam instead of on the system's control panels.
Ergonomics further augment patient positioning during a mammogram, which can enhance image acquisition. Systems are being designed with larger source-to-image distances, allowing for ample working space when positioning a patient and during an interventional procedure. Additionally, face shields are adjustable and retractable, facilitating the technologist's positioning of the breast.
The benefits of improved design go beyond technologist experience and include improved compression during a mammogram, thus positively impacting clinical performance. Lightweight compression paddles that are easy for the technologist to move and change between patients help ensure the best paddle is used. Multiple gantry displays can provide compression and angle force at a glance, in turn letting the technologist provide the right amount of pressure throughout the exam. Some systems even offer personalized compression, which guides the technologist to the proper compression. These systems are responsive to individual breast types and sizes and may result in more uniform clinical performance and reductions in technologist variation.
Historically, patients have cited fear of pain as the most common reason to delay a mammogram.2 Developing more compassionate systems can improve their experience. Some systems today feature specialized breast paddles with a curved surface designed to conform to the patient's breast shape, in order to reduce pinching and apply uniform compression over the entire breast. A design that is more comfortable for the patient increases the likelihood that they will come back to get their next annual mammogram, in turn improving health, as mammography has been shown to reduce mortality from breast cancer.
Radiologist Workstation Design
Ergonomic design at the radiologist workstation can improve the efficiency of image review. For radiologists who often have no more than a few minutes to review a large number of digital breast tomosynthesis images, time is of the essence. Imaging analytic systems powered by AI can generate thicker and fewer image slices from the original data. Doing so expedites reading time by reducing the number of images to review, with no compromise in image quality, sensitivity, or accuracy.3 Other AI software can help with worklist prioritization based on the case complexity.
Reducing the number of buttons and clicks needed per patient can also save time and improve workflow over the course of a day. Radiologists utilizing a trackball with dedicated pushbuttons in place of a mouse can quickly scroll through images while reducing total movements. Thoughtful software design can be developed to help radiologists efficiently go from one image to the next and automatically call up the patient's previous exams for easy comparison. This not only reduces the time needed for exam review but also instills diagnostic confidence in the radiologist, as they can easily compare images and quickly determine a patient's next steps.
The Future of Ergonomics
As we look ahead, ergonomics will continue to play a central role in the evolution of breast imaging technology. In particular, AI has the potential to significantly decrease operator dependency. The technology could help guide operators through scans and provide them with real-time feedback that will help operators save time, confirm patient positioning, or provide automated measurements or characterization to reduce variability. In addition, imaging software can be customized to the operator for both mammography and ultrasound. Users could one day save their exam preferences, allowing them to reduce movements for a more efficient exam.
Functional design is crucial to improving the imaging experience for both patients and clinicians. Incorporating ergonomics into medical device design provides guidance for better imaging acquisition and helps support diagnostic decisions. Furthermore, the patient experience is improved, increasing screening compliance and reducing breast cancer mortality.
— Paola Wisner is vice president of global research and development for Hologic, Inc. 
— Andy Smith, PhD, is vice president of imaging science for Hologic, Inc.  
—
Christophe Fraschini, PhD, is the ultrasound director for Hologic, Inc.