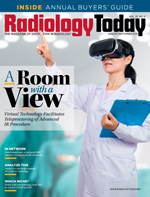 A Room With a View: Virtual Technology Facilitates Teleproctoring of Advanced IR Procedure
By Keith Loria
Radiology Today
Vol. 22 No. 6 P. 12
Ajay K. Wakhloo, MD, PhD, chair of the neurointerventional radiology department at Beth Israel Lahey Health in Burlington, Massachusetts, recently delivered a webinar about how his team overcame the challenges of pandemic conditions to treat a high-risk patient utilizing a novel flow diverter device and a Toronto-based proctor. Cloud-based software allowed real-time, bidirectional audiovisual streaming from the near-infrared fluoroscopy operating room to an expert physician in Canada who successfully supervised the first US use of the device, a new type of flow-diverting implant used to treat intracranial aneurysms.
"Traditionally, proctoring entails the physical presence of the supervising physician in the operating room to provide direct and real-time guidance to the operator using new technology," Wakhloo says. "With no clear horizon for lifting the current restrictions in place due to the global pandemic, teleproctoring could potentially allow the continuation of clinical trials and the introduction of new devices for the benefit of our patients in clinical practice."
Wakhloo and his team also published a paper on their findings in the Journal of Neurointerventional Surgery. Emanuele Orru, MD, a neurointerventional radiologist at Lahey Hospital & Medical Center, served as first author on the paper. He details that, on August 17, 2020, the team treated three patients with dangerous brain aneurysms—bubble-shaped outpouchings of a blood vessel that forms at a weakened site in its wall.
"Over time, the aneurysm can grow and burst, causing a life-threatening bleeding in the head," Orru says. "This condition has a 50% to 60% mortality rate, and those who survive often live their life with significant impairment, leading to decreases in quality of life. It is therefore of paramount importance to treat these aneurysms in a timely fashion to cure them before they rupture."
The aneurysms needed to be treated with a device called a flow diverter, an implant placed inside the vessel with the aim to promote exclusion of the aneurysm from the circulation. The most recently developed flow diverter is the Surpass Evolve by Stryker. The device received FDA approval in July 2020 after having been used in Canada, Europe, and Australia since 2019.
"Following careful consideration, it was concluded that these three patients would benefit from treatment with this new flow diverter," Orru says. "Since the device had not been previously used in the US, supervision by a physician already experienced with the device was required by the FDA and the manufacturing company."
So, Vitor Mendes Pereira, MD, a professor of radiology at the University of Toronto, who had already used several of these implants, was chosen as the proctor.
"Due to current international travel restrictions in place to mitigate the impact of the COVID-19 pandemic, Dr. Pereira could not physically come to the US," Orru says. "Thus, the decision was taken to perform the procedures using teleproctoring, in accordance with the patients, the treating team, the hospital administration, and the company."
Through the MedPresence virtual medical presence platform, high-resolution audiovisual data from the operating room and the patient monitoring systems were broadcast in real time to Toronto. Images and clinical data were transmitted with a fully encrypted, HIPAA-compliant, end-to-end security architecture. The treating team at Lahey was led by Wakhloo and included Orru; Neil V. Patel, MD; and Miklos Marosfoi, MD, as well as highly specialized radiology technologists and nurses.
"The three patients were successfully treated with live guidance and left the hospital without any complication after a night of observation," Orru says.
Overcoming Challenges
Not that there weren't issues. In the webinar, Wakhloo noted several challenges the team encountered at various levels.
"First, we had to overcome the obvious concerns regarding patient privacy and HIPAA compliance," he explained. "Information transmission security, access controls, privacy measures, and changes to informed consent had to be extensively reviewed with the Office of General Counsel and the Office of Compliance & Privacy at Lahey before we could get the green light."
Technological challenges also played a major role. Orru notes that, because the team operates on structures that are measured in millimeters, or a fraction thereof, it made things tricky.
"When minimal maneuvers can have catastrophic consequences, room for error is essentially nonexistent," he says. "We therefore had to use a broadcasting system that guaranteed uninterrupted and high-quality bidirectional transfer of audiovisual data between Lahey Hospital and Toronto."
In order for proctoring to be safe and effective, the supervising physician had to have complete spatial and situational awareness, and his recommendations had to be communicated to the treating team without delay.
"This is obviously even more critical when utilizing a new device for the first time," Orru says. "Last, but certainly not least, a procedure like this requires extreme cohesion and professionality from the whole treating team."
The Need for Virtual Tech
After more than a year of imagination among those in the health care industry and learning new ways to work together, the need for virtual technology has never been greater. However, in the clinical space, there are new rules that apply, and virtuality is not as simple as taking a device in a room.
"I think that remote physician proctoring or assistance has tremendous potential," Orru says. "The world is moving at a faster pace, and innovation is constantly striving to allow people to use their precious time more efficiently."
Case in point, imagine proctoring is needed in the Far East. Without this technology, one would need to transport an appropriately experienced physician there, with considerable time investment and financial expense.
"We demonstrated that proctoring does not require physical presence of the supervisor to be effective," Orru says. "Wide utilization of teleproctoring could make much-needed expertise readily available without delay and at a much more affordable cost. Innovation should always aim toward providing better services to a larger population, without geographic or financial limitations, as much as [is] feasible."
Furthermore, he believes there will be a shift toward reducing unnecessary intercontinental travels and their environmental impact.
"At the local level, even within teams with one operator being much more experienced than his partners, the utilization of high-end streaming software will allow for real-time consultations with the senior operator, even when they are not on site, benefiting patients and physicians alike," Orru says.
Wakhloo explained in the webinar that, until this case, teleproctoring had only been used a handful of times for supervision during abdominal surgery and, after the pandemic hit, in one case for a structural cardiac interventional procedure.
"We were the first to implement it in the neuroendovascular field and with a proctor located in a different country," he said.
Orru feels that, by embracing these technologies, a center puts itself at the forefront of innovation, which is of paramount importance in this field.
"There is also big potential in terms of physician training, because workshops on materials and new devices could potentially now be held remotely," he says. "This will be advantageous for both the audience and the hospital, which will see its prestige and recognition grow more easily."
The downsides of this technology are related to its costs and the amount of training that it requires in order to be utilized at its maximum potential.
"Given the high-stakes nature of what we do, we need equipment of the highest quality, which obviously comes with a significant financial burden," Orru says. "Cameras and microphones have to be installed in the room, and specialized technologists have to train the team and its staff, in order to seamlessly use this technology during complex procedures."
Future Implications
Many experts believe the future will see an enormous increase in the utilization of virtual technologies; both Orru and Wakhloo expect the innovation will come quick and often. For example, a robotic system was recently used to remotely operate on brain vessels.
"These systems are not widely utilized yet, but I am confident that this will be the direction our specialty will move toward," Orru says. "As for teleproctoring, waiving the need for physical presence might prove to be enormously advantageous, especially in those settings in which there is lack of doctors or expertise. It has been shown that a large part of the US population lives far away from stroke centers. Imagine the tremendous advantage of being able to finally provide life-changing treatments to those patients."
— Keith Loria is a freelance writer based in Oakton, Virginia. He is a frequent contributor to Radiology Today.