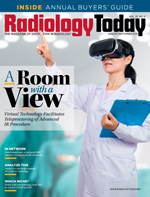 Editor's Note: On the Road
By Dave Yeager
Radiology Today
Vol. 22 No. 6 P. 6
It's summertime, and many people emerging from pandemic isolation are taking the opportunity to hit the road. Whether it's a short getaway or a longer trip, the urge to move has taken hold. There has been movement in radiology, as well, during the past year-and-a-half. Not all of the movement has been COVID-induced, but even changes that were already underway took on new urgency. Where all of these changes are leading remains to be seen, but the outlines of a new map are taking shape.
Our cover feature by Keith Loria takes a fresh look at consultation. Specifically, interventional radiologists in the United States were able to place flow diverters in three patients with unruptured brain aneurysms, in consultation with a proctor in Canada who had experience with the procedure. The procedures hadn't previously been performed in the States, and the COVID pandemic necessitated a remote feed, which was accomplished with high-resolution audiovisual data in real time. The proctor was thus able to provide a road map for the physicians who performed the procedure.
A map of a different kind is taking shape with help from functional and structural MRI. Researchers in Texas and Germany are building a database to facilitate research projects that illuminate the brain's connectivity patterns. Scientists from all over the world are contributing studies, and the researchers hope that the growing database will allow a better understanding of how brains are organized, potentially improving diagnosis and treatment of brain disorders. Kathy Hardy has the details, beginning on page 16.
Another type of data that will significantly affect medical care are analytic data related to AI use. Beth W. Orenstein speaks with some of the preeminent experts on the use of AI in radiology to get their thoughts about how radiology AI is developing and what it will take to get administrators on board. One sticking point is the need for data: data to feed the algorithms and data to demonstrate a return on investment. As Farah Shamout, DPhil, an assistant professor/emerging scholar of electrical and computer engineering in the engineering division of NYU Abu Dhabi, notes in the article, "Administrators will find AI persuasive if it improves patient outcomes and decreases costs." For this reason, the experts advocate getting on board with existing analytics projects and building from there.
Finally, Aine Cryts takes a look at the present and future of teleradiology. While the pandemic dictated changes in radiology workflow, some of those changes were already in progress. Now that we've had 18 months to see their effects, teleradiology seems poised to move in new directions.
Enjoy the issue.