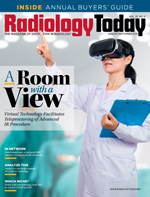 CT Slice: The Challenges of Pandemic Imaging
By Sonia R. White, RT(R)(M)(CT)
Radiology Today
Vol. 22 No. 6 P. 7
The COVID-19 pandemic has resulted in disruption to the hospital workforce. While radiologists have a crucial role in managing the present circumstances of the pandemic, from diagnosis to active management, the radiology sector is heavily dependent on examination volumes in relation to practice revenues. The pandemic has also substantially impacted private radiology practices.
While clinicians may minimize diagnostic procedures that require contact with patients, a radiologist's work remains vital to COVID diagnosis and follow-up. Understandably, some departments are struggling to stay afloat or even relevant. While workload in many departments has dwindled due to fewer in-person visits, radiology has to cope with the excessive demand for imaging in today's challenging times.
When faced with the overwhelming task of keeping radiologists and technologists safe, it can be difficult to address staffing demands. The reality for imaging professionals is that limited resources present operational challenges. 
The significant concerns for radiology are two-fold; one is logistics and the other is safety. While logistics will have to be revamped to adjust to the new normal, it becomes essential for empathetic management to take center stage. The goal is to keep the workforce, patients, and CT/X-ray equipment sanitized and safe while providing prompt services and solutions for the clinician and the patient.
Nine Challenges
The following pandemic-related challenges affect imaging technologists' ability to perform CT procedures safely.
1. Threats to Personal Safety of Imaging Personnel
One of the main safety challenges is protecting technologists and their families from contacting or transferring any germs or viruses from work to home during the COVID-19 pandemic. At the same time, the utmost care is required when assigning staffing and coverage.
2. Increased Emotional Stress
There is additional emotional stress when dealing with the illness and death of family members, colleagues, and staff afflicted by COVID-19. The magnitude of the pandemic has increased the emotional burden on all health care workers.
3. Higher Risk of Contracting the Virus from Patients and Staff
There is always a risk of contracting illness from patients, coworkers, or staff. Even with social distancing protocols in place, it is essential to avoid communal lunch breaks, even if that means missing the fun of socializing with coworkers, and limit time with patients.
4. Possible Lack of Medical and Safety Equipment
There is a risk of running out of personal protective equipment (PPE) supplies, such as masks, gloves, or gowns, even for radiologists. In such cases, one should follow a strict self-care and wellness routine. This includes proper hand sanitization, appropriate PPE for different areas of work, adequate training for donning and doffing, a facility for imaging technologists to shower, and changing into fresh scrubs/fresh clothes after exposure to positive cases.
5. Altering Work Schedule, Clinic Shifts
With changes in work and home routines, altered expectations at work and home, limited human interactions, changes in salary or job, and travel restrictions, the quarantine period has been difficult. It has been especially difficult for the imaging professionals who are handling increased workloads and exposure to the virus.
6. Ensuring Optimal Resource Utilization at Imaging Centers
There should also be close monitoring of the execution of management processes with a flexible approach to adjust to the evolving demands of COVID, for ease of operation and coordination between different departments. A significant challenge has been scheduling outpatients for routine exams until hospitals have a reduced case load for positive COVID-19 cases and performing CT scans on emergent patients only.
7. Failure of Regular Upkeep of Sanitation Protocols Among Patients
Cleaning between patients should be continuous. Make sure that the room is free from COVID contamination, which sometimes takes between 30 minutes and an hour, to sanitize the room before scanning the next patient. Also use an air purifier, when possible.
8. Management of X-Ray Equipment at Imaging Centers
The primarily closed rooms of any imaging department with air conditioning and a higher density of people per unit area run the risk of developing a vulnerable zone. To tackle this situation, patients should be allowed access to the CT/radiology suite only after screening. Infrared thermometers, a checklist questionnaire, and rapid isolation should be used. Dedicated X-ray machines, such as mobile and portable imaging options, should be marked for COVID areas and the machines should be reserved only for those who have COVID.
9. Inability to Effectively Follow Up on Patients Testing Positive for COVID
If a test shows findings consistent with COVID, the patient should rapidly be isolated. Those who are allowed access should compulsorily mask up. Exposed staff should be directed to the infection control team to determine quarantine/testing protocols.
The COVID-19 pandemic has had a profound impact on every aspect of life. We should surely not forget to thank radiologists and imaging COVID warriors for their help in keeping us safe and healthy.
— Sonia R. White, RT(R)(M)(CT), is an Air Force veteran who received her radiology training in the military. She has more than 20 years of experience in the imaging field with various modalities.