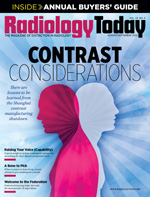 Contrast Considerations
By Beth W. Orenstein
Radiology Today
Vol. 23 No. 5 P. 10
There are lessons to be learned from the Shanghai contrast manufacturing shutdown.
Iohexol is a common iodinated contrast media used in a multitude of CT and X-ray exams. It is manufactured by GE Healthcare, one of four major manufacturers of iodinated contrast media. GE has manufacturing plants in Cork, Ireland, and Shanghai, China, where it makes iohexol for use with its imaging equipment under the tradename Omnipaque.
In April 2022, GE's factory in Shanghai was shut down along with the rest of the city as the Chinese government attempted to control a COVID-19 outbreak. In a letter that same month, GE told its consumers it would be limiting orders of its contrast media. GE ramped up manufacturing at its Ireland factory while its Shanghai factory was shuttered. The Shanghai factory was partially reopened at the beginning of June. However, GE warned its consumers that supplies would be reduced until it caught up completely.
Other pharmaceutical manufacturers said they couldn't scale up their production of contrast media to meet the void created when the Shanghai factory had to stop production. Health systems and imaging facilities that use GE equipment felt the greatest impact. Affected facilities have had to delay elective contrast-enhanced CT exams, convert exams to noncontrast when possible, reduce contrast media dose, and substitute other types of exams, such as MRI, ultrasound, or noncontrast PET/CT, when possible.
A Wake-Up Call
The COVID contrast shortage wasn't the first time radiology has been impacted by supply issues. "Some years ago, there was an issue with a pharmaceutical agent used in nuclear medicine that was imported from Canada," recalls Saurabh Jha, MD, an associate professor of radiology at the Hospital of the University of Pennsylvania in Philadelphia. The shortage of a medical isotope used in scores of nuclear imaging tests in 2009 was due to the shutdown of a reactor in Canada. That reactor makes one-third of the world's medical isotope supply. Jha also recalls a nationwide shortage of IV fluid in 2014, which affected many interventional and other procedures performed in radiology. At the time, the FDA and the two primary US manufacturers put some of the blame on increased demand for fluids, driven in part by the 2013–2014 flu season, according to an article in the May 2014 Journal of the American Medical Association.
The recent contrast media shortage received a lot of attention "because it affected a lot of folks," says Paul Chang, MD, a professor of radiology at the University of Chicago. He says it probably received more attention than some of the other medical supplies that were and still are running low. Chang, who does a large number of biopsies, says, since the start of the year, he's had to deal with a shortage of lidocaine and has found biopsy needles hard to come by. "We've even had other shortages of simple things like plastic syringes that have impacted care," Chang says. Although the contrast media issue is resolving, it and the other supply shortages have raised issues that those in health care need to find a way to not only resolve but also prevent, Chang says.
Elliot Fishman, MD, a professor of radiology and radiological science at Johns Hopkins Medicine in Baltimore, agrees that the Shanghai contrast media issue should be a wakeup call to health care, including radiology. "Obviously, you're not going to have an extra CT scanner in your closet," he says, "but you need to look at everything disposable you use in your practice so that worst-case scenarios like this don't happen."
If there is a silver lining to the most recent contrast media supply issue, says Thomas Grist, MD, chair of the department of radiology at the University of Wisconsin School of Medicine and Public Health in Madison, it's that it should get health care systems and imaging facilities to examine their supply chains and implement strategies designed to prevent even temporary blips when the unexpected happens. "I think," Grist says, "there is a growing realization in the radiology community as well as the health care enterprise overall regarding the importance of modifying our practices to deal with supply chain shortages, such as the one we recently experienced with GE and Shanghai." Grist and Fishman were authors of an article that appeared online in Radiology in May, "Short-, Mid-, and Long-Term Strategies to Manage the Shortage of Iohexol."
Adjusting Strategy
So, what can and should radiology departments do?
First, Chang says, departments need to recalculate the supply strategies that worked well in good times. The strategy of the last few decades has largely been just-in-time. Just-in-time is: Don't stockpile products and materials but, rather, reorder them as needed. The just-in-time strategy has been popular, Chang says, because it's cost saving. Hospital purchasing groups are often rewarded for saving money, and just-in-time has proven that it does. Purchasing groups get rewarded and everyone's happy.
"In normal times, just-in-time works and is fantastic," Chang says. "We're saving a lot of money, not only from having to buy less up front but also in lower storage and tracking costs." But given world events, it's time to recalculate and focus less on saving money. "It's not time to panic," he says. "Just recalculate and augment just-in-time with just-in-case. We are going to have to have more advanced supply chain analytics in place."
Fishman goes a little further. He says every department should make a list of all its disposables and aim to keep at least a six-month supply on hand. "If you have six months, that's a good number," Fishman says. "In six months, whatever happens you could probably survive through it." Six months is far better than the approximately two weeks' worth of supplies that many are working with these days, he says. Fishman's six-month rule should apply to "everything you use."
As long as the items don't have a short shelf-life or use-by date, "you need to have them in stock. You need to be assuming worst-case scenario," Fishman says. That way, when Shanghai is shut down or there's a dock strike in California, it can be resolved by the time the department runs low on the supplies that are made in China or sitting on a boat in San Francisco Bay. "Short-term, it may cost a bit more because you need more inventory," he says. "But it's not a big deal in the big picture of health care."
Also, on Fishman's to-do list: Contact the manufacturers of your imaging equipment and get assurances from them that they have a reasonable stockpile of parts available. "You want to make sure, whether you're using GE or Philips or Siemens, that you speak to the company directly and that, if the X-ray tube on your scanner breaks, they are not going to tell you, 'Well, it's five months from now until we will be able to get you a new tube.'" Imaging facilities and departments need to make sure that the people who supply their equipment "are on top of things," Fishman says. Should you need replacement parts, you don't want them to take weeks or months to come in.
Lessons Learned
Like Chang, Fishman says just-in-case inventory "is not as glamorous" or cost-effective as just-in-time inventory, "and executives don't like it." However, he adds, "I guarantee every hospital system has a lot more gloves and masks in storage than they did 21/2 years before COVID." Lesson learned.
Fishman says hospital systems and imaging facilities owe it to their patients to take the Boy Scouts' "be prepared" approach. "If it costs more money so we don't have a problem, it costs more money," he says. "We need to do it." If there were to be another contrast incident like what happened in Shanghai in June, come September, he says, "it would be hard to explain why you didn't do something about it. I think people need to be held responsible. There is more uncertainty about more things around the world and, in times of uncertainty, it's good to be conservative and overcompensate. You need to hope a disruption won't happen again but assume that it can."
Another suggestion: Don't put all your eggs in too few baskets, says Matthew Davenport, MD, FACR, vice chair of the ACR Commission on Quality and Safety. Davenport says large facilities that primarily use GE contrast media felt the shutdown of GE's Shanghai plant most acutely as their supply chain rapidly and dramatically dried up. "You're at risk if you're not diversified and rely on a single city for your supply," Davenport says. Granted, he adds, in general, the lockdown of a city would not usually happen, and the perfect storm that got GE in trouble is also unlikely, but both happened in China.
Davenport says, "When you are dependent on one contrast agent manufactured in one city, it's a risk. I think it is worth at least having conversations about diversifying and exploring what it would take to work with more than one supplier—both on the production side and on the purchasing side."
Chang, too, says suppliers need to be more transparent and let their users know where and when they source their equipment and materials. If suppliers are more transparent, he says, their consumers can be more demanding and insist on more diversification.
Taking Responsibility
Another question that the GE contrast shortage raises: Who's responsible for making sure it doesn't happen again?
At larger health systems, purchasing decisions are not made by the radiology departments, Chang says; most have purchasing departments staffed with people who have MBAs. That hierarchy could make it harder to adapt new policies, he adds, especially when compared with smaller community hospitals, where purchasing decisions might be made by the head of radiology, a head tech, or an administrator. Still, Chang says, in either case, hospitals and imaging facilities need to be more sophisticated with respect to inventory and find ways to be proactive about potential supply issues.
Jha says it would be a good idea for organizations such as the ACR to look into the causes of incidents such as what happened in Shanghai and provide some best-practice buying guidelines for the future. Best-practice buying rules may be beyond the ACR's jurisdiction, Jha says, "but it can say, 'Here's what we would like to have companies do.'" Shortly after the shortage of contrast media emerged, the ACR's Committee on Drugs and Contrast Media, which is within the ACR Commission on Quality and Safety, issued a statement offering guidance to minimize the risk.
Grist is optimistic that decision makers in the health care community will take responsibility and address supply chain issues. "I really do think there's a growing realization in the radiology community, as well as the health care enterprise overall, regarding the importance of sustainability and modifying our practices to deal with supply chain shortages like this," he says.
"Once you get burned, you have two choices," Fishman adds. "You can say, 'We will get through this in a few weeks,' move on, and forget about it. Or, if you're running a health system, you say, 'I can't predict what's going to happen next, but I can't take that chance so I will make plans. … Then I have a lot of comfort knowing, if something happens, I am in good shape no matter what.'"
— Beth W. Orenstein, a freelance medical writer from Northampton, Pennsylvania, is a regular contributor to Radiology Today.