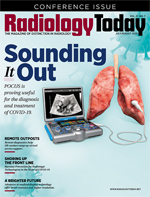 Sounding It Out
By Beth W. Orenstein
Radiology Today
Vol. 21 No. 7 P. 10
POCUS is proving useful for diagnosis and treatment of COVID-19.
The use of lung ultrasound to evaluate respiratory conditions is nothing new. "It was first effectively described in a paper in 1988 and has been developing since the 1990s," says Michael Blaivas, MD, MBA, FACEP, FAIUM, an emergency medicine physician who practices outside Atlanta and CMO of EchoNous.
However, until now, ultrasound's use in chest imaging has been "patchy," to say the least, according to Dennis Cochlin, MB, BCh, FRCR, a radiologist at the University Hospital of Wales.
Then the outbreak of a novel coronavirus in December 2019 in Wuhan, China, happened. As the new coronavirus, SARS-CoV-2, has spread around the world, the role of chest ultrasound, especially when performed at bedside, has risen significantly. These days, Cochlin says, papers on the use of chest ultrasound for the diagnosis and treatment of the resulting disease, COVID-19, are being published in medical journals "almost daily … as it does appear to be extremely useful in this situation."
Less Risk of Exposure
The go-to imaging modalities for lung infections have long been X-ray and CT. But given the highly contagious nature of SARS-CoV-2, these modalities present issues for health care systems already taxed by the pandemic. While chest X-ray can be done at bedside, patients have to be taken to the radiology suite for a CT scan, and "there's a risk to more health care providers and, potentially, patients, as those with COVID-19 pass through the hospital corridors to get there," Blaivas says. Also, CT scanners have to be disinfected after each COVID-19 patient has been imaged, which can shut it down for an hour or longer, making it unavailable for patients who may need a CT for other reasons, including emergencies, he adds.
Additionally, "while CT may be the gold standard for lung imaging, patients with COVID-19 pneumonia are critically ill, and the act of frequently transferring them to the CT scanner can worsen their clinical state," says Sue Wright, MBBS, FRC, a consultant anesthesiologist at St. George's Hospital in London.
A significant advantage of ultrasound is that it's portable and can be done at bedside, reducing the number of health care workers and hospital patients who are potentially exposed. Despite wearing personal protective equipment, health care workers on the frontlines are testing positive for COVID-19 at an alarming rate, according to the Centers for Disease Control and Prevention (CDC). By mid-April, about four months after the first outbreaks in Wuhan were reported, the CDC reported nearly 10,000 health care workers in the United States had COVID-19. In Italy and China, early in their battles with the virus, 3% to 10% of health care workers were infected, according to a study published in the European Review for Medical and Pharmacological Sciences in March.
Helping to reduce virus exposure and transmission is one of several advantages that point-of-care ultrasound (POCUS) offers. Other advantages include repeatability, no ionizing radiation, and lower cost, which may be especially important in facilities that have limited resources. Because portable ultrasound devices are small and have less surface area, they are easier to clean and sterilize than X-ray machines and CT scanners. POCUS can cost a few thousand dollars, whereas a CT scanner can cost more than $1 million for the scanner alone—before siting costs are included.
"Recently, COVID-19 cases have been reported in poor countries such as Nigeria, where traditional imaging is much more difficult to be performed compared to lung ultrasound," according to Danilo Buonsenso, MD, of Italy's Università Cattolica del Sacro Cuore, lead author of the European Review study.
A major disadvantage, however, is that ultrasound is highly operator dependent, and not all clinicians have training in how to perform lung ultrasound and read the images. To solve the latter problem, a number of companies around the globe have brought training modules and AI to chest ultrasound for coronavirus. "Artificial intelligence is helping to take over some of the burden of expertise and education," Blaivas says. EchoNous received FDA approval for its KOSMOS AI Platform in late March. The KOSMOS AI Platform, which consists of an 8-oz ultrasound-based tool combined with deep learning for clinical assessment of the heart, lungs, and abdomen, is aimed at making KOSMOS easy to learn while greatly improving confidence and accuracy in POCUS for providers of all experience levels, according to Blaivas.
Telltale Signs
Ultrasound is an ideal imaging tool for this novel virus, Blaivas says, because it's a pleural-based disease, and the pleura, or membrane, lining the lungs images well with ultrasound. When patients have COVID-19, their pleura appears thickened and inflamed. "If you know what you're looking for, it jumps out at you like crazy," Blaivas says. "I don't want to say it's a fingerprint, but it is quite a reliable appearance, even in milder forms of the disease."
Ultrasound can also detect irregular vertical artifacts—B-lines—that indicate accumulation of fluid in the pulmonary interstitial space or alveoli, says Luca Bombino, head of ultrasound global marketing for Esaote, a manufacturer of diagnostic imaging systems. Esaote has provided more than 100 portable ultrasound systems to clinicians on the frontlines in Italy and is actively supporting several projects to fight against the COVID-19 pandemic worldwide.
In addition, lung ultrasound can be used to determine the stage of the disease and, thus, help triage patients. Images from a lung ultrasound can help providers determine whether a patient needs to go to the ICU or be put on a ventilator, Blaivas says. And it can be repeated numerous times to help determine whether treatment is working and the patient is recovering, he adds.
"It also can be used to monitor ventilation effects," Bombino says.
Because lung ultrasound doesn't use ionizing radiation, it can be performed every 12 to 24 hours, allowing for close monitoring of clinical conditions and "also detect very early change in lung involvement," Buonsenso writes in the study.
Ultrasound systems are useful for quickly and effectively imaging potential direct and indirect impacts on other organs as well, including the heart, kidney, and liver. "It's very important to monitor these organs when patients are hospitalized," Bombino says. While the majority of those infected with SARS-CoV-2 have mild to moderate symptoms, a number of them develop heart-related problems—either out of the blue or as a complication of preexisting cardiac disease.
"We are seeing reports from all over the world of increasing numbers of heart attacks and myocarditis among patients with COVID-19," Blaivas says. "Having ultrasound capability, you could use the same scanner you used for the lungs to scan the heart, which is huge. Sometimes something breaks in the lungs and affects the heart and vice versa. You really need to look at both organs in most cases, anyway." Specifically, with myocarditis, "we can identify left ventricular systolic dysfunction using ultrasound," Blaivas adds.
DiA Imaging Analysis Ltd, which specializes in AI solutions for ultrasound analysis, enables clinicians to rapidly run objective and accurate assessments of cardiac function on any ultrasound device or PACS system. Its fully automated ejection fraction solution, LVivo EF, helps users with varying levels of ultrasound experience triage and monitor COVID-19 patients who may be at risk of suffering cardiac dysfunction. Evan (Avi) Alpert, MD, of the department of emergency medicine at Shaare Zedek Medical Center in Jerusalem, says having this tool and "being able to rapidly and accurately detect ejection fraction to monitor cardiac changes in real time can save precious time and improve patient outcomes."
Those who treat COVID-19 patients also report seeing renal and liver complications that ultrasound may help to detect and monitor, Bombino says.
COVID-19 Training
A lung ultrasound exam can be performed at bedside by anyone who has sufficient training and experience, says Andrew Smith, MD, of St. Bartholomew's Hospital in London. Often, it is done by a radiologist but, when performed in critical care settings, it may be done by emergency department physicians, Smith says. Fortunately, because of the growing need, "there has been a rapid international dissemination of what features and patterns are seen with this disease through medical publications, websites, and webinars," he says.
During the COVID-19 emergency period, "several scientific societies are providing comprehensive e-learning activities and case reviews," Bombino says.
AI is helping with the analysis and interpretation of lung ultrasound images. Smith says AI is proving to be particularly useful during the pandemic because "there is limited experience with the disease, and expertise in ultrasound of the lung also may be limited." Some ultrasound equipment does offer a degree of automated image analysis for lung ultrasound in the form of B-line identification, "but more comprehensive AI capability is likely," Smith says. Currently, he adds, AI capability is available through devices that attach to ultrasound equipment but, in the future, it could be fully incorporated into ultrasound systems by manufacturers.
DiA's CEO and cofounder Hila Goldman-Aslan says that, in today's POCUS environment, more providers, including paramedics, are being trained in its applications. However, she says, the training may be limited, and the visual process of acquiring and analyzing ultrasound images does not lend itself to easy interpretation. POCUS users are doing much more than performing ultrasound scans, she adds.
"Artificial intelligence can simplify their decision-making process," Goldman-Aslan says. "Once you know how to take an image, AI brings you the information you need very easily and very objectively." DiA works with channel partners, including companies such as GE, and, like Esaote, has donated ultrasound machines to hospitals in its area to help battle the pandemic.
In late March, Intelligent Ultrasound, an AI software and simulation company, released a COVID-19 lung and cardiac module for its BodyWorks PoCUS ultrasound simulator and made it available to all of its new and existing global customers. The company published a case study that is based on feedback from the VA NY Harbor Healthcare Simulation Center in New York. Facing a mounting number of patients, the center introduced critical care simulation-based training sessions utilizing the simulator with the newly installed COVID-19 lung module.
The sessions have prepared non–critical care health care professionals, including surgery, anesthesiology, pediatrics, and acute care nurse practitioners, for roles as bedside ICU providers. The simulation sessions have been made available to all providers scheduled to work in the rapidly expanding COVID-19 ICUs. Brian Kaufman, MD, a professor of anesthesiology, medicine, neurology, and neurosurgery at New York University Grossman School of Medicine and director of the simulation laboratory at VA NY Harbor Healthcare, says having COVID-19–specific cases available on the ultrasound simulator has had a significant effect on the facility's "ability to quickly train clinicians on lung ultrasound to provide better patient care."
In mid-April, CAE Healthcare announced a new product suite that is engineered to provide hands-on, foundational training to help physicians quickly learn to scan and assess COVID-19 patients using POCUS. The suite combines three CAE hardware and software product platforms: CAE Blue Phantom, CAE ICCU e-learning, and the CAE Vimedix ultrasound simulator. The training bundle covers a range of preexisting medical conditions and potential complications. Stefan Monk, MD, CMO of CAE Healthcare, says the product suite was developed with input from those on the front lines of the pandemic, in an effort to address the most urgent training needs and deliver just-in-time training.
"The training focuses on quick findings we know occur with COVID-19," Monk says. The new CAE ICCU POCUS Lung Anatomy module includes tutorials, animations, and instructional videos to improve understanding of COVID-19 respiratory and cardiac failure. "Ultrasound training is very, very visible and in big demand, given the COVID-19 crisis," he adds.
While ultrasound users appreciate the potential of POCUS in COVID-19 care, they should be conscious of its limitations, Bombino says. "Professionals are always leading the clinical decision-making algorithms, and they combine the information provided by different imaging modalities with their expert knowledge and each single case's peculiarity," he says.
— Beth W. Orenstein of Northampton, Pennsylvania, is a freelance medical writer and regular contributor to Radiology Today.