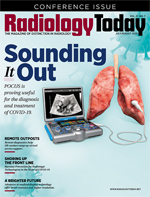 Remote Outposts
By Keith Loria
Radiology Today
Vol. 21 No. 7 P. 14
DR vendors are using remote diagnostics to ramp up virtual service support during the COVID-19 pandemic.
For years, system and applications support has been trending toward remote diagnostics and support to enable fast response, high system uptime, and enhanced utilization for a better overall user and patient experience. But with the COVID-19 crisis hitting this year, this support is as important as ever for DR and radiology in general. As social distancing plays a critical role in the prevention of COVID-19, it is important that hospitals allow only essential workers on site.
In response to COVID-19, mobile DR systems have proven beneficial due to their portability, ease of use, and ease of disinfection, compared with fixed DR systems and rooms. During the pandemic, there has been an increased demand worldwide for portable point-of-care X-ray systems for use in emergency department prescreening, ICUs, outdoor sampling sites, and other nontraditional remote locations. In hospitals and radiology departments, the use of remote service during the COVID-19 pandemic is critical, as it allows care teams to provide quick and efficient solutions.
"The need for system uptime and availability is significantly heightened during the pandemic," says Rob Stevens, service operations leader for services and solutions delivery at Philips North America. "Clinicians and hospitals can become overwhelmed with the volume of COVID-19 cases, and their systems need to be available at the point of care, every time they are needed. Remote service provides a safe experience for hospital personnel and Philips service engineers, while adhering to physical distancing and COVID-19 protocols."
Going Remote
To address the need for social distancing, Carestream utilizes a technology called Carestream Smart Link Remote Management Systems (RMS), which allows Carestream remote teams to access equipment with permission from a customer to troubleshoot and provide a fix or gather information for the field engineer prior to an onsite visit.
"For instance, this technology allows us to pull back the machine log files," says Krystal Knataitis, Carestream's manager of remote support services. "Based on the customer issue, we use these files to drive to a resolution."
A primary example is detector communication issues with the console, which can be caused by the customer environment, the access point, the firmware, or the detector itself.
"Using RMS, we are able to investigate these potential causes and, if needed, make the appropriate changes," Knataitis says. "If root cause is replacing the detector, we are able to gather the necessary information to process the replacement order remotely and send the detector to the site overnight for next-day delivery."
Each piece of Carestream equipment includes software that allows Smart Link RMS to link the device to the Carestream enterprise server, establishing secure communication via web services. At installation, a field engineer will make the connection to the Smart Link Enterprise Server within the safety of a customer's corporate firewall and configure the network connections according to the customer's IT requirements.
"Once the connection has been established and a customer requires support, the customer can call in to our support team and, with approval, the team can remote-in to the system," Knataitis says.
This service is also utilized by the company's applications consultants to decrease their time in the hospital doing on-site configuration and setup. After installation of the equipment, consultants have been able to remote-in and configure the system prior to on-site training. This includes adding the appropriate users, procedure mapping, and assisting the imaging physicist with compliance testing.
"If remote resolution is not achievable, we can often provide a diagnosis and order the appropriate parts for the field engineer so when the field engineer arrives on site they can quickly and effectively recover the customer workflow," Knataitis says. "This capability allows issues to be resolved without unnecessary trips to customer sites [or] exposing health care employees, their patients, or our teams. The ultimate goal is to get the customer's equipment back up and running as quickly as possible so they can continue to efficiently help their patients."
Tangible Benefits
Matt McCallum, vice president of service business management and support for Siemens Healthineers, North America, says the company's global service delivery strategy is geared toward remote diagnostics and service because it's faster and more effective.
"Plus, it's better for the conditions we are in because we don't have to send an engineer on site and risk exposure," he says. "The two tools we have relied on most heavily over the last couple of months have been Guardian and SmartCollaborator."
Guardian technology for remote monitoring of various forms of imaging equipment, including CT and MR systems, has been in use for a long time. SmartCollaborator was released during the pandemic to reduce the amount of exposure that engineers and customers have with one another.
"Guardian is a service offering that interfaces with the hardware in our imaging equipment and interfaces with many of the sensors that we've built in over the years to measure things like heat, coolant flow, and currents," McCallum says. "It allows us to replace components outside of key patient hours in a predictive way."
SmartCollaborator is an augmented reality program allowing customers to access a link that opens software on a smart device so the company can see what the customers are seeing and introduce hands on the screen to guide them through problems. The people providing that support are the same support engineers who provide remote support.
"Health care doesn't stop, and there are still emerging cases that are happening and need our support. We've tried to avoid anything that exposes our engineers and our customers' patients to cross-contamination," McCallum says. "Tools such as Guardian and SmartCollaborator work together to reduce exposure and risk for everyone involved."
Martin Spence, vice president of service and support operations and security officer at Fujifilm Medical Systems USA, Inc, says the company is providing onsite and remote support for its DR products, with technical assistance operating 24/7/365, as well as clinical consultants on call to provide remote application support.
"By offering remote support, Fujifilm is able to support its clinicians in keeping their diagnostic equipment live, while helping minimize the number of people on site," he says. "Some problems can be repaired remotely through software edits or updates. Also, by remotely reviewing error logs and performing remote troubleshooting, many times we can determine which parts to bring ahead of time to minimize the number of service visits, avoid delays for parts delivery, and, of course, minimize downtime."
Minimizing downtime and quickly troubleshooting imaging equipment ensures that clinicians are able to continue using the equipment, which is critical to the care process of COVID-19 patients.
"In addition, we offer a secure web support option called Active Line, which hospitals and imaging centers can easily set up with the help of their IT departments," Spence says. "During the current pandemic, Fujifilm is providing free online web-based training for all radiology departments."
Canon Medical Systems USA utilizes remote connectivity to review call logs and other diagnostic output. The data are evaluated by support teams that consider recommendations and resolutions for customers' issues.
"With our remote diagnostic support, we are able to work in the background and evaluate issues before they become major concerns," says Scott Nitsche, Canon's cybersecurity product manager. "We have a secure [virtual private network] tunnel so we can communicate directly with the system. When the system has an error, we can pull those logs and generate a local solution."
Philips' Customer Care Solutions Center, based in the Atlanta metro area, hosts the Philips Remote Network, which connects to systems via a secured internet connection and can run onboard or cloud-based diagnostics on systems that are experiencing issues.
"In addition, connected systems can 'phone home' to alert remote engineers that a system may be experiencing an issue that is not visible to the operator," Stevens says. "In this case, Philips can proactively initiate service for better system performance and improved patient outcomes."
The company has several onboard and cloud diagnostic options available. Stevens explains that onboard diagnostics can be run locally or remotely and provide a wide range of system insight.
"Philips' cloud-based diagnostics use AI-based pattern log analysis to quickly recommend a repair action using Philips' vast knowledge base archive of previous service events and outcomes," Stevens says. "In addition to software solutions, Philips offers several hardware or 'wired' devices that provide remote diagnostics and monitoring. These devices, once connected to the hospitals' network, monitor systems, log errors, report system parameters, and alert vital personnel if systems are out of compliance or experiencing errors that may not be visible to the operator."
Additional Assistance
Remote services are not the only way that vendors are helping radiology departments. For example, in response to the need for critical care during the COVID-19 crisis, Carestream has increased production of its portable diagnostic imaging systems.
"As unlikely facilities begin to function as urgent care units, Carestream's DRX-Revolution Mobile X-ray System and DRX-Revolution Nano Mobile X-ray System bring the X-ray exam to the patient's bedside, delivering high-quality digital radiography images to health care providers in real time to aid in patient diagnosis—whenever and wherever needed," says Charlie Hicks, Carestream's general manager for premium tier solutions.
Additionally, the DRX-Revolution system has features to help reduce contamination. Shelves located in each of the detector slots, within the bin, allow users to safely place protective bags on detectors. Flush-mounted displays limit fluid ingress and provide a smooth surface for easier disinfecting. Bar code scanners automatically input patient information when wristbands are scanned, allowing users to quickly start an exam with limited interaction between the patient and the equipment.
"We have added more people, more manufacturing lines, and more shifts to produce more of our DRX-Revolution systems as quickly as possible to meet customer requests," Hicks says. "There was a very sudden shift in the demand for this product, and our teams came together, moving people from one job to another, looking at our existing processes for ways to speed up our manufacturing line, and working with our suppliers to get more parts as quickly as possible."
In addition, the company's film manufacturing teams from New York, Colorado, and Oregon worked together to develop a plan to make shield material for personal protective equipment. Although this is not something that Carestream makes or sells, its teams realized that it had the materials and technology to make the shields and that this would likely be a critical need for health care workers. They have shipped more than 28,000 sheets of shield material to date.
To help maintain user proficiency, Philips has migrated a significant number of clinical training courses from on-site instructor-led to virtual instructor-led.
"Virtual clinical events are live, instructor-led, and cover equipment essentials, configurations and go-live support, and advanced learnings," Stevens says. "Complementary to the live events are our webinar series, which provide education and insights for topics such as infection prevention, lung disease treatment and diagnosis, and managing patients in the ICU."
Spence notes that during this unprecedented time, Fujifilm and its employees are working harder than ever to ensure its products and services are supporting the brave clinicians who are working tirelessly on the front lines to save lives.
"To support clinicians on the front lines, we are ensuring that our mobile DR systems are deployed to 'hotspots' and are speeding up timelines for install and training for the on-the-ground teams," he says. "We have created a landing page for helpful COVID-19 guidance and resources, to help customers readily find critical cleaning and disinfecting information for our various devices, answers to FAQs, and other related information."
— Keith Loria is a freelance writer based in Oakton, Virginia. He is a frequent contributor to Radiology Today.