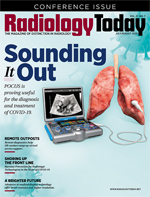 Imaging Informatics: A Wide Net
By John Dolbinski, Matthew A. Michela, and Florent Saint-Clair
Radiology Today
Vol. 21 No. 7 P. 26
Digital connectivity helps the Alaska Native Medical Center solve complex care challenges.
Imagine if one of the patient populations you serve is distributed over roughly 100,000 square miles of ocean and an area slightly larger than Virginia, Kentucky, and Maryland combined. The only way to get to your facility is by boat or small plane, if travel is even possible; heavy fog or cyclonic storms that produce high winds are common. The Aleutian Pribilof Islands are one of 12 regions serviced by the Alaska Native Medical Center (ANMC), a territory that runs from those islands in southern Alaska to the most isolated region of the Arctic North Slope.
As Alaska's main tribal health care referral site, located in Anchorage, ANMC serves as an adult and pediatric level 2 trauma center and primary and specialty care provider. Extreme weather conditions complicate access to necessary health services, as residents must often travel long distances at considerable expense. In addition, recruiting for positions is often difficult and turnover is high. Specialty providers and technology resources, including imaging equipment, are limited, and their scarcity is compounded by the fact that clinics are scattered across the state. ANMC, which is operated jointly by the Alaska Native Tribal Health Consortium and Southcentral Foundation, needed to expand its digital connectivity to overcome these barriers in geography, weather, and resources.
The hospital implemented a teleradiology and telehealth program as a new and more efficient operating standard. It serves more than 175,000 Alaska Native and American Indian patients via in-person and telehealth services to manage wellness, administer routine care, connect with specialists, and reduce costs related to care and travel. In order to successfully deploy such a program, unique technological circumstances had to be addressed.
Plug and Play Eases Deployment
Delivering a telehealth program across a vast geographic area such as Alaska requires health care organizations to adjust to an austere network and IT infrastructure that can often be subject to electricity outages and low bandwidth. In addition, IT personnel may not be on site to manage the solution. Preconfigured physical servers can be shipped to connect an enterprise appliance to a remote clinic; these are typically small-footprint servers with an external power supply and can be plugged in by someone without IT experience. Setup, operating, and monitoring must be exceedingly simple.
Rolling With the Hub-and-Spoke Model
By leveraging an enterprise imaging workflow appliance, ANMC has established a hub-and-spoke model that positions the Anchorage hospital as the "anchor" while remote clinics connect via their plug-and-play server. Based on this infrastructure, remote clinics can image patients on site, send the imaging exams to ANMC using the DICOM standard, and receive results electronically via the HL7 protocol. These bidirectional workflows help caregivers expedite the diagnostic process where a lengthy and costly trip would otherwise have been required. If critical results are found, an emergency trip is still necessary, but much of the nonessential travel for diagnostic purposes has been eliminated. In addition to increasing efficiencies in care delivery, digital connectivity also helps to enable advanced technologies.
Accelerating Innovation
AI and digital health tools offer cutting-edge approaches to health care. However, they need a wide variety of clinical information—and a great deal of it—to be truly effective. The traditional reliance on structured data found in EHRs and claims data limits the ability to innovate because data such as procedure codes have limited clinical value. While these structured data sets may be easier to access and they tell providers that a patient had a mammogram and was billed for a certain amount, providers do not have visibility into what the patient's BI-RADS score is, the treatment plan, or what the outcome was.
Diagnostic imaging has historically been the most difficult patient data to access and extract, given the many data silos that effectively hold the data captive. The use of digital connectivity between remote systems and deep inside data storage bases helps to make the extraction of these critical data points easier.
When thinking about imaging and clinical data exchange, it is important to consider both geographic "extramural" connectivity as well as internal "intramural" connectivity between databases inside the four walls of the hospital.
Image Exchange and Interoperability
Solving complex challenges to improve telehealth and teleradiology requires scalable solutions built on common industry standards. Implementing an on-site solution to advance interoperability within the enterprise enables the radiology department to read remotely and share diagnostic reports electronically. The solution creates workflows deep within PACS systems that help retrieve and share diagnostic images, reports, and other related data. However, in order to share with external clinical and health systems in other regions or states, the technology needs to be scalable. ANMC, which works with more than a dozen health care facilities in remote areas of Alaska as well as medical centers in Washington State, has deployed cloud-based technology solutions for enhanced image exchange capabilities.
Creating an efficient and integrated process between internal and external workflows allows for minimal delays of patient care and enhanced data collection and aggregation. For example, automation and the use of industry standards such as DICOM, HL7, DICOMweb, and FHIR reduces human error in data entry. On the receiving end, enterprise imaging streamlines importation of outside images and ensures they are not ingested by the PACS with incorrect demographics. Workflows allow for a medical record number system or creation of unique accession numbers, to avoid any merging of outside exams within the PACS database. Automating these processes removes the need to have a full-time employee working all day on importing images. Critical medical data are now seamlessly compatible with disparate health systems.
Expanding Network Access
Increasing ANMC's capabilities in telehealth and teleradiology with remote clinics is just one part of the mission. The other critical component is data exchange and connections beyond Alaska. Digital connectivity to Washington State would further expand access to care by specialists and track the patient journey to the US mainland. This includes critical emergency department transfers of patients who need to be airlifted to the closest level 1 trauma center at Harborview Medical Center in Seattle. In addition, ANMC patients could be more easily referred to and, subsequently, have their medical images and data exchanged with the University of Washington Neurology and Cardiology specialists as well as advanced oncology care offered through the Seattle Cancer Care Alliance.
These technology solutions to connect remote sites to ANMC and the US mainland allow ANMC to fulfill its strategic objective of putting health within reach.
— John Dolbinski is the director of medical imaging services at the Alaska Native Medical Center.
— Matthew A. Michela is the president and CEO of Life Image.
— Florent Saint-Clair is the executive vice president of Dicom Systems.