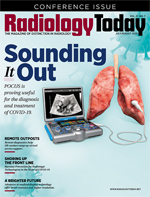 Oncology News: Precision and Pandemics — The Importance of Global Customer Support in Delivering Precision Radiation Medicine in Extraordinary Times
By Paul Bergström, MSc
Radiology Today
Vol. 21 No. 7 P. 28
Precision radiation medicine is a highly personal and patient-centric therapy. Built on cutting-edge delivery systems that allow precise, accurate, and tailored regimens designed for each patient to optimize efficacy and protect healthy tissue, it is the latest advance of a century-old modality that is a pillar of cancer care. The increased precision enabled by these systems allows delivery of higher radiation doses in each treatment session while protecting nearby healthy tissue. While this can be beneficial to patients and care centers during routine therapy, it has added value in the current COVID-19 pandemic.
First, the ability to deliver a higher radiation dose in each fraction can reduce the total number of treatment sessions, which is especially important during the COVID-19 pandemic when patients are trying to stay safe at home and care centers are working to reduce traffic through their sites. Additionally, as countries begin to relax their pandemic-related restrictions, hypofractionated regimens may help to address the backlog of patients whose radiation therapy treatment sessions were postponed. Second, precision radiation medicine regimens can be designed to avoid bone marrow, making them potentially less immunosuppressive compared with chemotherapy and some targeted therapies. While the risk of infection is always a concern for patients treated with immunosuppressive regimens, it is of increased concern when faced with a pandemic of a highly contagious virus.
Precision radiation medicine systems are able to provide these benefits through the integration of complex radiation delivery devices and cutting-edge software. Ensuring that these devices and their software systems are operating correctly is essential for delivering safe and effective therapy and realizing the full potential of precision radiation medicine.
The safe and effective delivery of cutting-edge precision radiation therapy requires intricate coordination and support across the globe and in the treatment suite. This is because many precision radiation delivery systems are assembled far from the cancer centers in which they are used, from parts manufactured in multiple countries. Ensuring that these systems have minimal down time, due to either device failure or routine maintenance, is essential for adhering to patients' treatment regimens and maximizing the number of patients who can receive care. Consequently, having a radiation delivery system come offline unexpectedly can create challenges for patients and radiation oncology departments on an average day.
Local Support
The current COVID-19 pandemic is disrupting global supply chains and posing obstacles for on-site maintenance and repair of precision radiation medicine equipment, highlighting the importance of truly global, integrated, and proactive customer support. There are a number of steps and initiatives that can help ensure maximum uptime for precision radiation medicine delivery systems.
One approach is the use of automated systems and AI to remotely monitor radiation delivery device performance, predict device failure, and resolve device issues remotely when possible. The ability to predict maintenance needs and failure opens the door to working proactively with customers and suppliers to address/prevent device failure. One approach is to provide 24/7, high-quality technical support via secure remote communication channels, which can ensure rapid and effective responses to customer needs.
Another approach is to preposition parts and equipment near customers with a predicted near-term failure, in order to ensure rapid response and minimize device downtime. In the current pandemic, this may require country-specific solutions that account for border closings and restrictions on travel. For example, some states in India are still in lockdown, making it difficult to deliver parts and equipment. One way to overcome this challenge is to ship parts to the state border and then have care center staff pick up the parts at the border and transport them to their site. As another example, some ZIP codes in Italy are still not allowed to receive deliveries. In these instances, it is possible to secure travel permissions that allow field service engineers to collect needed parts directly from local warehouses.
Additionally, micromanaging shipments of parts and equipment to their final destinations, using several carriers, may be required now that traditional end-to-end carriers are experiencing disruptions and limitations to their operations. For example, the lack of availability of commercial airline cargo may require long-haul delivery in dedicated trucks or vans, in order to ensure that hospitals can be effectively serviced. As another example, replenishment shipments may need to be split into smaller loads to comply with weight restrictions needed for smaller planes or for trucks and roads.
As countries around the world continue to evolve their responses to the COVID-19 pandemic, it's critical to conduct daily assessments of global supplier status, including which suppliers are still operating during the pandemic and how border closures might limit transport of essential parts and equipment. Some of these challenges may be addressed by working with local customs authorities and gaining pandemic exemptions in jurisdictions where customs offices are operating below capacity or have limited hours for processing exports or imports. Similarly, securing a Medical Essential designation and related transport permissions on a country-by-country basis can help ensure that parts and equipment needed for radiation therapy continue to move as needed.
Proactively certifying that all parties have visibility on potential choke points and align on solutions to ensure that essential parts and equipment arrive on site as needed, requires daily communication among vendors, customers, and logistics partners in individual companies. Similarly, advance travel planning is also critical for guaranteeing that service technicians can perform an on-site repair, if needed. This may require providing field service engineers with letters confirming the essential nature of their work, in order to facilitate their passage through pandemic "hot zones" and access to care centers that are still treating cancer patients. Additionally, some care sites may want written plans detailing how maintenance and repairs will be performed while complying with evolving restrictions on travel and shipping.
Empowering on-site personnel—from both the vendor and customer sides—is also important for developing effective solutions that safeguard safe, effective, and timely treatment, even in difficult circumstances. In one instance that I'm aware of, an engineer who needed to make an on-site repair during the COVID-19 pandemic couldn't find an available hotel room near the customer. The customer offered to have the engineer sleep in the hospital so that the work could be completed, an offer that was readily accepted. As an African proverb says, it takes a village to raise a child. For those who play a role in making precision radiation medicine safe, effective, and available, it will take a global effort to give each patient individual cancer care.
— Paul Bergström, MSc, is the executive vice president of global services at Elekta.