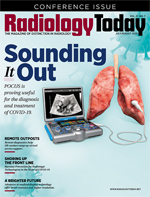 Editor's Note: New Views
By Dave Yeager
Radiology Today
Vol. 21 No. 7 P. 3
As COVID-19 continues to reshape the landscape of our lives, nearly every corner of industry is working hard to adapt. Radiology departments are no exception, and the pandemic has wrought changes that may be around much longer than the virus. The new emphasis on social distancing combined with the ever-present drive for efficiency is pushing medical imaging in new directions, and the likelihood of returning to the "old ways" seems to be growing slimmer by the day. Much of this issue is dedicated to the ways, good and bad, that radiology is being transformed.
As medical professionals look for faster, more accurate ways to detect COVID-19 and follow its progression, point-of-care ultrasound is emerging as a useful tool. Beth W. Orenstein's cover feature looks at the factors that make ultrasound an appealing option. Although CT is still the gold standard for chest imaging, ultrasound's portability and lower cost, along with the fact that it doesn't use ionizing radiation, make it a valuable asset in the fight against COVID-19, and it's poised to become more of a frontline modality for other conditions, as well.
DR is also proving valuable for COVID-19 imaging, but servicing equipment and training users often relies on in-person contact. Since social distancing has proven to be one of the most effective ways to slow the spread of the virus, finding new ways to maintain equipment and user proficiency is a challenge. Keith Loria reports that DR manufacturers are addressing those challenges, in part, with remote diagnostics and training. Those features aren't brand new, but the current climate has certainly piqued interest in them.
An often overlooked aspect of medical imaging is the role of technologists, and as with other frontline health care professionals, the pandemic has had a significant effect on how they do their jobs. Kathy Hardy examines the stressors that can affect job satisfaction and, potentially, lead to burnout. Maintaining a healthy work environment eases tension and allows for better imaging. Several experts weigh in on how to keep departments running smoothly. Check out the details on page 18.
Finally, enhanced visualization of medical images helps radiologists do their jobs better. Loria has a round-up of what's new in medical displays. In addition to higher resolution and better contrast, many new displays help minimize workflow disruptions.
Enjoy the issue, and stay safe.